*You may find affiliate links for things I love! At no extra cost to you, I could receive a small commission if you click and buy thru my links. Thanks! ~Coppelia
Thanks for checking out my 23 Days of Thanksgiving countdown. Today on Day 3, I'm thankful for my daughter, Allyson.
I don't know if she knows how thankful I am for her, so I'm excited about writing this blog post!
(If you're thankful for your son or daughter, please take a moment to stop reading and go tell them! Then, come back!)
***use this space to take a moment, if you so choose … lol!***
Ok, thanks for coming back. 😉
23 Days of Thanksgiving Day 3: I thank God for my daughter
Let's start at the very beginning, Sound of Music style. Allyson's existence is itself a miracle and a blessing. After we had our son, Chris, I reluctantly gave away all our baby stuff. My hubby is an only child and he was good with our family of 3.
I desired, like REALLY wanted another baby. But I started having some health issues related to "that time of the month" that led to conversations about hysterectomy. The word "endometriosis" was thrown around. I lived thru excruciating pain, ER visits, no answers and frustration.
At this point, I had all but given up on the dream of having another baby.
Thankfully, God had other plans!
To make the long story short, one month, as I braced myself for horrible endo pain, it never came. I took a pregnancy test and confirmed two things: what I had was indeed endometriosis because pregnancy can halt the symptoms … and I was PREGNANT!!!
Thank you, Jesus!
In case you're wondering, my husband ended up being overjoyed! (I prayed a LOT before I told him … lol!)
And we ended up even MORE overjoyed when we found out the baby was a GIRL!
Not only that, but I was able to have a VBAC (vaginal birth after cesarean), which was a dream come true in many ways!
God answered many prayers thru my daughter.
And it just keeps getting better as she gets older!
When I was a little girl, I used to watch gymnastics competitions on the TV in our living room in Puerto Rico. I loved it! I was in awe of those girls' abilities and artistry on the floor and on all that cool "equipment."
I now know what all that equipment is: uneven bars, balance beams, vaults and floor. I know it because my daughter is a gymnast.
When she was about 3 years old, I enrolled her in baby ballet our local YMCA. It's what our family did. My mom, grandma and aunts all did ballet growing up. Even my name, Coppelia, is a ballet.
I took classes for a minute as a little girl, but it didn't go anywhere. But I figured if I have a daughter, we'd have to at least try baby ballet!
And the local Y ballet classes seemed like a good place to start. But after the first few classes, Allyson confidently announced that she didn't like ballet and she wanted to do gymnastics.
Ballet vs. Gymnastics
I was impressed by her clarity and certainty. But I'm also the mom who says we need to finish what we start.
Reluctantly, she did a wonderful job and looked really cute in her tutu!
Then, I started asking local mom friends if they knew of any good gymnastics schools in our area. Turns out, we knew quite a bit of people at one of the local bigger gyms!
We signed her up for a summer session, just to try it out and see if she really liked it. It wasn't long until her coach told us that she was really good!
Gymnastics it is!
It has been almost 5 years since that beginners class. And Allyson continues to get encouraging comments from her coaches. Recently, one of the coaches couldn't believe that she was doing Level 5 skills, when she is currently at Level 2!
Baby: Daddy, your brother and I are all super proud of you! And as we celebrate Thanksgiving this month, we cannot wait to see what God is going to do through you and through your love of gymnastics!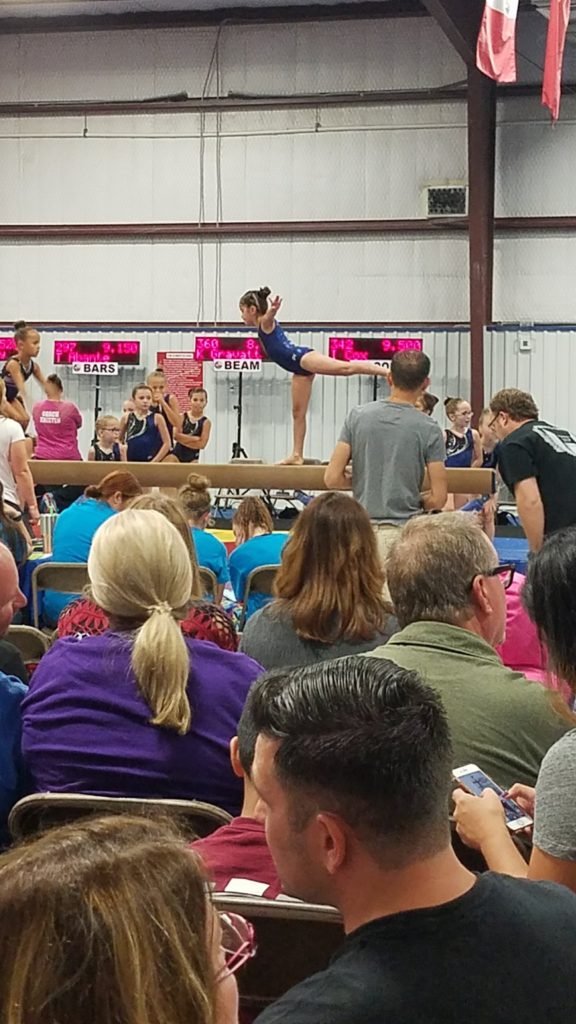 Happy Thanksgiving (and Happy Birthday month!)
Laughing thru Life,
Coppelia