*You may find affiliate links for things I love! At no extra cost to you, I could receive a small commission if you click and buy thru my links. Thanks! ~Coppelia
Can you REALLY get 30 lessons from a 30 day social media detox? The answer is YES!
Let's say in 30 days I learned enough to share with you at least one lesson a day for 1 month. And if you think it's too hard (or downright impossible) to be off social media for a month, you might be surprised! It was easier than I thought it would be. No withdrawal symptoms (which was a relief, because I think my husband wondered if I might actually be addicted!) Thankfully, no, I was not.
But my hubby and I both noticed that our relationship dynamic changed. And my son noticed, too. My daughter said she didn't (which means I need to ask a few more questions to see if we can figure out why!)
Why were you calling this detox a 30 day "hard break"?
I was calling this a "Hard Break," inspired by Aaron Edelstein's book by the same name.
[Hard break = A Sabbath, or, in this case, 30 days without social media, using only cash and doing a #Whole30. The idea was to reset those 3 areas of my life — time, money & food.]
**Here's my Amazon affiliate link to the book, in case you wan to check it out!**
In short: the social media detox (or hard break) was GREAT!
Unfortunately, the other things I was addressing in my 30 day "Hard Break" did not go as well. I have a LOT OF WORK to do when it comes to limiting or cutting out: Sugar (yes, I capitalized it on purpose), Starbucks, Chick-fil A fries, Milano cookies … these are all part of my diet pretty much every day. Not every week, every day. I know. I need to Clean. That. Up.
Eating out eats up a lot of our money, too, which is why I thought of trying to use cash envelopes on this "hard break" experiment. We did use cash for the most part, but it wasn't an "envelope system" experience. It just drove home the point that we're spending way too much eating out. I'll revisit that later. For now, back to the 30 lessons from my 30 day social media detox!
Have YOU ever thought "I can't go without social media for 30 days?"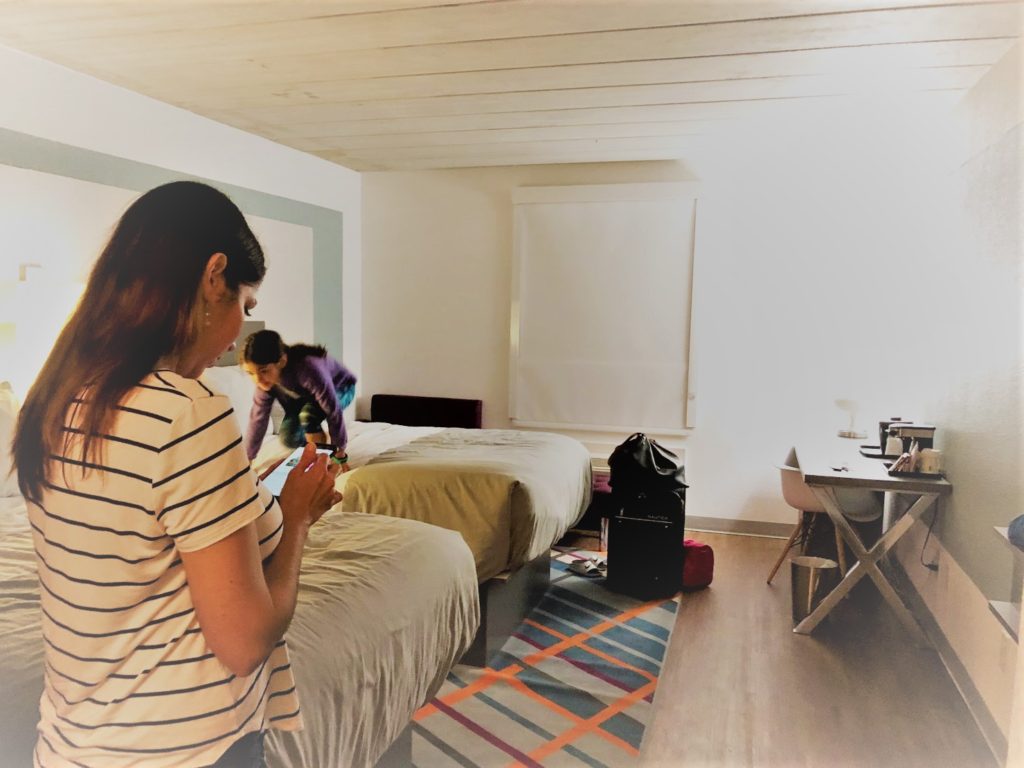 Keep reading! This might make you want to take a break. The results might honestly surprise you!
Of course, everyone's "hard break" or social media detox, fast, or whatever you wanna call it, will be different. You might learn other lessons than what I'm about to share. But I think we definitely get more good out of it than anything you might sacrifice by giving it up.
DISCLAIMER: This is not me being all self-righteous. Do NOT feel bad if you don't want to do a social media detox. Don't do it! I'll love you anyway! lol! Seriously. This is something I wanted to do for myself, not to try to make anyone feel bad about doing it or not doing it.
I AM excited about sharing with you what I learned because, if anything, we can all take time to think about our lives — what we're doing, what we want and IF what we're doing is leading us to where we wanna go.
Dang it, did that sound preachy?!
ANOTHER DISCLAIMER: Please don't take this as preachy. Just take it as a friend sharing an experience. And please comment below. Let's have a conversation about it! That's one of my favorite things about this blog — taking the conversation further!
My hope for YOU in sharing all this is encouragement.
I hope this encourages you, whether you try a social media detox for a day, a week, a month, or not at all. I hope it makes you want to LIVE your life, posting as little or as much as you like. But at the end of the day, it's up to YOU!
Without further ado, I present to you:
30 Lessons from my 30 Day Social Media Detox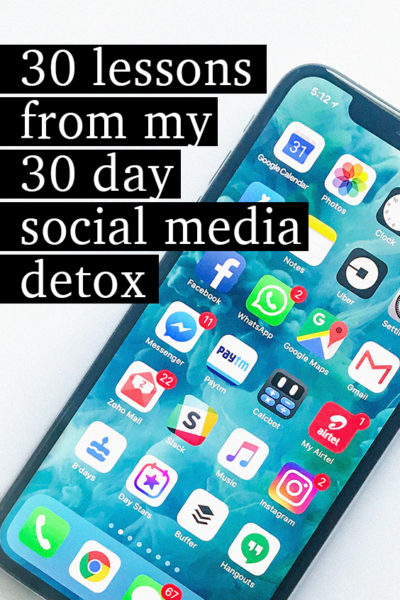 You may notice your family more.

I noticed that my husband was nicer to me. Or maybe I looked up from my phone long enough to realize it!

You may show more kindness to others.

I felt like I was kinder to my husband. (Probably in response to #1.)

Your marriage may improve.

Wonderful things can happen when we actually make eye contact and say nice things! Who knew?

You may make new friends!

Interestingly, or coincidentally, the same month when was "off social media", my husband and I found ourselves interacting more with neighbors and through joining a Bible study group.

You may learn new things!

My hubby & I joined a Bible study. We connected with old friends AND made new friends! Technically, you could do this while on social media, but who knows if we would've missed the opportunity if we'd been too busy to find out about it!

You may grow in your faith.

(See #5. And if you're off social media, you may find yourself reading a book you'd wanted to read, spending a little more time praying, journaling, etc.)

You may grow closer to those you love.

It seemed like our family snuggled on the couch WAY more than we had in a long time!

Your kids may talk to you more.

You may stay on top of paperwork

I definitely checked my daughter's school papers more consistently, which is always a plus!

You may play more games and have more fun!

We played games! This made me realize how we honestly NEVER take time to do that as a family because we're always so BUSY.

You may (finally) catch up on emails.

You may also realize, like I did, how many we get that we should unsubscribe from, which can save time in the long run!

You may find out how much you use your phone at dinner time.

Not just me, but my hubby, my 12 year old son and my 8 year old daughter on dad's iPad, watching YouTube videos. Plus, the TV might be on in the background. WHAT?! This 30 day social media break may have helped me open my eyes to how disconnected we had been and make some changes.

You may find alternative ways to connect with family and friends

… like calling or texting, meeting up for lunch or driving to someone's house to catch up!

You may figure out how to use social media better …

… and not let social media use you. This is a work in progress for me for sure.

You may work out more!

Not sure if there was a correlation here, but still! I worked out more those 30 days!

You may make progress decluttering at home.

Another work in progress! But it's so encouraging to see that progress!

You may cook more.

I fell in love with the Instant Pot again! And pulled out the slow cooker more than we had in a while. I'll share my Amazon affiliate link below in case you're curious about this awesome kitchen gadget!

So far, my family has LOVED Instant Pot sweet potatoes, pasta and ground turkey, rice and beans and more!

Your house may be cleaner!

I definitely felt like I cleaned more! It's possible that I "had more time to clean" because normally, when we get home from school and work, I'd check my phone while the kids put away lunchboxes and started homework. vacuuming the stairs takes less than 10 minutes, which we all know can go by WAY faster than that when we are standing by the same stairs, scrolling. (Note to self.)
Also, thank you, Flylady, for your tips to conquer the C.H.A.O.S. (Can't Have Anyone Over Syndrome! Ha!)

You may cross off more things from your to do list!

… like finally rescheduling that dentist appointment.

You may give more to charity.

… you know that box filled with giveaway clothing, toys and more that's sitting in a corner? We finally sorted ours and donated it!

You may prioritize better.

You may focus more.

You may even make more money!

I can't give you a 100% guarantee that there's a correlation between staying off social media and making more money, but I DID! It was a bit surprising. I wonder if it's because I was able to FOCUS (see #21) on things that mattered more in terms of monetization.

Your side hustle may grow.

A friend recently started helping me book speaking and singing opportunities, which is one way to grow! I'm so thankful and can't wait to see where this goes! #StayTuned!

…or You may finally START that dream side hustle!

Instead of looking at what other people are doing, you may find yourself scrolling less and dreaming up what you want YOUR side hustle to be!

You may earn admiration from your peers.

A lot of people said "congratulations" and "I'm proud of you" in response to my 30 day break. I didn't think it was that big a deal, but apparently, it is! It can show others your determination, self-control and driven nature to succeed — all positive traits we want associated with us!

You may improve your communication skills.

I found myself asking for help more.  think I rely too much on myself and on texts. Face to face conversations are underrated — and so valuable. By realizing I'd need help, specifically with meeting my social media job-related tasks, and communicating that to my team, I felt like we got the work done and my relationship with my co-workers got better! (We even had more fun working on things together that I'd normally do on my own!)

You may show up for your life.

It's way too easy to live on auto-pilot. If you buy yourself a few extra minutes (or hours) by staying off social media, you might find time to dream again, finish a project or two, plan a vacation … and just generally show up for your life!

You may re-evaluate your priorities.

It's not about getting off social media, unless you find that's ideal for you. It's about setting boundaries and routines that work best for you and your family. To borrow productivity terms, it's putting in the "Big Rocks" first, and not living in a rush, constantly "putting out fires."

You may establish regular social media breaks…

…because you find out how much more your life turns ON when you turn social media OFF!
You'll probably see me on social media, and I hope to see you! But hopefully, we're also making time to regularly be fully present, enjoying our lives! We can take a photo and save it to post later. In the meantime, back to LIFE!
Laughing (and learning) thru life,
Coppelia