*You may find affiliate links for things I love! At no extra cost to you, I could receive a small commission if you click and buy thru my links. Thanks! ~Coppelia
I hope these short and sweet Back to School prayers for moms and kids are a blessing to your family. We try to always pray in the car on the way to school, so I thought why not share some prayer ideas here on the blog, too?
If you love them, please share them with another mom that you know could use a little encouragement in the new school year (for her AND the kids!)
Let's pray! 
A Prayer for Moms

A prayer for moms
Heavenly Father, You are so good!
Thank you for the blessing of being a mom. That alone is a miracle and I'm thankful.
It's a new school year and you know I want to do it ALL!
I want to make the coolest, healthiest lunches and leave sweet notes for the kids sometimes.
Lord, I'd love to have a great relationship with the teachers and help out (but I know it's hard with my schedule.)
Father, I plan to wake up early and workout and meal plan and not be cranky (but you know I REALLY need help here.)
I want to help with homework, but not too much so they actually learn and do it themselves.
It would be awesome to have unicorn-shaped sandwiches and acorn-shaped cantaloupes for their after-school snacks, but I know we won't always have time. Just, please help me say NO to the drive-thru more often and eat as healthy as possible, for the kids' sake and for my blood pressure.
Jesus, please let me make friends with other moms that go beyond pleasant hello's. Let us be better friends with more coffee dates, deeper conversations and encouragement.
Help us to know that You see us trying hard, loving our kids and it's all going to be ok because You are with us.
Thank you, Father, because I know You will work all things together for good this school year for our family.
I pray all this in the powerful name of Jesus, Amen.
A Prayer for kids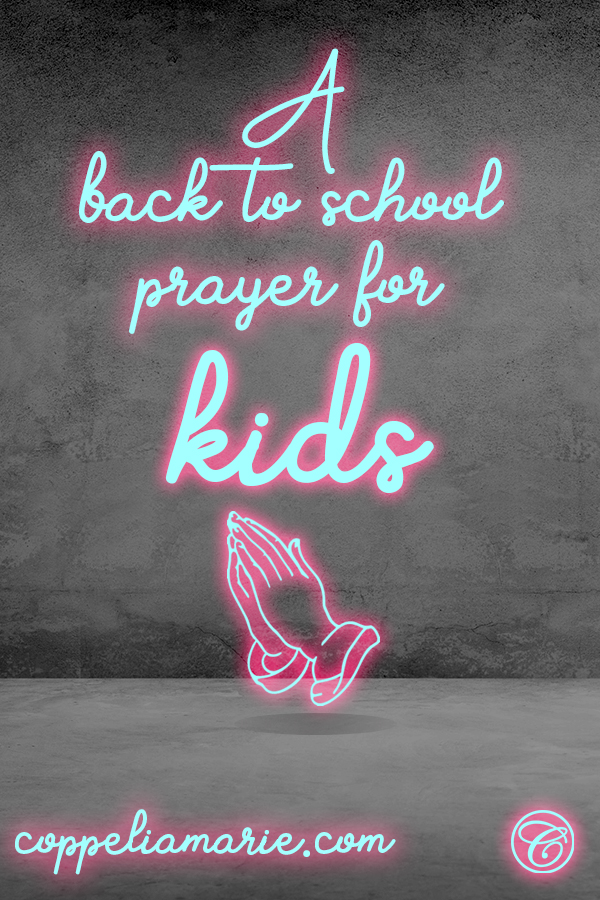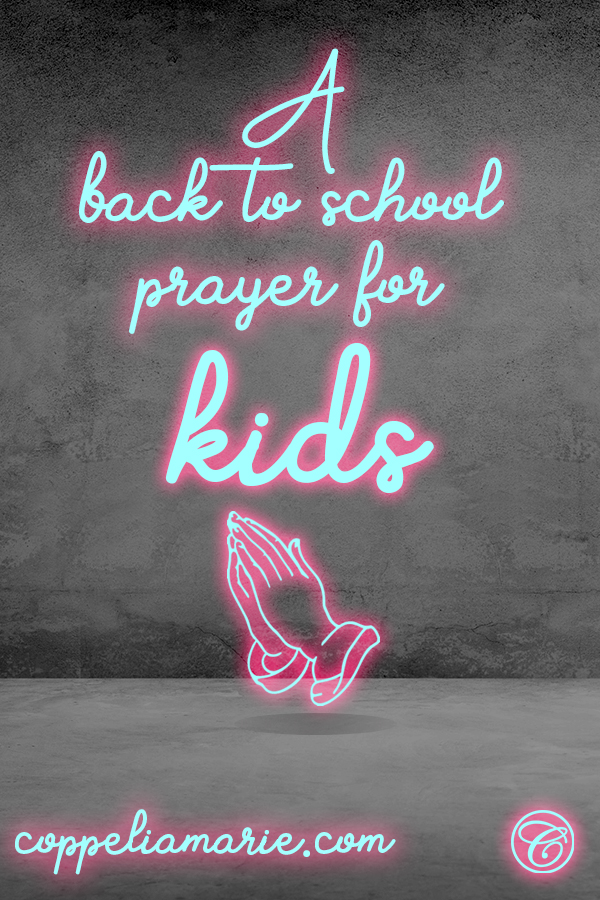 Dear Father, the children You have given me are a blessing!
Your word says kids are both a reward AND a blessing, and I'm so thankful for the ones You've given me.
You and I both know that sometimes loving them is very easy!
When they reward us with BIG SMILES because pancakes! On the first day of school!
It's easy when they remember their lunchboxes and middle school IDs and give hugs and kisses before they leave.
And I pray that they'll always know how much I love them! 
But, Lord, you and I both also know loving our blessings is not always easy.
It's especially hard when they're disobedient and defiant.
But I know I can be like that with you, too, Father.
I pray that my kids will know how much I love them no matter what.
Because Iknow that's how You love me, too.
Lord, I pray that Your hand of protection will be on them every day of their lives, but especially when they're in school.
I ask that You would help them make good friends, be good friends, and stay away from bad influences.
Father, please help them pay attention and learn what they need to accomplish what You created them to do.
Please give them success and help them SHINE! You have given them talents and gifts.
May I have the wisdom to see those talents and gifts, and encourage them.
And may others see them, too!
God, You know I could talk to you for hours about my kids.
But at the end of the day, my prayer is that they may know you and love you.
I pray that they'll know:
"…how wide and long and high and deep is the love of Christ, 
19 and to know this love that surpasses knowledge—
that [they] may be filled to the measure of all the fullness of God."
Ephesians 3:18-19
I pray all these things in the beautiful and powerful name of Jesus, Amen.
Laughing (and praying) thru life,
Coppelia