*You may find affiliate links for things I love! At no extra cost to you, I could receive a small commission if you click and buy thru my links. Thanks! ~Coppelia
This blog post is sponsored by Hire a Helper. All opinions are my own. Hope these moving tips help you stress less during your next move! 
As you can imagine if you've ever had to move to another state, we were equal parts excited and stressed out. But we were determined to keep stress levels to a minimum. We recently moved from Houston, Texas to Orlando, Florida. I got a fantastic job offer and, after my hubby and I prayed and talked it through, we said YES!  Now that we're (almost) unpacked and settled into our new house, I decided to share the 5 moving tips that helped us the most during the move. These are the secrets that helped us stay sane (for the most part!) And we're talking moving tips from packing to unpacking! Oh, and let's not forget our moving road trip featured a 26 foot truck with all our belongings, a Chevy Traverse, two kids, one dog and one guinea pig!
5 Tips to Help You Stress Less During Your Next Move
Whether you're moving just a few miles or across states (like us), upsizing or downsizing, these moving tips should help you out.
If you can start the process early, even better! But if you, like me, end up having to leave early to start a job or for other reasons, and you don't have a lot of time to pack, these tips should help you either way!
Our latest move in a nutshell
(BTW, this is move #9 in the 15 years my hubby and I have been married!)
Our moving story started the last week of March. I drove from Houston to Orlando by myself to start my new radio job. I actually enjoyed the long drive! Meanwhile, my hubby Adam stayed behind with our kids. And I counted the days until we could all be together again!
One (long) month later, I flew back to Houston! FINALLY! It was Easter weekend, which made it extra special. I got to sing at our church that Sunday (one last time before the official move!)
But it was a WHIRLWIND WEEKEND! We literally had a handful of days to pack, complete the road trip and unpack before I was back to work. Hiring help was one of the keys to making this move a success.
And friends! We had a few friends show up at our "going away / goodbye / packing party." I can't say thank you enough!
This move was definitely a challenge, but we accepted it! And a BIG part of making our move less stressful was the fact that we had the opportunity to work with Hire a Helper! They are sponsoring this blog post, which means they provided helpers from a moving company of our choice in exchange for an honest review. I share more below (see Tip #5!)
Ready for the Moving Tips? Here you go!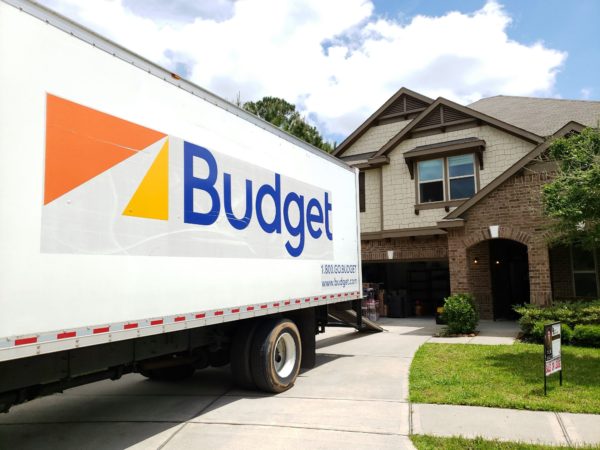 Moving Tip #1: Start decluttering as soon as you know you're moving.
My hubby Adam and I flew to Florida in January for my job interview. Even before the job was a sure thing, we started talking about the potential move. Having moved a few times before (8 times, to be specific!), we were going to welcome the opportunity to declutter. We knew that if we were going to pack up all our stuff for a half-country move from the Lone Star State to the Sunshine State, we had to get started ASAP.
It probably helped that Adam and I had watched at least one or two episodes of Tidying Up with Marie Kondo on Netflix! We were more than ready to flex our decluttering muscles and say "goodbye" to anything that didn't "spark joy!"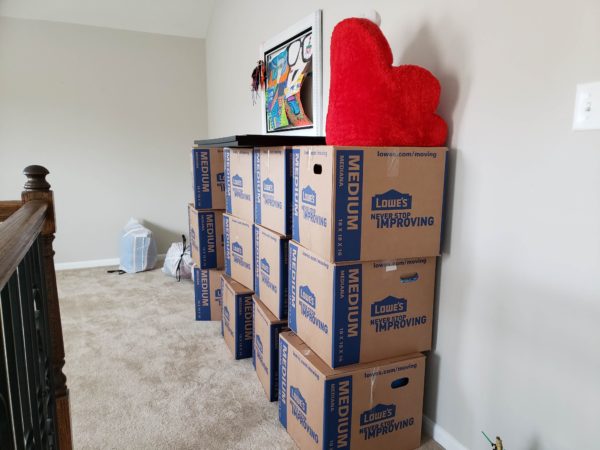 Moving Tip #2: Pace yourself by taking timed breaks.
If you're anything like me, you want to DO IT ALL! And you want to start RIGHT NOW! Which leads to half of the closet packed in 90 minutes and one exhausted, cranky mama. One thing we tried to do was take mini breaks. Push through the smaller linen closets? YES! But every few boxes, take a break. Drink water. Ask if anyone needs anything. And, if you have one, go jump on the trampoline with the kids! It helped me burn calories and relieve stress!
Moving Tip #3: Plan meals & stock up on snacks.
I hate to admit that we already eat out WAY more than we should. This move sort of forced me to think ahead to what we were going to eat, especially once the kitchen was packed. And honestly, planning ahead helped! We tried to eat up what we had in the friedge and pantry. And, truth be told, you're probably going to eat out at some point, so try to research healthier options. And look for places where kids eat free!
Be sure to also stock up on your family's favorite snacks. We have food allergies, so it's especially important for us to always have something on hand that my daughter can eat. We stocked up on ALL the snacks (which helped on moving day, through packing, unpacking AND the road trip!)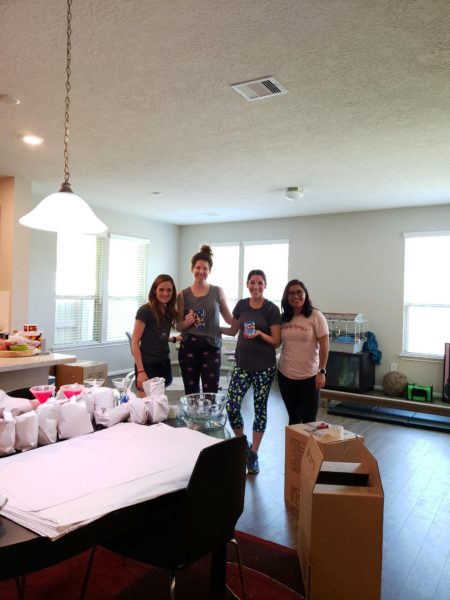 Moving Tip #4: Invite friends to help (kids can help, too!)
Depending on the kind of friends you have … you may be able to pull off a goodbye/packing party! We kept it simple with a Facebook invite and just asked people to stop by, give hugs and pack a box or two. We had water, sports drinks and more snacks (of course!) And our friend Shari  (in the photo above) brought fruits & veggie trays! YUM!
We laughed and chatted all throughout the packing, while the kids packed a little and played a lot! I couldn't have asked for a better way to spend our last few days in Houston than with friends … especially those who didn't hate us for asking for help with packing! HAHA! Seriously, y'all were the BEST!)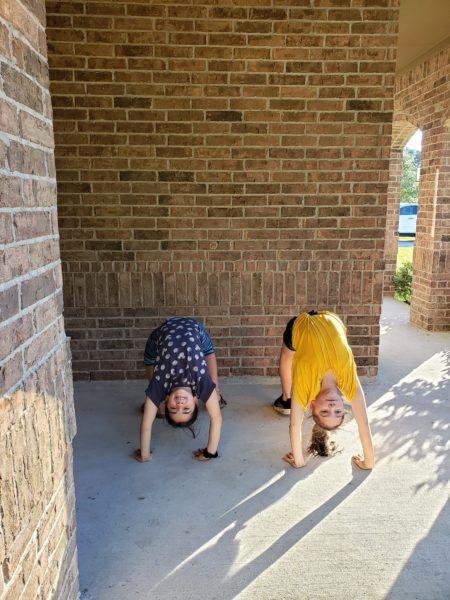 Disclosure: This blog post is sponsored by Hire a Helper. They provided movers in exchange for an honest review of their service, which I am sharing here. 
If you've ever wondered how you're going to handle all the logistics of a move by yourself (or even with a spouse and kids), you know there are a lot of details involved.
How many boxes do we need?
Do we rent a truck?
What size truck do we need?
Do we want to use pods instead of a truck?
How much is all of this going to cost?
The great thing we found out through Hire a Helper was that their site is a HUB of moving information! And it's so easy to find everything you need. They help you sort out everything from estimating how much time the move will take to how to survive a rainy day move and everything in between.
From Houston, Texas …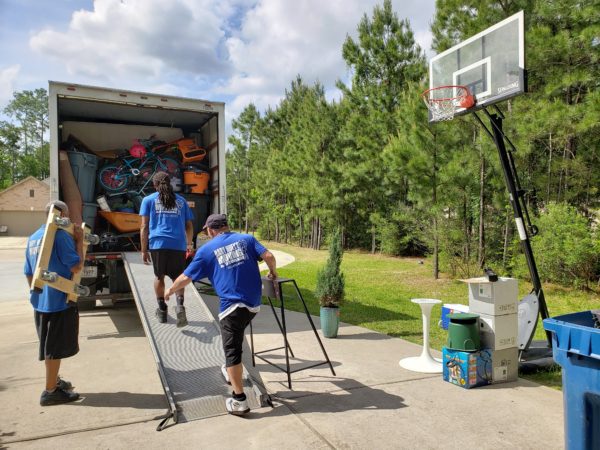 We started by clicking: Hire a Helper in Houston, Texas.  That link will take you to a page where you can compare prices, look at the best options and book your movers! It was seriously SO easy!
On moving day, the guys from Baby Hueys Moving arrived promptly on time and got right to work! They were so courteous and friendly, asking us to make sure things were packed the way we wanted. Special shout out to Anthony, Damien and Tony for getting our house packed and loaded on the truck with a great attitude! We even came in under budget!
…to Orlando, Florida!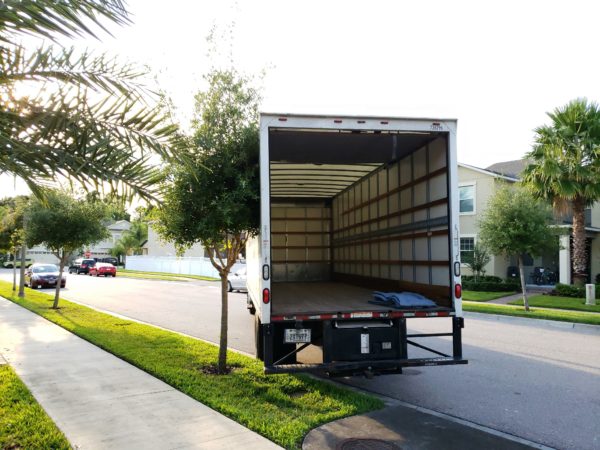 Because our road trip/move from Houston to Orlando, Florida was pretty flexible, we weren't sure at what time we'd arrive at our new house. Once we figured it out, I simply clicked Hire a Helper in Orlando on my phone, compared prices and booked! Literally, we were on the road, on our way when we were getting all this done!
The Orlando company we booked through Hire a Helper, Bella's Movers, is named after the owner's daughter (so sweet!) Those three guys, Frank, Pasquale and (no joke) their cousin Vinny (ha!) were awesome as well! They were careful to unload everything, put the boxes where they belonged (we tried labeling EVERYTHING), assemble furniture and they did it all with a great attitude as well!
We really loved BOTH of the moving teams we booked!
The fantastic thing is, whether you're planning a move months in advance or are putting things together last minute, you can go online and book through Hire a Helper on your terms, your budget and your schedule. I highly recommend them!
If you think of any moving questions, please let me know in the comments below. I'd love to share more about our experience if it can help YOU have a better move!
Laughing (and moving) thru life,
Coppelia