*You may find affiliate links for things I love! At no extra cost to you, I could receive a small commission if you click and buy thru my links. Thanks! ~Coppelia
Talk about Disney birthday magic! My sister Emille Enchanted and I received a free #NowMoreThanEver Disney Playdate Party Box (complete with party favors, decor, door prizes, sparkly silver Mickey ears & even a PIÑATA!) And it came at the perfect time to throw my niece a SUPER Elena of Avalor Birthday Party! My niece just turned 6 and this was the perfect theme for a Disney princess like our Riley! #NowMoreThanEver … is the perfect time to throw a Disney party and dream of your next Disney family vacation!
10 Easy Tips to Throw an Elena of Avalor Birthday Party!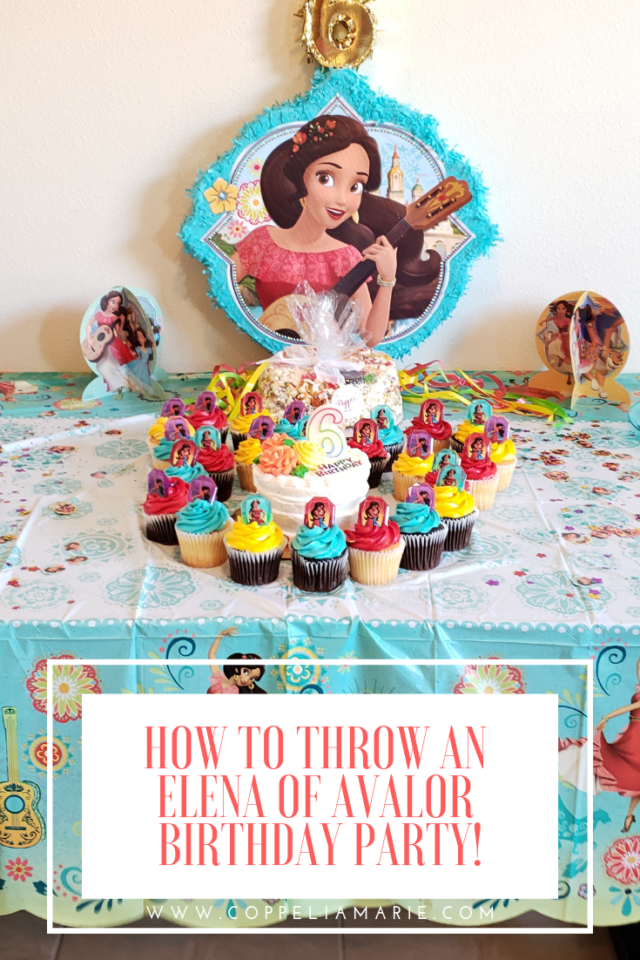 Grab a family member or friend and create your plan!

My sister Emille Enchanted and I joined forces to throw the best party we could! She decided we'd host the party at her house. We combined our Disney Playdate Party Box decor, goodies and more! And then we moved to step 2 — FOOD!

Decide your menu

We kept it fun and simple for my niece's Elena of Avalor's Birthday Party! Kid-friendly snacks (chips, mini donuts, veggie & fruit tray, etc).
And we couldn't skip a family tradition that our mom Camille did for ALL our birthday parties when we were little, growing up in Puerto Rico: "sandwichitos de mezcla!"
And of course, the FIESTA couldn't be complete without a sweet mini floral cake, surrounded by Elena of Avalor cupcakes, decked with Elena toppers over frosting in Elena-inspired colors like red, turquoise and bright yellow! 

Pick your outfits

The birthday girl had an adorable Elena of Avalor costume and Mickey ears. And my daughter had a super cute red floral dress that matched perfectly! My sister and I also incorporated Elena of Avalor bright red into our outfits because we had to take cute pics! 

Create a Photo Backdrop

My sister found the cutest castle backdrop at the Dollar Store! She hung it on a wall as a photo backdrop, with a golden number 6 balloon to give it a 3D feel! It worked out perfectly! 

Set up the welcome table

We had a welcome table set up with Elena of Avalor "tiaras" the guests could wear when they arrived! That was also the perfect table for guests to drop off their gifts. And it served as a cute photo backdrop. Speaking of which…

Set up the food area

We used my sister's kitchen island for food & drinks and it was definitely the place to hang! (Or maybe that was just me, munching on chips!)

Set up the cake table

The dessert table turned out GORGEOUS! The centerpiece of course was the beautiful floral mini-cake, surrounded by cupcakes. We also set up photo props for the backdrop, mini toys for the kids to add to their goody bags, and tons of sparkly confetti sprinkled throughout! So pretty!

Play games!

We had elementary school aged kids, so we stuck to "Elena of Avalor" royal chairs (musical chairs), Pin the Tiara on the Princess and Mickey cartoons in the living room. Of course, all the kids couldn't wait for the BEST game of all … PIÑATA TIME! Which leads us to the next point — 

PIÑATA TIME!

Our "PIÑATA" had strings for the kids to pull at the bottom, instead of hitting it with a stick. It's a lot easier to do indoors this way. Plus, it's the way we did it back home in Puerto Rico where we grew up! It brought back great memories and we all had a blast!

Sing happy birthday & enjoy those cupcakes!

Before we knew it, the time came to sing Happy Birthday and wrap up our Elena of Avalor Birthday Party. The kids (and some of us parents) enjoyed the cupcakes and we had that mini cake leftover!
Bonus: We included an option in the invitation to head to the pool afterwards and a few guests took us up on it! The kids ALL had the best time! And it was the perfect end to a fun Elena of Avalor Birthday Party!
I hope this inspires you to plan a fun birthday for YOUR Disney princess!
Laughing (and celebrating) thru life,
Coppelia