*You may find affiliate links for things I love! At no extra cost to you, I could receive a small commission if you click and buy thru my links. Thanks! ~Coppelia
What a PARTY!!! Chuck E. Cheese's knows how to throw a Grand Opening party! Our family received an invitation to check out the newly remodeled Chuck E. Cheese's on 146 FM 1960 in Houston. In exchange, I'm sharing my honest thoughts here on the blog and on the video below!
Plan a Family Fun Outing Soon!
If you have not had a family fun outing recently, you definitely want to check out this NEW & IMPROVED Houston area Chuck E. Cheese's. The location looks beautiful and they've opened up the kitchen, to give you not just a look inside, but to allow you to communicate better. This is wonderful for our family, since we deal with food allergies and it's important to communicate those special dietary needs to kitchen managers and chefs.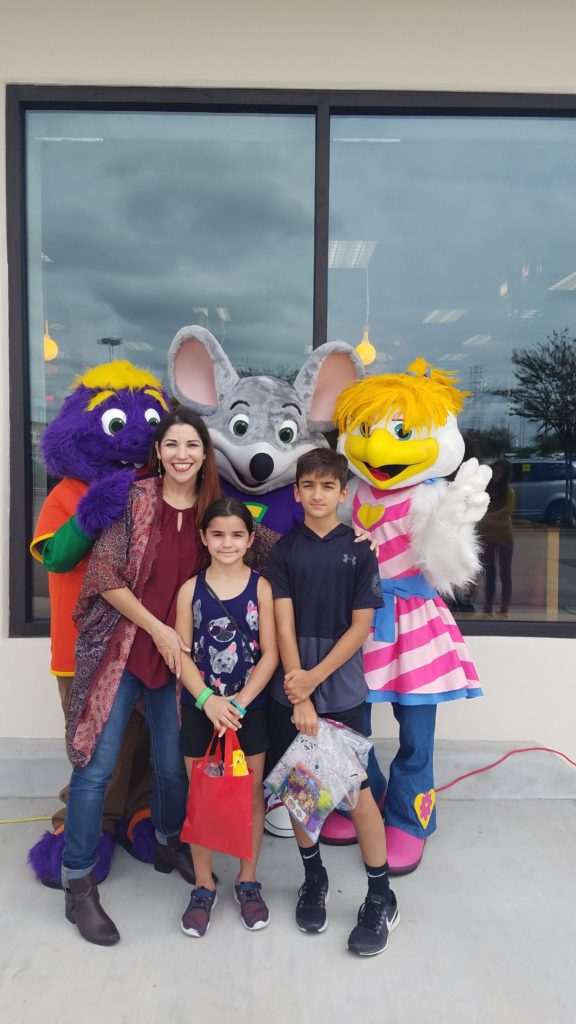 It's crazy to think that Chuck E. Cheese's has been around for more than 40 years! I remember going when I was a kid to a Chuck E. Cheese's in Condado, right by the beach in Puerto Rico! That area is still one of my favorites to visit when we go back home.
Chuck E. Cheese Parties are FUN!
Now that I have kids of my own, we've celebrated birthdays at Chuck E. Cheese's for our kids and attended some of their friends' birthday parties there, too! It's always so fun!
What about older kids? My kids are both tweens now (8 and 12 years old). I wondered if they'd have as much fun as when they were younger. Well, they quickly let me know that they wanted mommy to stop "taking photos for the blog" because they wanted to use their new Chuck E. Cheese's "Play Bands" to enjoy their "All You Can Play" session! I even caught them playing together! That's my kind of family fun outing! And you know how special it is when you find anything that, if you have more than one child, brings them together. It's such a blessing to see them have fun as siblings and hopefully grow to be good friends.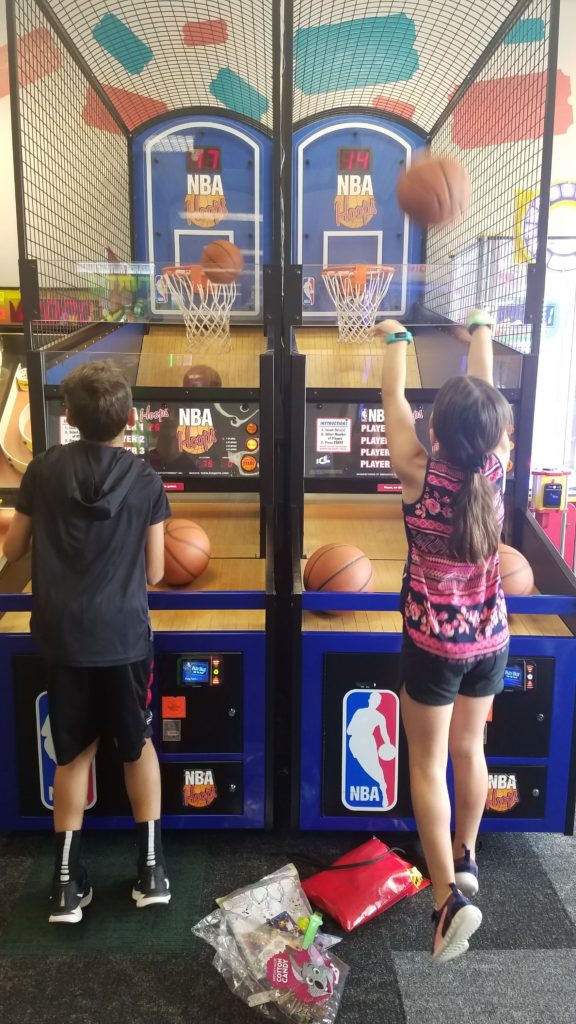 All You Can PLAY!
You know how an "all you can eat" buffet can be awesome? How about "All You can PLAY?!" Chuck E. Cheese's launched a new "All You Can Play" experience, where you pay by time, not tokens. My kids loved this! And the "Play Bands" they wear and use to activate the games reminded us of the Magic Bands you use at Disney World! You can tell Chuck E. Cheese's is going the extra mile to make your next visit extra fun!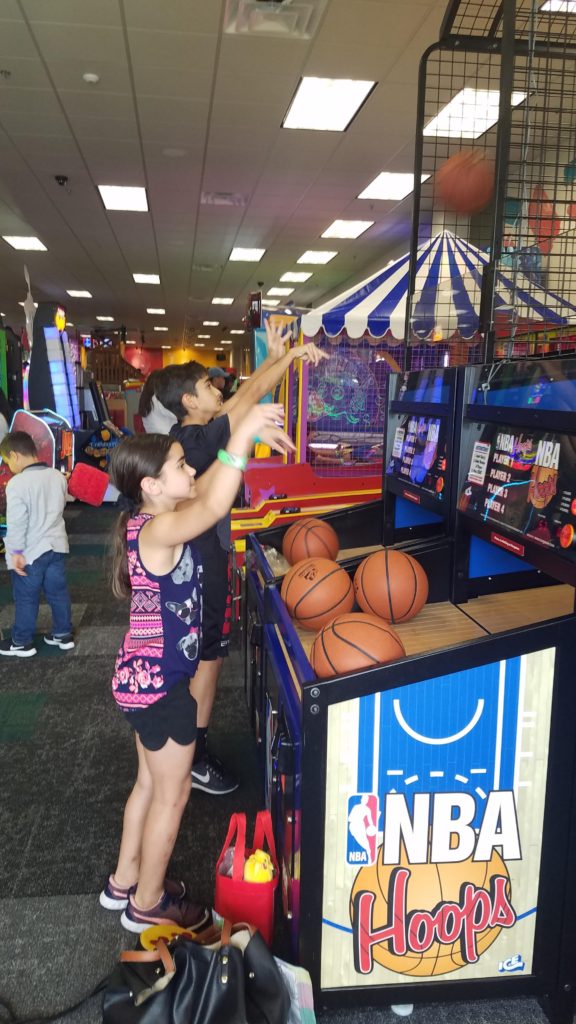 If you have any NBA Basketball fans in your family, they're going to love the NBA games they have at Chuck E. Cheese's. Of course, they're included in the "All You Can Play" deal … all the games are! This one was definitely my son's favorite, and my daughter jumped right in. Although she said her favorite was skeeball! She even made the 10,000 hard shot!
Check out more of the fun, including the SUPER fun light-up dance floor in our Chuck E. Cheese's Grand Opening video below! Even more fun, the characters, including Chuck E. himself, come out and perform a little show on that light up dance floor … and the kids can jump right in! So fun!
Light Up Dance Floor and more!
The light-up dance floor may have been more for the younger kids because the little ones (around pre-school and younger elementary ages) were the ones that gravitated more toward that area. The little ones that were at the Grand Opening seemed to love the characters, too! Some kids tend to be scared of those "big characters", but the ones here seemed to all be having an awesome time!
To be honest, we did, too! Even though I had a few tween eye-rolls, this mommy's heart was happy to see my kids running around, playing, laughing and having fun! And it's not every day that we get to do fun stuff like that together. Thanks again to Chuck E. Cheese's in Houston for the invitation to celebrate the Grand Opening! We had a blast!
Laughing (and partying) thru life,
Coppelia
Follow Chuck E. Cheese's on all their official channels:
This is a sponsored conversation written by me on behalf of Chuck E. Cheese's . The opinions and text are all mine.