*You may find affiliate links for things I love! At no extra cost to you, I could receive a small commission if you click and buy thru my links. Thanks! ~Coppelia
If you've been wanting to meal plan & eat clean (check), save money (yep) and maybe even lose weight (oh yeah), this may be the BEST THING you read all week! Or at least I hope it is! LOL!!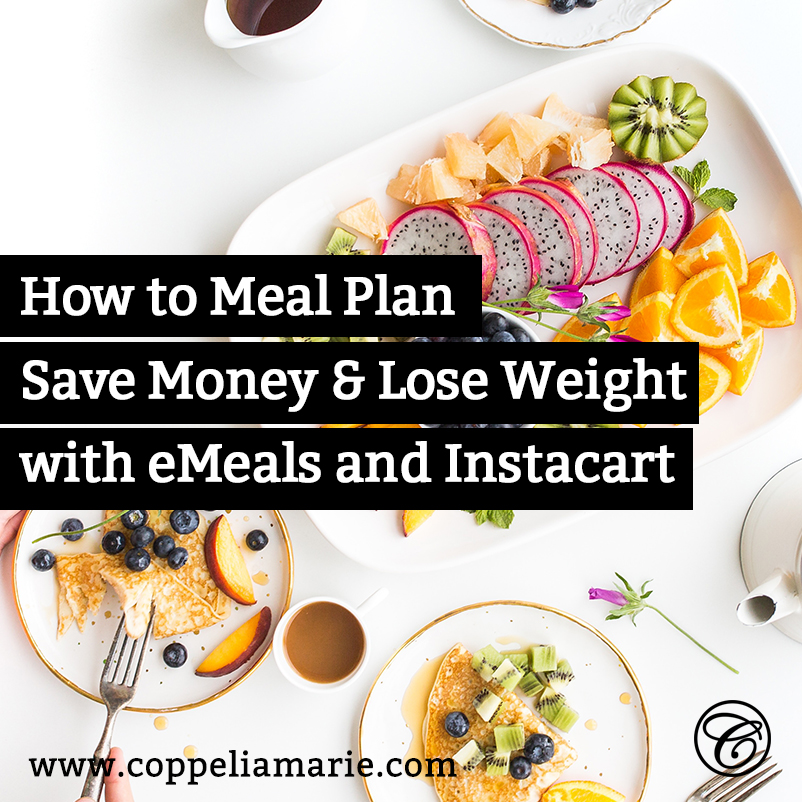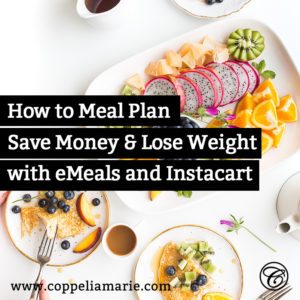 Imagine getting a healthy, family-friendly (and easy for non-fussy cooks) meal plan that instantly shows up right on your phone with new meals every week. Pretty sweet!
Next, you click to edit the grocery list so you have everything you need to make the meals. Nice!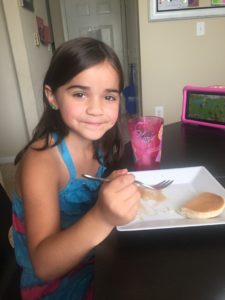 I did this with my 7 year old daughter and she thought it was FUN! You can even do it on a phone, you know, in between eating pancakes and watching cartoons on a tablet!
What happens next is so cool. You can actually click to have your entire grocery list delivered to your home!
ALL the food for 1 week of family dinners (plus a few extras) gets delivered to your home for about the cost of ONE family meal out!
WHAT?!
Is that even possible?
YES!
Honestly, I wouldn't have believed it until I tried eMeals + Instacart together. It WORKS! And I'm super excited to share my affiliate links here with you!
(With my affiliate links, if you love eMeals and decide to try it free and then get one of the plans, I get a small commission at no extra cost to YOU!)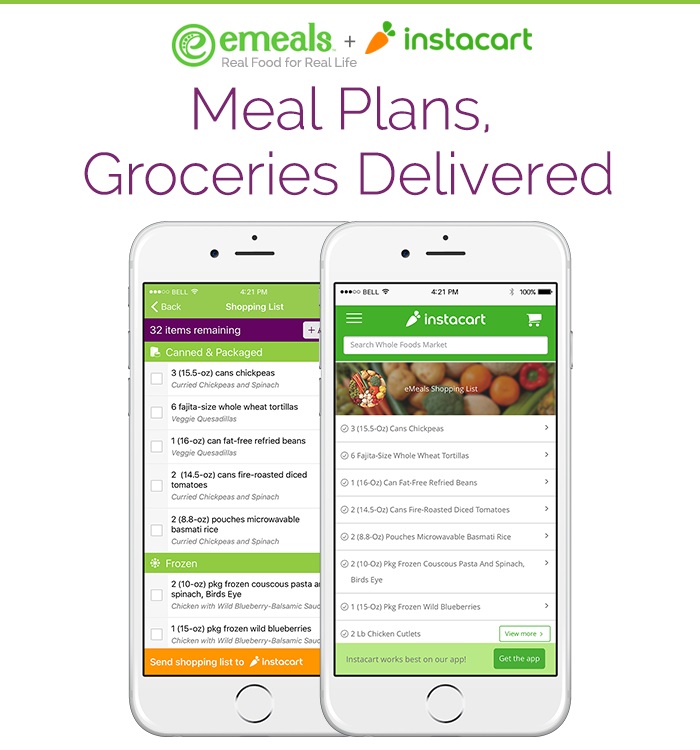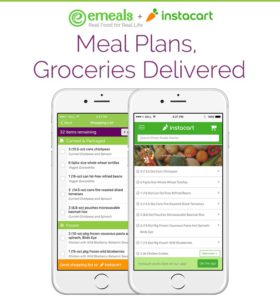 If you eat out as much as we do, this combo of eMeals and Instacart is practically life-changing. I'm not kidding when I tell you that we often eat out 4 to 7 times a week, and sometimes it's breakfast, lunch AND dinner! (Don't judge me!) LOL!
Ok, so show me the money.
Depending on the restaurant or drive thru (hello, Chick-fil-A), our family of 4 averages between $30 and $40 per dinner out.
To get eMeals and Instacart delivering groceries for a week's worth of meals + extras straight to your doorstep, on average, is roughly $5 per month for eMeals + about $20 Instacart (plus the cost of groceries).
For our family, the $25 or so that we pay for eMeals + Instacart are worth all the time and effort we save.
Is it worth it for YOU? It depends on how busy you are and how much you currently eat out.
I think the main reason we eat out all the time is convenience. We have long commutes during the week, plus activities for the kids, church worship music rehearsals, unconventional work schedules and we try to squeeze in boot camp sessions when we can! I love our crazy busy schedule, but it's not great if you want to plan regular meal times and try to not eat out All. The. Time.
Part of me LOVES the variety. But for the sake of our budget on the quest to become debt-free, we kind of have to make some changes.
Honestly, though, living a busy life like ours is kind of "madness". And I don't think it's the whimsical "we're all mad here" Alice in Wonderland style. It's sheer madness. The stress and high blood pressure-inducing kind. I'm not a fan of that kind. And I'd like to try a little life change for the better.
In fact, I'm doing a 12 Week Summer Transformation with goals and everything (wow!) One of those goals is to plan ahead a little more so we can save money and eat better.
I'm super excited to share with you this eMeals + Instacart "secret weapon" that ACTUALLY WORKS for our busy family to save money, eat clean, make meal planning ridiculously easy, and even potentially lose weight!
I actually lost weight! I went down from the 140s to the 130s!
Of course, I can't guarantee that you'll lose weight, too. I'm just sharing my personal experience. But when you make the switch from unhealthy dinners out to home cooked real food, there are a lot of benefits. In our case, we saved money and lost weight. I hope you see some great benefits, too!
In a nutshell, eMeals is a meal plan and Instacart is a grocery delivery service. You can use them separately just fine. But together, these two are AMAZING!
Seriously, eMeals + Instacart together are better than PB+J. Or Salmon and green beans!
It's so convenient to be able to click and have your eMeals healthy meal plan grocery list ordered on Instacart.
You pick exactly which brands you want of each item, and they DELIVER it to your home!
And even though Instacart is not everywhere, they're growing! Just type in your zip code and see if Instacart delivers to YOU!
If you're curious, you can try eMeals for 14 days FREE!
I also love that eMeals has a BUNCH of meal plans to choose from! If you're Paleo, they got you. If you are on a diabetic diet, or prefer vegetarian meals, they got you! They even have slow cooker meals so you don't even have to worry about too much cooking (that's my current favorite!)
I know a lot of people who like to order groceries and pick them up. That's great, too!
But Instacart saves me so much time by delivering to my front door!
I have to give a special shout out to my friend Jaclyn who was the first person who told me about Instacart. She was a super fan! I have to admit, at first I was skeptical. And then I tried it! I couldn't wait to tell Jaclyn that we DID IT! And she was RIGHT! Haha!
With our busy lives, I know that if we just go grocery shopping, tons of food will go to waste because we don't have a plan.
The great thing about combining eMeals + Instacart is that you get the groceries AND the plan, so it takes care of a lot of time spent wondering what to cook!
Honestly, the first time we tried this, my hubby and I were laughing like two crazy kids when we opened the door and the Instacart grocery delivery guy looked at us as if to ask "have you guys never done this before?"
He literally asked us that question.
We giggled and blurted out a reply: "No!" Hahahahaha! But you, sir, YOU are AWESOME!
One could have thought we were drinking, but we were not.
We felt like kids who asked for groceries for Christmas and we just CAUGHT SANTA delivering them!!! HAHA! Except his name was Kenny, which I thought was hilarious (because South Park).
(Sweet side note: Grocery deliveries for people who would in fact wish for food at Christmas or any time of the year is an amazing opportunity to make a difference if you're ever able to do that.)
So here we were, staring at the AMAZING grocery bags by our door after Kenny left, chuckling about what just happened. We were chuckling, too!
I mean, THIS had just happened:
We picked our favorite Clean Eating meals from the eMeals app (you can pick and change to customize your meal plan.)
I had clicked thru the grocery list, adding whatever extras we needed.
We ordered them.
Instacart delivered them.
Here was the food. At our feet. Grocery bags. So much produce.
Kenny pretty much lowered our blood pressure just by showing up.
And then I heard financial expert Dave Ramsey's voice in my head: "Bring your family back to the dinner table and save money at the same time." 
I felt like a super wife and super mom for that one shining moment.
It's those times when you realize that all those things we so often wish for and dream about (like saving money, paying off debts, being financially free, losing the weight) were actually within reach and even starting to happen before our eyes.
Earlier this year, my hubby and I went through Dave Ramsey's Financial Peace University (FPU) at our church. We had already tried eMeals a few years ago when we lived in California and we had loved it (they didn't have the grocery delivery connection to Instacart back then.)
As we went through FPU and our budget revealed just HOW MUCH we were spending eating out, we figured it wouldn't hurt to try eMeals again.
Of course, you don't have to remind me how unhealthy and unwealthy it is to eat out all the time. And yes, I'm making that a new word. Haha!
It's unwealthy, but SO convenient.
The thing is that I'm at the point where I'm trying to talk myself into wanting life change more than I want convenience. (Believe me, it's not easy.)
As we're taking baby steps (Dave Ramsey reference, wink, wink), the keys for us have been these 3 steps:
Financial Peace University Budgeting (their tools are awesome!)
eMeals Meal Plans
Instacart grocery delivery
I'm literally seeing our lives change right before our eyes:
We have money in our bank account and our savings are growing (!!!)
I've lost weight!

I had been stuck in the high 140s for a LONG time. As soon as we started eating dinner at home more, the scale started inching down! AHHHHHHH!!!! I hit the 130s guys!!!

Our kids have been eating ratatouille (all veggies), lentils and more healthy recipes, and we're enjoying it! (Crazy, right?!! And awesome!)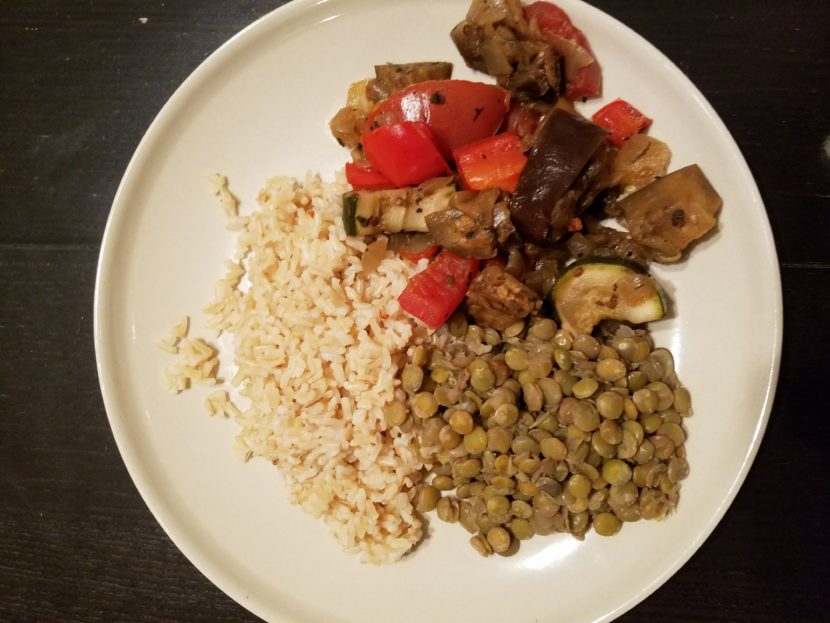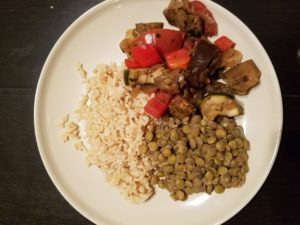 Honestly, for a while I've been wanting to write this blog post and share this information with you. We're enjoying this process so much we can't keep it to ourselves!
I'm a very busy mom with home stuff, working full time at a radio station, part time at my church, trying to keep up with my blog, singing, speaking, hosting a TV show … basically trying to do it all! LOL!
I had been wanting to slow down and make changes. There are many ways to get help and simplify your life, tips to meal plan, pick up your groceries and have dinners delivered.
But for us, this discovery of eMeals + Instacart has been an answer to prayer.
It's like we had tried a few other things, but we finally found what's been working for us and we LOVE it!
So if you've been looking for tips and inspiration to meal plan (consistently), save time and money, and possibly improve your health, I hope this helps you, too!
Laughing thru life (and loving sharing the journey with you),
Coppelia
P.S. Leave a comment below and let me know if you have tried eMeals & Instacart. Or if you try it, I'd love to hear how it goes! 😀