*You may find affiliate links for things I love! At no extra cost to you, I could receive a small commission if you click and buy thru my links. Thanks! ~Coppelia
It makes a lot of sense.
Whole30 co-creator Melissa Hartwig said:
"Identify your reservations, find a solution, make a plan, stay connected to our Whole30 community on Instagram and Facebook, and then commit to the Whole30."
That's crazy, because I have been thinking about doing a Whole30 since my friend (and American Ninja Warrior finalist) Barclay Stockett posted all about it on Instagram and personally invited me to join her a few months ago.
I thought about it, checked it out … and quickly bailed.
Honestly, I didn't have to try too hard to identify ALL the reservations.
I'm too busy.
I hardly eat at home.
My "Sugar Dragon" is more like a Sugar Jabberwocky on steroids (just ask my husband!)
The Whole30 says you can slay that sugar monster, but I think mine is way too dangerous to even attempt to face.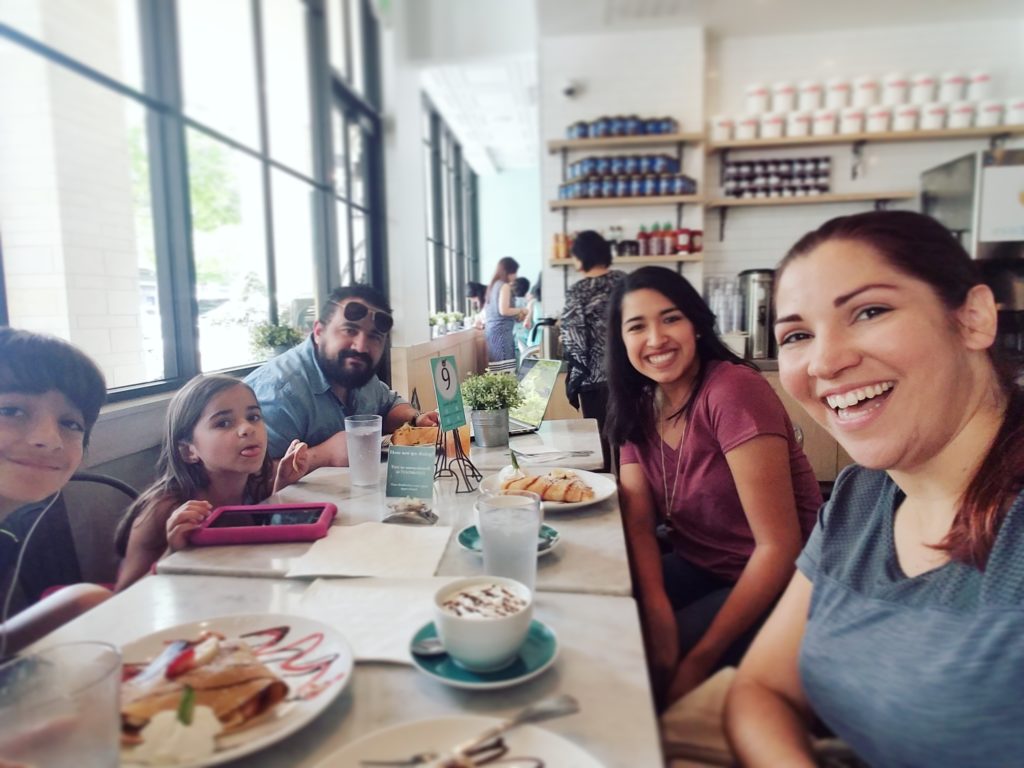 And so it keeps wreaking silent havoc unchecked.
Except, (confession time), I'm not symptom free.
In the Whole30 book, "It Starts with Food," it talks about symptoms, conditions, illnesses and more that are tied to our bad diets. (My Amazon affiliate link is below, in case you want to get the book! If you do, I get a small commission at no extra cost to you. Yay!)
Some of the symptoms and "silent signals" that a Whole 30 might be beneficial for you include:
IBS (irritable bowel syndrome)
High blood pressure
Endometriosis
Stress, anxiety, depression
Asthma
Allergies
… etc. It's a pretty long list.
At this point I have to stop to PRAISE AND THANK GOD for my family's health and for my health.
Honestly, to be pain free 99% of the time is an incredible blessing.
I know because the pain I've had on and off since my late teens/early 20s (specifically with IBS and endometriosis / PMS / period issues), has been unbearable at times and has led to doctor's visits, ER trips and more medical bills than you want to know.
Thankfully, since finding probiotics, my symptoms have improved greatly. I literally call them a Godsend (I think God sent them to me!) But I know I can do better for my health, my family and our future.
The other night, I saw one of my favorite celebrities, Candace Cameron Bure (Full House, Fuller House, Dancing with the Stars, Hallmark movies, etc…), share openly during an Instagram Story Q & A.
Somebody asked if she was vegan and she said "No," but she also said she eats about 80% vegan and mostly clean.
Candace continued to share that she used to suffer IBS symptoms (bloating and all that good stuff), but she really believes that when she cleaned up her diet, the symptoms improved or went away completely.
I had read about that in her book "Reshaping it All" a few years ago, but hearing her share it on Insta was a great reminder. (I'm sharing my Amazon affiliate link to that book below as well! I personally loved it!)
And then it got better!
Candace shared that she's also a fan of elimination diets, because she thinks YOU should do the work and find what works for you (which is not necessarily the same that will work for somebody else.)
Did you catch that??? Elimination diet?!
That's what the Whole30 is!
My hubby Adam and I did a 21 day fast a while back. We ate healthier and felt better.
"This is great!" we said! "We should eat like this ALL the time!!!," we said.
And then we got busy and fell into old bad eating habits.
Maybe it's time to give this Whole 30 a chance.
Plus, we've already enjoyed veggie-packed dishes like this slow-cooker ratatouille which was a family-approved success!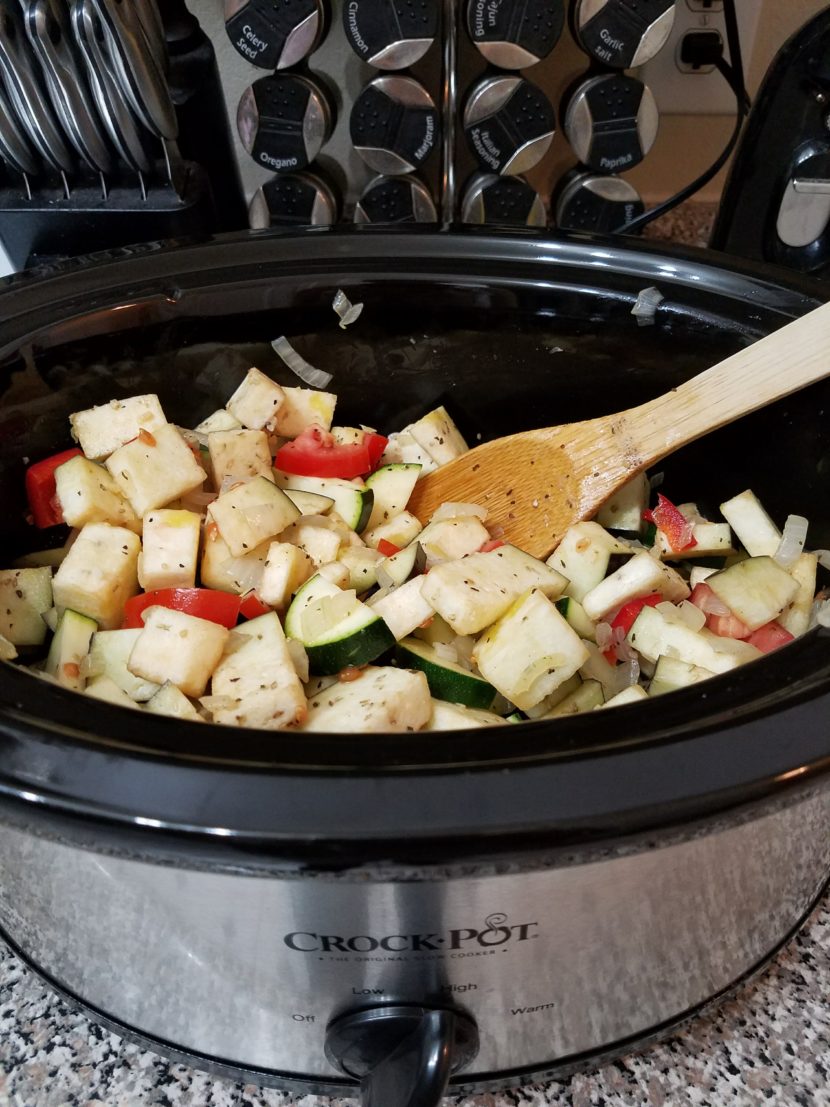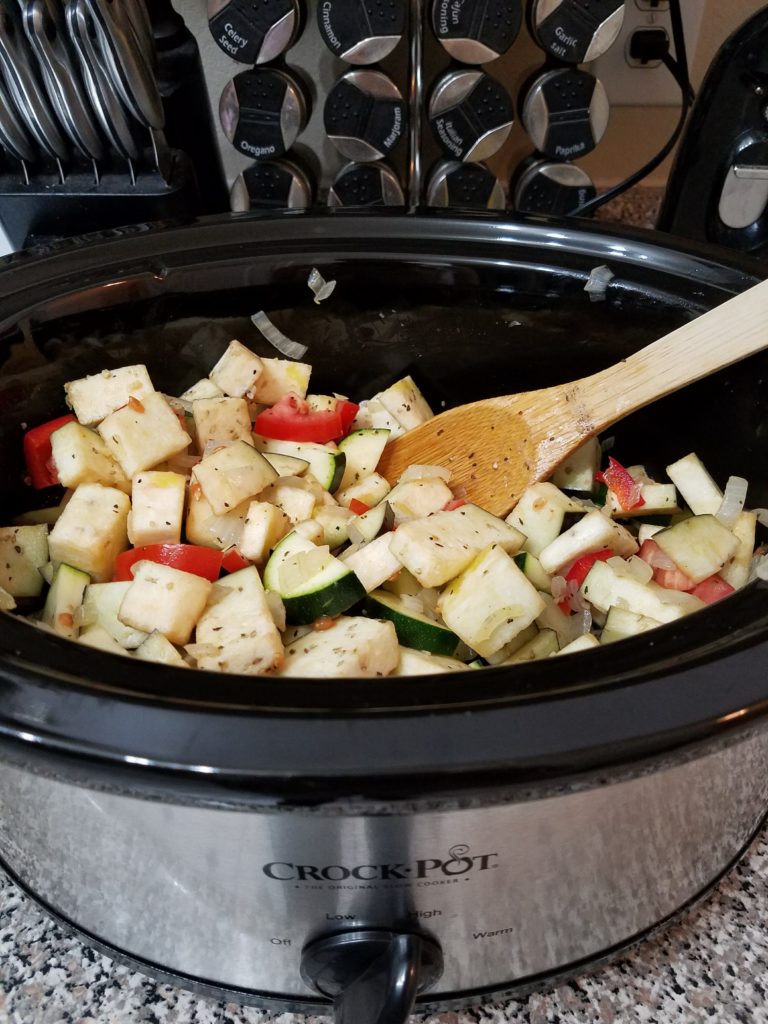 It might officially be time to do what my 8 year old daughter told me the other day:
"Mom, stop talking about it and just do it!"
Well, alright then!
I'll start by answering Melissa's questions from the beginning of this blog post:
"Identify your reservations, find a solution, make a plan"
Reservations:
We're too busy and eat out/on the run all the time. What if I forget/don't plan and have NOTHING to eat?
Solutions/Plan: 
Plan the night before & keep it super simple (no perfectionism!)

Include late night grocery runs if needed!

Keep shopping on Sundays and just add more healthy foods (Whole30 approved!)
Skip a meal if you have to! (Candace Cameron Bure shared a great idea to use those skipped meals to help end hunger thru Skip1!)
Start Date:
February 1st, 2018!
Anyone else doing a #FebruaryWhole30?  Let me know! And since the month only has 28 days, I'm guessing we'll be wrapping it up on March 2nd! *wink*
I'll be checking in here on the blog, so come back often (even if it's just to cheer me on! lol!)
And PLEASE post in the comments and share your tips to make Whole30 easier with a packed schedule (thanks in advance!)
Laughing (and eating healthier) thru life,
Coppelia