*You may find affiliate links for things I love! At no extra cost to you, I could receive a small commission if you click and buy thru my links. Thanks! ~Coppelia
I'm really excited to partner with Vaseline® to share this sponsored post with you today!
Sometimes doing good for your family is as simple as healing the dry, itchy, ouchy skin your kids said they had on their knees, arms or wherever!
It's so true!
It gives you this feeling like you're  Supermom (or SuperNanny) when your kid comes to you pouting because their dry, itchy skin is bothering them, and then you're able to almost instantly heal it with a little lotion. #MommyWin
Does your family get dry skin (even just a little more than normal) in the winter?
I'm surprised by how often we've been reaching for the lotion bottle in our home!
It caught me by surprise because this "winter" in Southeast Texas has stayed in the '70s for the most part. Can we even call this "winter"???
Still, in this mild (read: warm) Houston "winter," our skin has been feeling a bit drier and more cracked than usual.
Don't laugh (yet), but there was a time in my life when temps in the '70s were considered "cold!" (Ok, now you can laugh … LOL!)
I grew up on the beautiful island of Puerto Rico, where the temperature year-round is "island breezes and 88!" Paradise!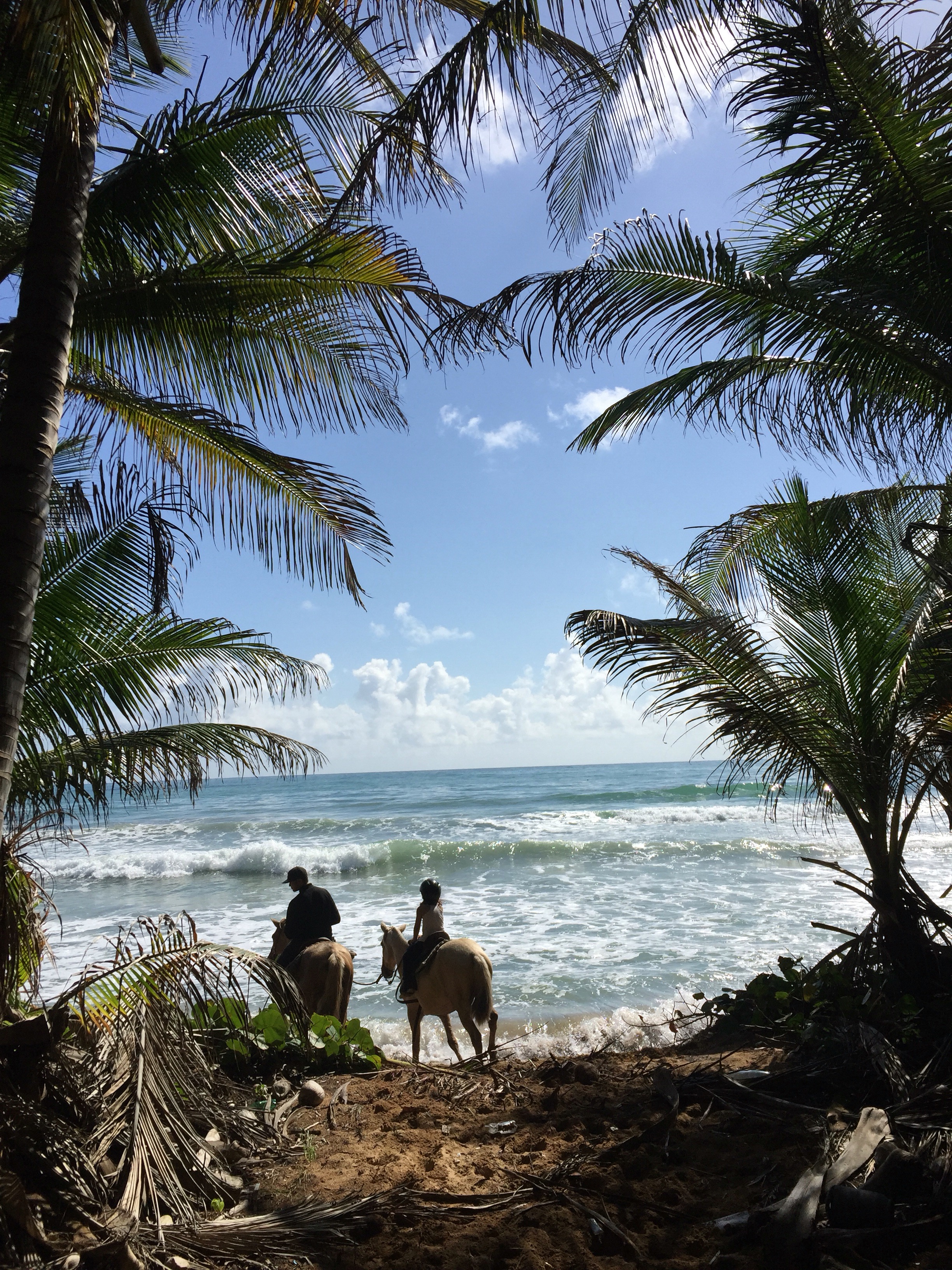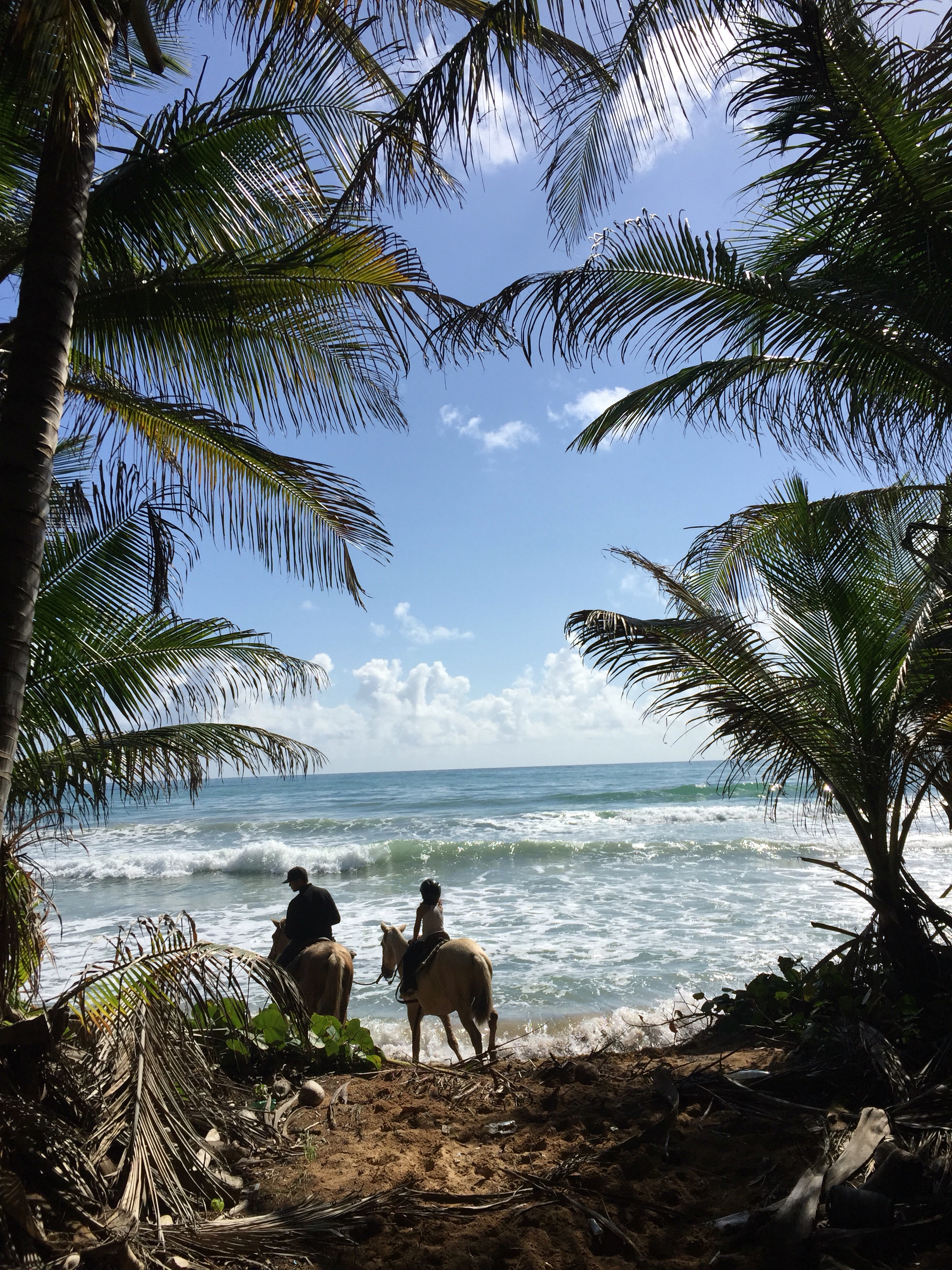 If you've ever been to the Island of Enchantment, you know island nights can feel balmy and breezy. For the locals, anything that hits the "70s" or below is considered "COLD!"
My hubby and I (both puertorricans) now call Houston, Texas home. And while we actually enjoy the colder weather and wish it would drop to the 40s and 50s more than it has, our skin has still felt a bit drier this winter.
I've even been reaching for my heavier facial moisturizer, and I'm blaming it on this "winter weather" because I refuse to blame it on getting older. (HA!)
So, as my kids have been asking more often, "Mom, can you put some lotion on?" And since my hubby has been asking for lotion as well (don't mind if I do), I couldn't have been happier to try this Vaseline® Intensive Care™ Essential Healing Lotion!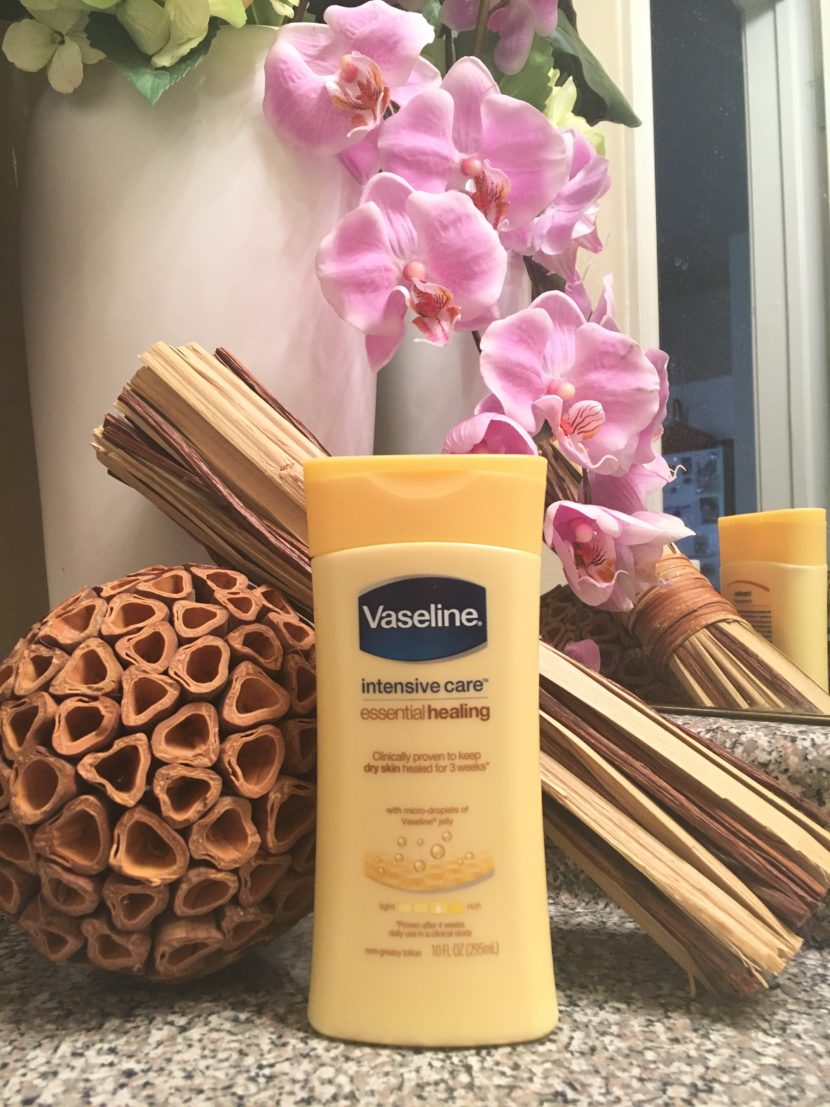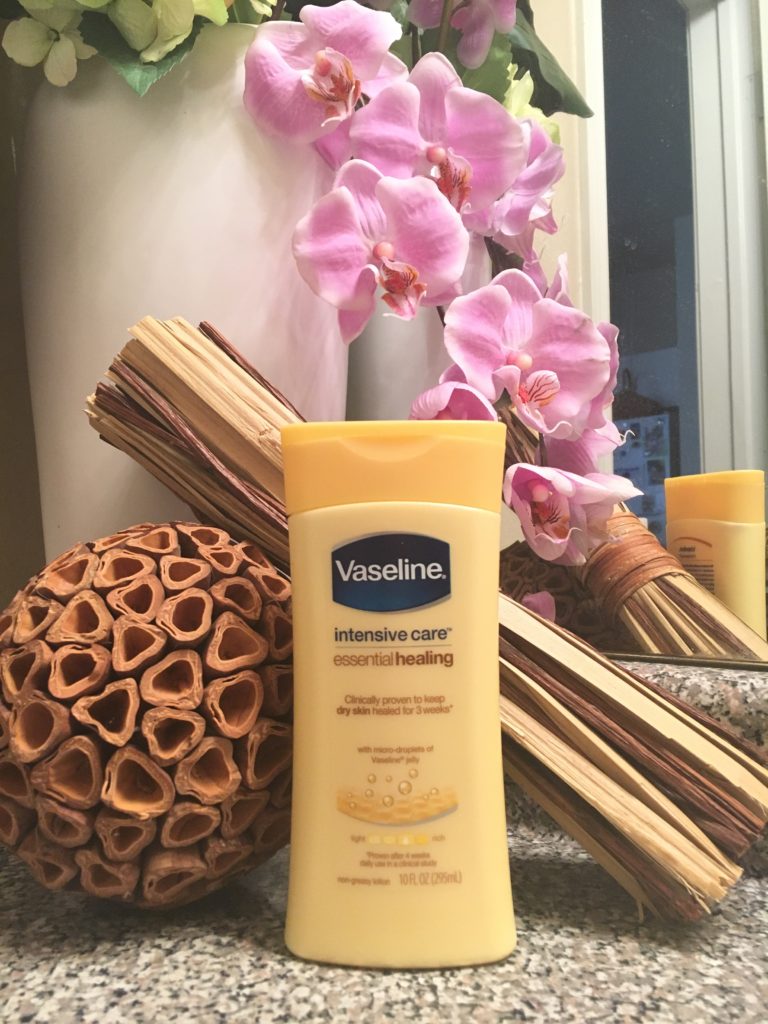 Honestly, it couldn't have come at a more perfect time!
My 10 (almost 11 year old) son had eczema as a baby (we're talking cracked, bleeding skin), and he's prone to drier skin, even in humid Houston weather. He had been complaining about a little patch of dry skin on his right hand that was bugging him.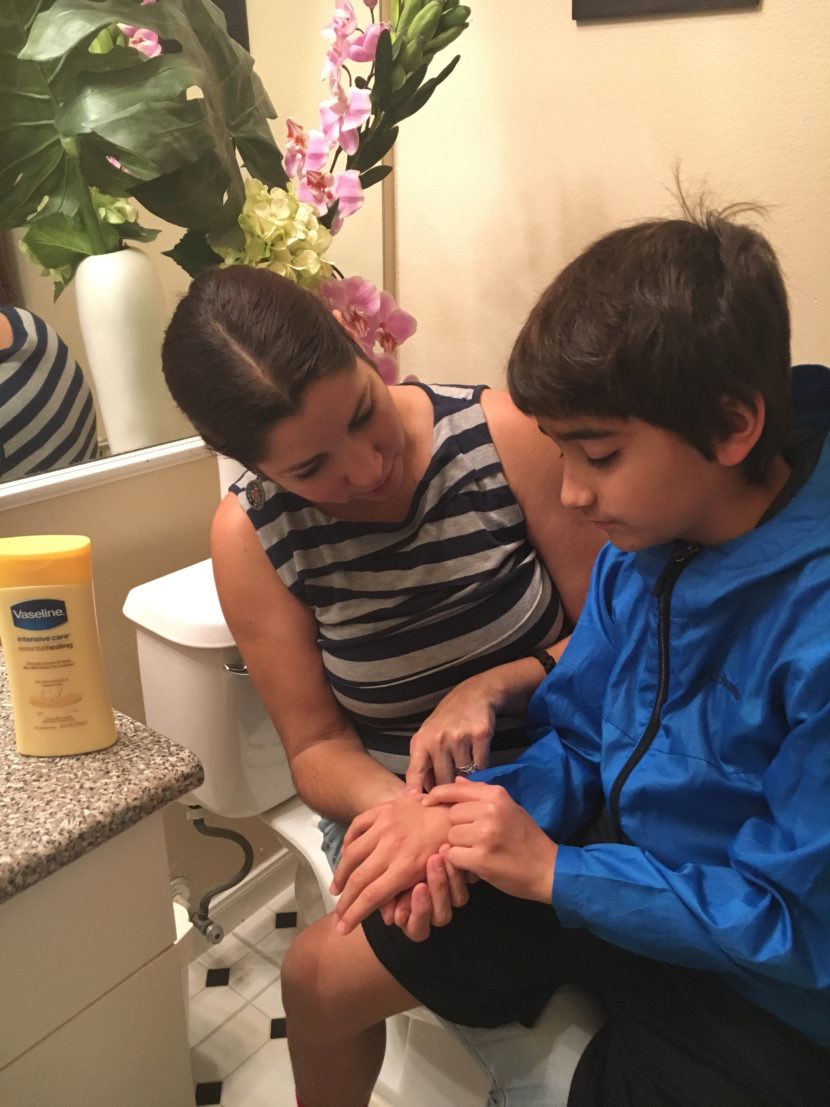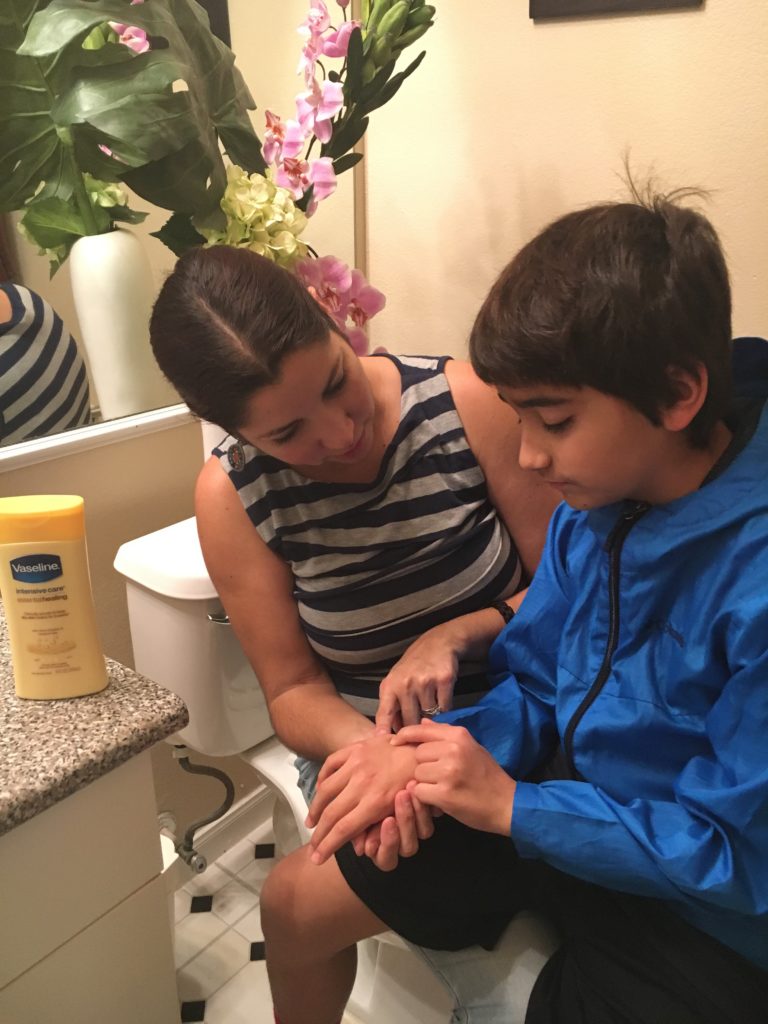 I figured I'd try the Vaseline® Intensive Care™ Essential Healing Lotion. We were SO impressed! And I'm not just writing this because it's a sponsored post — we tried it and can say for REAL, this Vaseline lotion is amazing! It instantly absorbed and left his skin feeling soft (not itchy!) It did not sting like some medicated lotions (yay!) And it smelled really nice!
From what I read, Vaseline® Intensive Care™ lotions have micro-droplets of Vaseline® Jelly and deep, healing moisturizers that don't just absorb deeply to heal dry skin, but they leave your skin looking healthier.
It's true! Vaseline® Intensive Care™ Essential Healing Lotion leaves skin deeply moisturized and looking noticeably healthier.
The bottle says it's proven after 4 weeks, but we seriously noticed a difference instantly on my son's skin as soon as we applied it. Wow! #HappySon #HappyMommy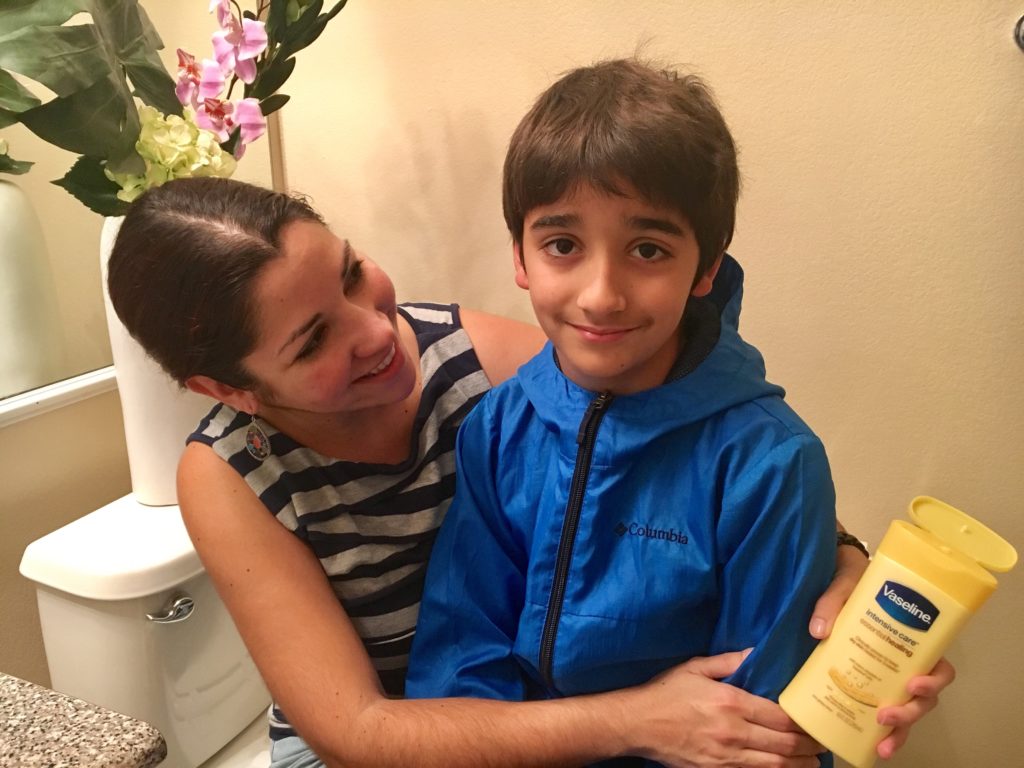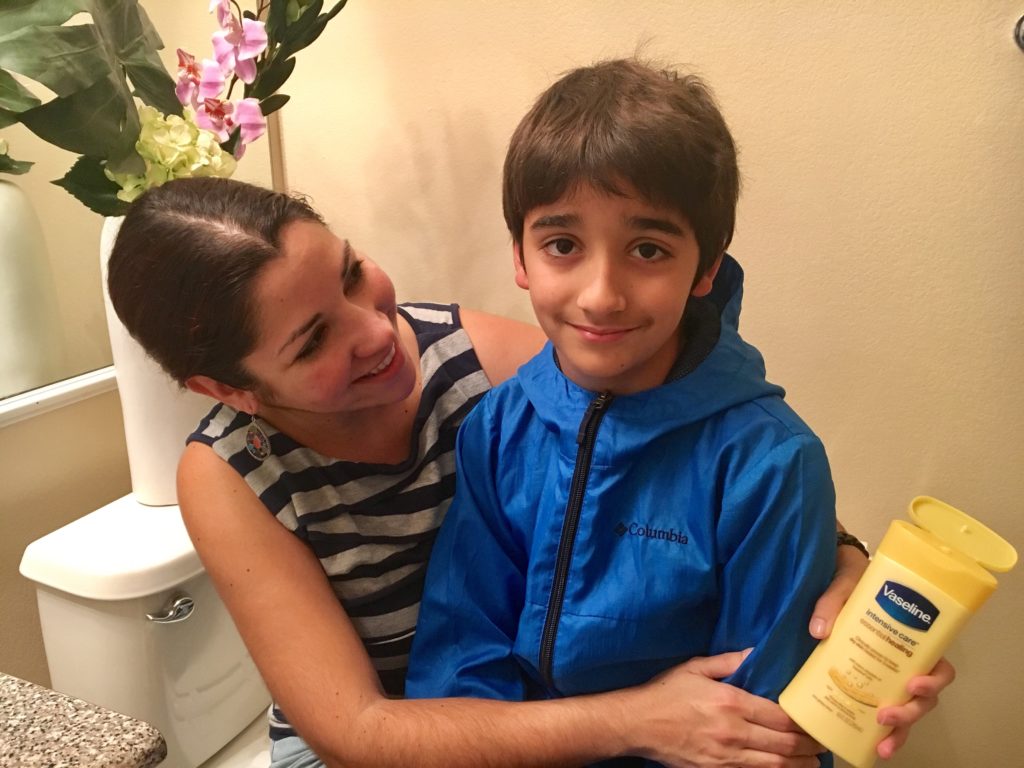 My 7 year old daughter wanted to try the lotion, too, of course! She loves trying mommy's beauty, skin and makeup products (and I love doing pretty girly things with my princess!)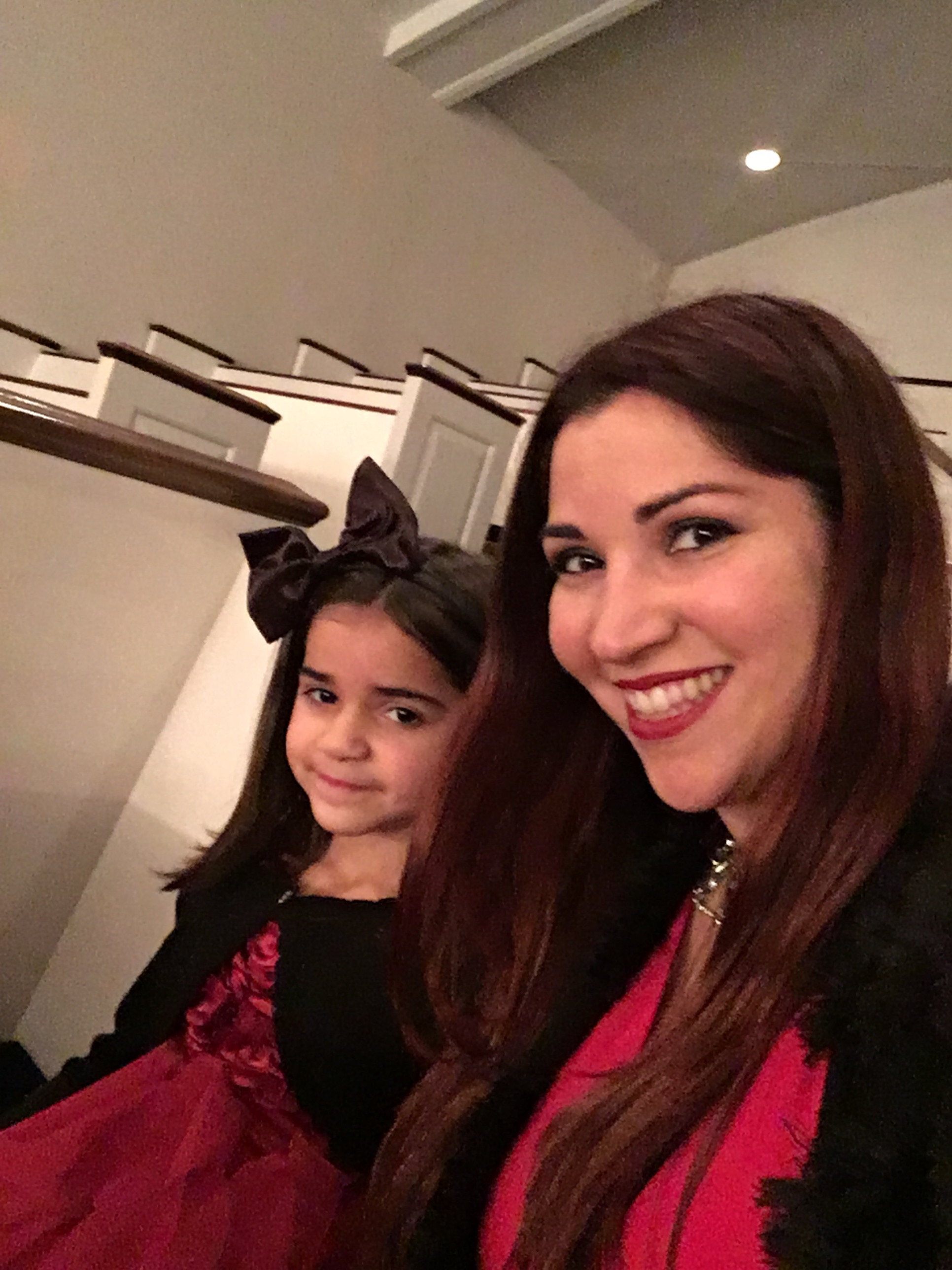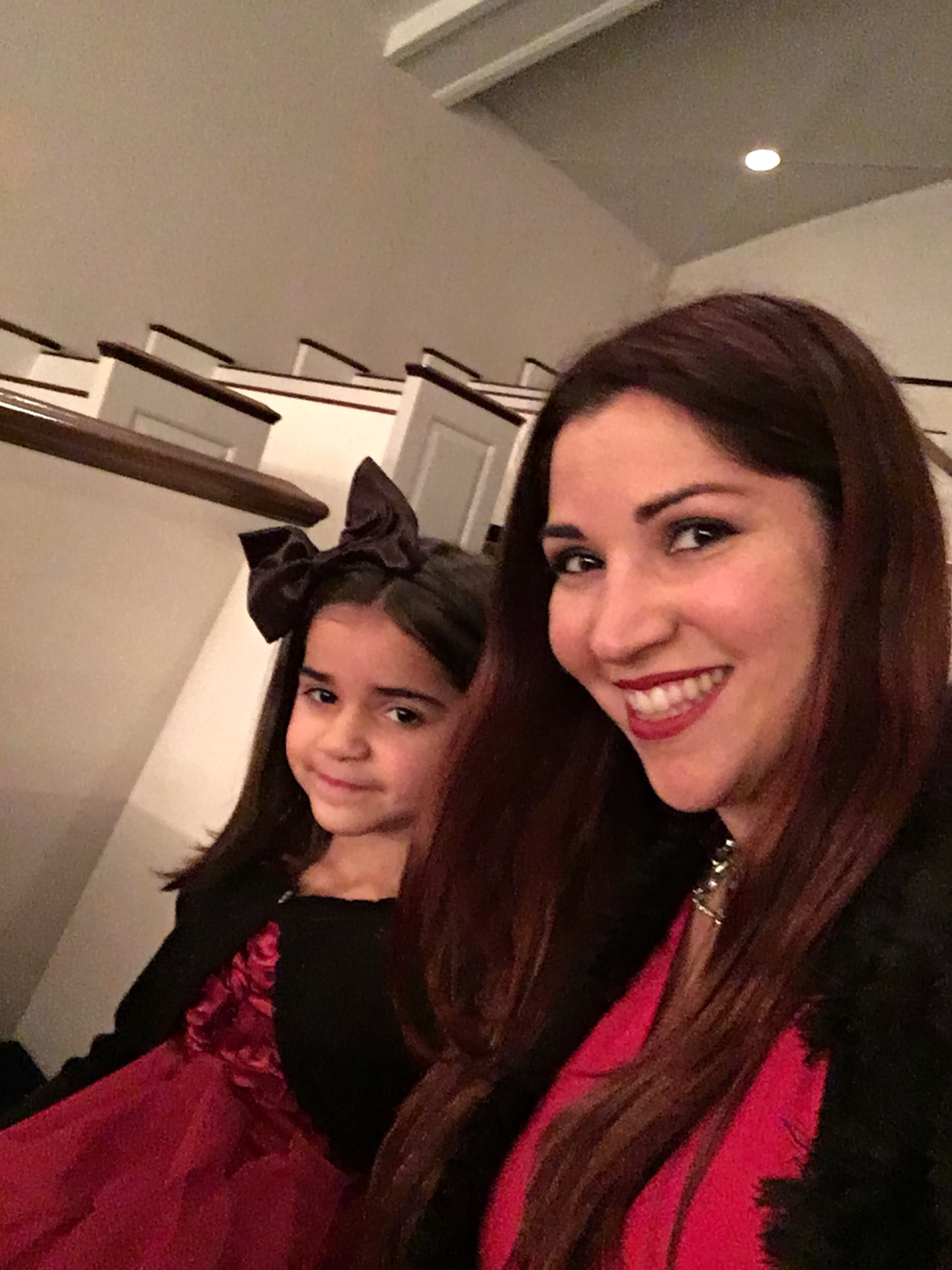 When she's not all dolled up with her Mami, my baby girl does gymnastics and her skin had been feeling a bit itchier as well, usually after dry, windy days like we had recently. She lives in gymnastics leotards and shorts and I had noticed some dry patches, especially on her legs, around her knees. We tried the Vaseline® Intensive Care™ lotion and her response was just like her brother's! She loved it, especially because it absorbed super fast and it smelled really nice. #HappyDaughter #HappyMommy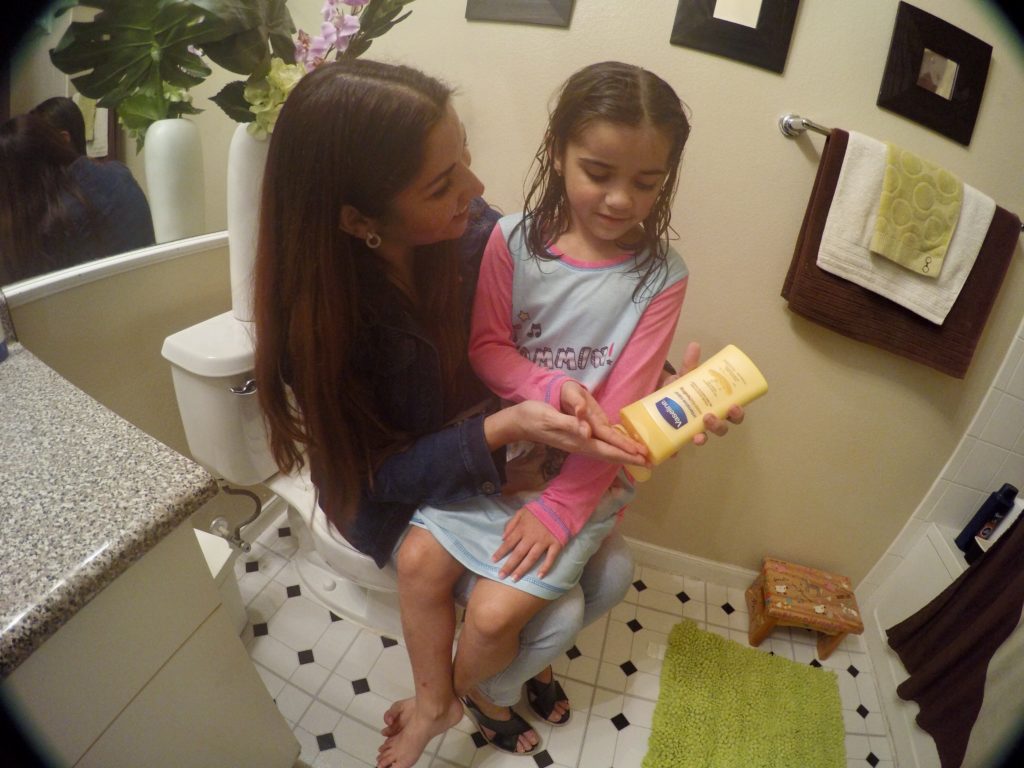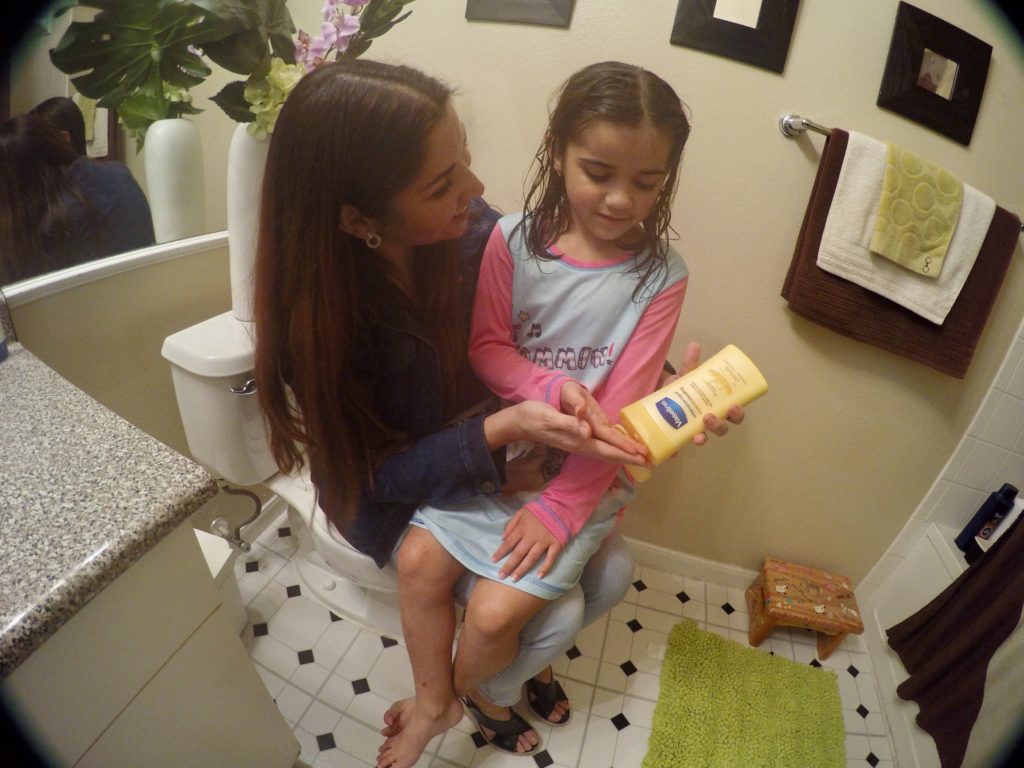 I am one happy Mommy today!
You know how it is — when you find something that is a blessing to your family, even if it's a lotion that makes their skin feel nice and soft, it's a win.
It makes you feel good when you do good for your family.
And that feeling grows stronger when you can do something good for your family that goes beyond and makes a life-changing difference for people around the world.
Believe it or not, this lotion that my family just fell in love with is making a difference through The Vaseline® Healing Project.
I watched the video, narrated by the amazing, Oscar-nominated actress, Viola Davis (The Help), and my heart smiled at the thought that the simple purchase of this Vaseline® Intensive Care™ lotion could help support Direct Relief with their "buy one to help heal one" campaign. Awesome!
If you want to find out more, you can check out the The Vaseline® Healing Project here.
And to make this even better, on top of blessing your family with soft, smooth skin AND helping others, you can save money, too!
***WATCH FOR A NEW COUPON COMING SOON!***
Next time you're shopping at your local Walmart or favorite retailer you'll be able to use this special coupon to save on a Vaseline® Intensive Care® lotion.
SHARE YOUR COMMENT BELOW! 
Let me know if you try out the lotion. I hope you enjoy it as much as we are enjoying it!
Thanks!
Laughing (and moisturizing while helping others) through Life,
Coppelia
Disclosure: This is a sponsored post written by me on behalf of Vaseline® Intensive Care™ Essential Healing Lotion. All opinions are my own (and I'm thankful to my hubby and kids for happily letting their Mami share our family's stories here on the blog!)