*You may find affiliate links for things I love! At no extra cost to you, I could receive a small commission if you click and buy thru my links. Thanks! ~Coppelia
Are you setting resolutions or picking a One Word theme for the New Year 2017? Or none of the above? Haha!
Hey, whatever floats your boat!
The truth is, it's good to start a new year with dreams, ideas and plans … but it's not good to just let them stay in the fanciful dreamworld of our minds.
They say roughly 8% of people make New Year's resolutions and actually KEEP them (Forbes)! WOW!
But the other 92% of us who either don't make resolutions, or make them and break them, would still benefit from some kind of action plan to help us achieve those dreams, ideas and plans in 2017.
This is where the "My One Word" concept comes in!
A few years ago, I heard my friend Lisa Williams talk about #MyOneWord on the radio (K-LOVE to be exact!) She said her word for that year was "Train." It wasn't the choo choo kind or the Pat Monahan band known for their hits "Marry Me" and "Hey, Soul Sister" kind, but the "train a child up in the way he should go" Bible verse kind.
Lisa had two little ones at the time and was trying to balance being a wife, mom and radio personality at the time. It was a LOT and she really wanted to focus on the mom part, making sure her kids, her family, were not getting the short end of the stick, as often happens with those of us who are working moms. Being honest here, we try really hard to not let that happen, but are often stretched so thin, picking that One Word to help focus on those areas we want to strengthen can only help.
Fast forward through these past few years, and I've been prayerfully picking #MyOneWord before the year ends. My recent words have been "Peace", "Joy" and I think one year it was "Silence" … I felt like my life had gotten pretty busy and noisy that previous year! HA!
Last year, technically towards the end of 2015, I overwhelmingly felt like my one word for 2016 was "Start" and my Bible verse theme was Isaiah 43:19 (that verse kept coming up EVERYWHERE!) It said:
"See, I am doing a new thing! Now it springs up; do you not perceive it? I am making a way in the wilderness and streams in the wasteland."
I really felt like God was speaking to me about starting something new!
And HE wasn't kidding. This year, 2016, was the year I quit the job I'd done for the past 20 years: radio. I launched a website/blog, wrote a book, recorded and performed original music (although it wasn't released as a single or album), spoke at women's events, led worship at churches, traveled to do some of that singing and writing, got hired at my church in the worship/music ministry, and ended up doing radio part time again! That last part was definitely unexpected and fun!
So as 2016 has been coming to a close, I've been thinking and praying, asking God what should be #MyOneWord for 2017.
I kept coming up with "nothing."
Not that I was thinking of making the word "nothing" #MyOneWord. (That would be kind of funny! LOL!)
Seriously, though, for a while I was throwing around the thought of choosing the word "New", but I wasn't 100% convinced. It was close to Isaiah 43:19 and too much like My One Word for 2016.
I wanted something unique for 2017.
And boy, did I get something unique!
Late one night, I happened to open my Timehop app. In case you're not familiar with it, it shows you photos that you've posted throughout the years across social media channels, including Facebook, Twitter, etc…
It was pretty close to midnight, which meant I'd miss the photos for that day if I didn't check them before the clock struck 12 (kind of like Cinderella!)
The app usually gives you a "last minute warning" — check your photos before the day is over! Sometimes I ignore the warning, but that night I launched the app and told myself I'd check the pics quickly and go to bed.
That's when I saw it. It was clearly #MyOneWord! It was PERFECT!!!
(I also saw photos from a Christmas celebration at my son's school when he was in Kindergarten (he's 10 now!) That was an awesome dose of cuteness in those Angry Bird PJs that he loved! I'm really glad I didn't pass up checking out Timehop for that!) 🙂
But the photo that inspired #MyOneWord stopped me in my tracks. 
I basically knew as soon as I saw it that I had found My One Word!
Remember my friend Lisa; the one who basically introduced me to the #MyOneWord concept?
The Timehop photo was a screenshot I had taken of a devotional she shared on Instagram last year that said this:
Tired of trying to cram
her sparkly star shaped self
into society's beige square holes, 
she chose to embrace her ridiculous
awesomeness and shine like
the freaking supernova
she was meant to be.
In her Instagram post, Lisa wrote:
For my freaking #supernova friends. You know who you are! 
Matthew 5:16 "Let your light shine before men in such a way that they may see your good works, and glorify your Father who is in heaven." 
Isaiah 60:1-3 "Rise up and shine, for your light has come. the shining-greatness of the Lord has risen upon you. For see, darkness will cover the earth. Much darkness will cover the people. But the Lord will rise upon you, and His shining-greatness will be seen upon you. Nations will come to your light. And kings will see the shining-greatness of the Lord on you." 
So, #MyOneWord for 2017 is SUPERNOVA!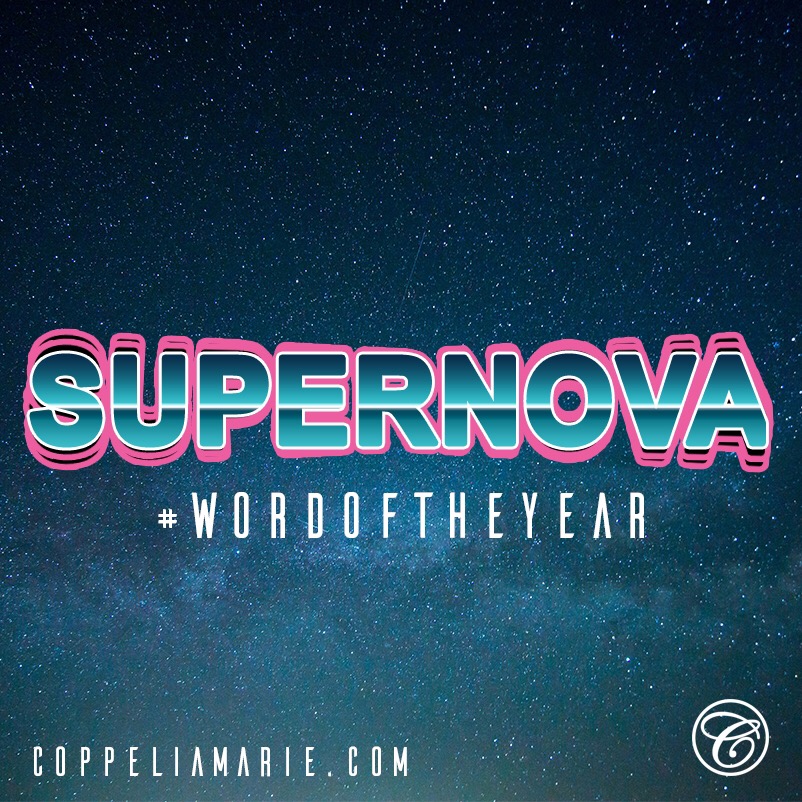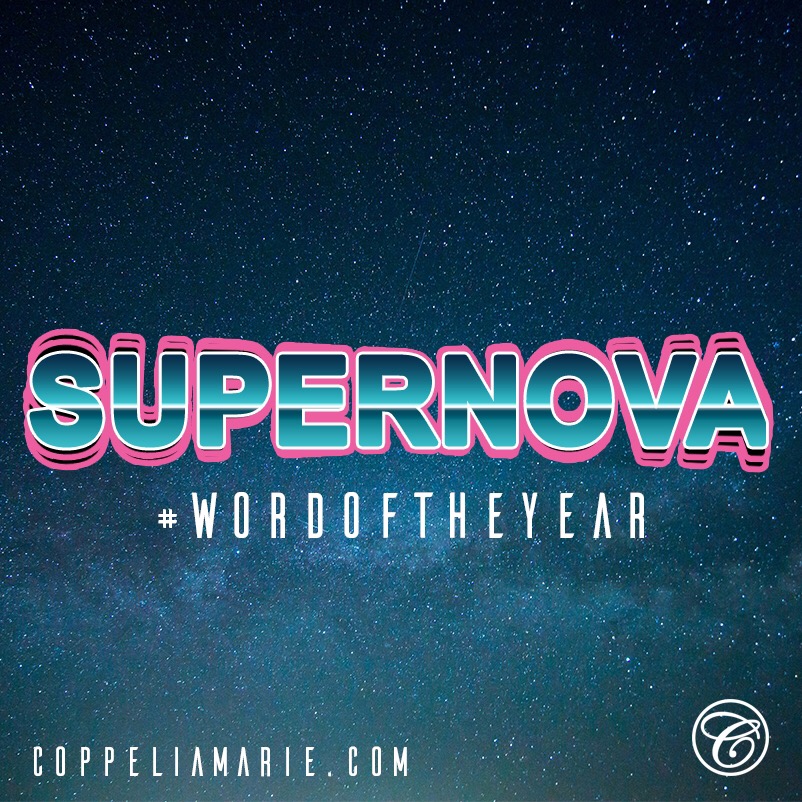 Of course, I have a special love for the 90s band Oasis and their song "Champagne Supernova." For real. 😉 So that made the word even cooler! lol
But this word goes much deeper for me, as I keep praying and thinking about 2017.
After seeing so many dreams, plans and projects "START" in 2016, I'm ready to take all that to the next level. I want to let my light shine. I want to bring light and hope to people walking in darkness. I can't do anything worthwhile on my own, but if the Lord rises upon me, and people can see His light shining on me, a lot of stuff can change, including my own life, my family and everything around me.
I'm thankful to my friend Lisa for letting her light shine so brightly and for being an inspiration and dear friend! (Love you, Lis!)
And I'm ready for 2017 to be a freaking supernova year!
Now I'd love to know what is your One Word for 2017! Post in the comments below!
Laughing (and being God's supernova) thru life,
Coppelia