*You may find affiliate links for things I love! At no extra cost to you, I could receive a small commission if you click and buy thru my links. Thanks! ~Coppelia
The list of fun family things to do in Houston around the Christmas season is pretty impressive…and pretty expensive!
(But keep reading for the FREE stuff!)
Ice Skating at the Galleria (inside the mall) or Discovery Green (outdoor rink) sets you back $14 to $18 per person. That's $56 to $72 for one ice skating outing for a family of 4.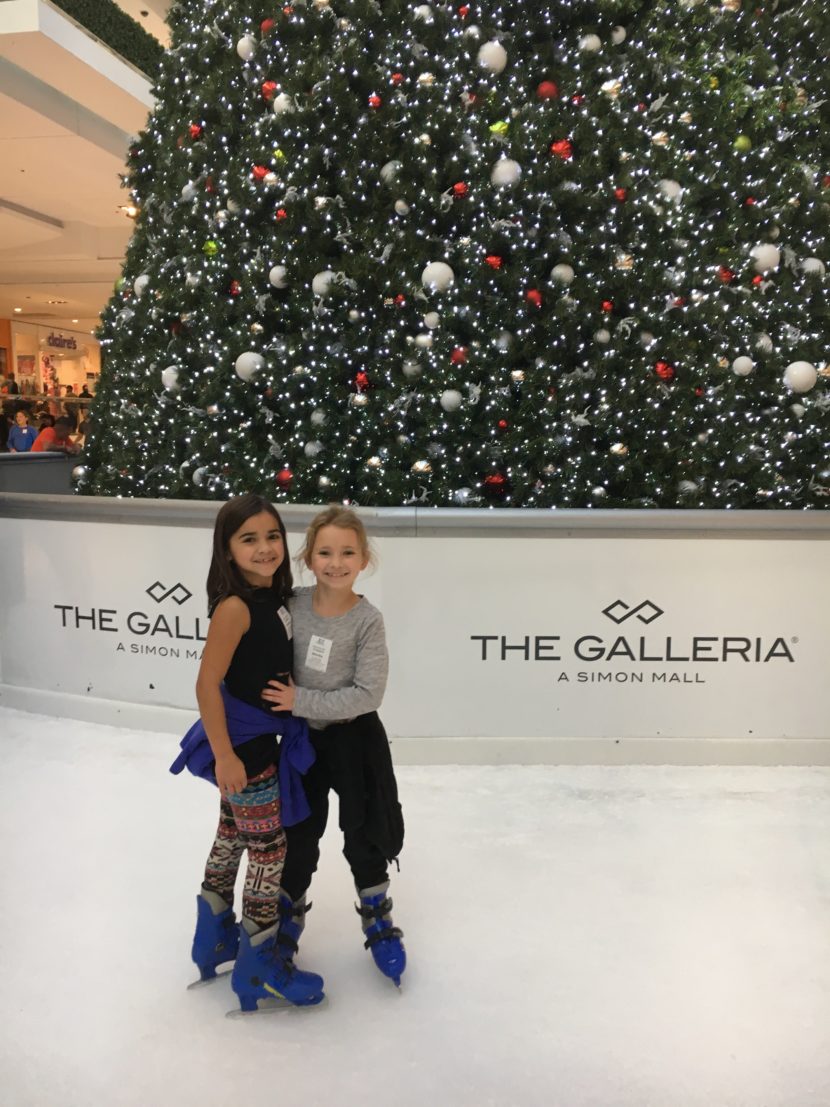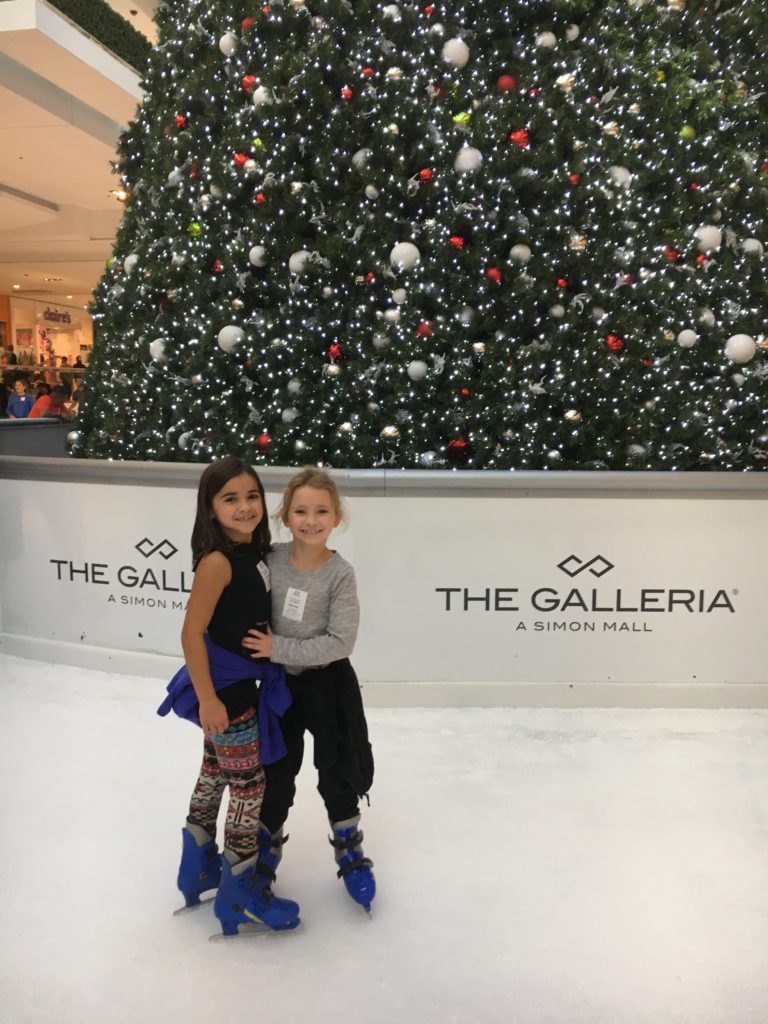 Zoo Lights, a super fun stroll at night, enjoying lights & more at the Houston Zoo is $14.95 to $19.95 for non-members. That's $60 to $80 bucks for a family for 4!
For the super popular Santa's Wonderland (open thru January 1st), tickets start at $19.95 for kids, $24.95 for adults.
If you want to check out Moody Garden's Festival of Lights in Galveston, it'll cost you $10.95 per person (kids and adults) + if you want access to the really cool Ice Land Ice Sculptures (open thru January 8th), it's 10.95 for kids, $21.95 for adults.
(Special shout out to Vicki Powers from Houston on the Cheap, for putting together a ton of Christmas in Houston info — the free, the cheap & the rest of it!)
So there are a number of awesome things to do in Houston, but if you're trying to be all "Dave Ramsey" and do Christmas "budget-style," you might be looking for holiday fun stuff to do before Christmas break is over without breaking the bank!
My parents drove from Dallas to Houston and that's exactly what they wanted to do — something fun with the grandkids without spending a ton of money.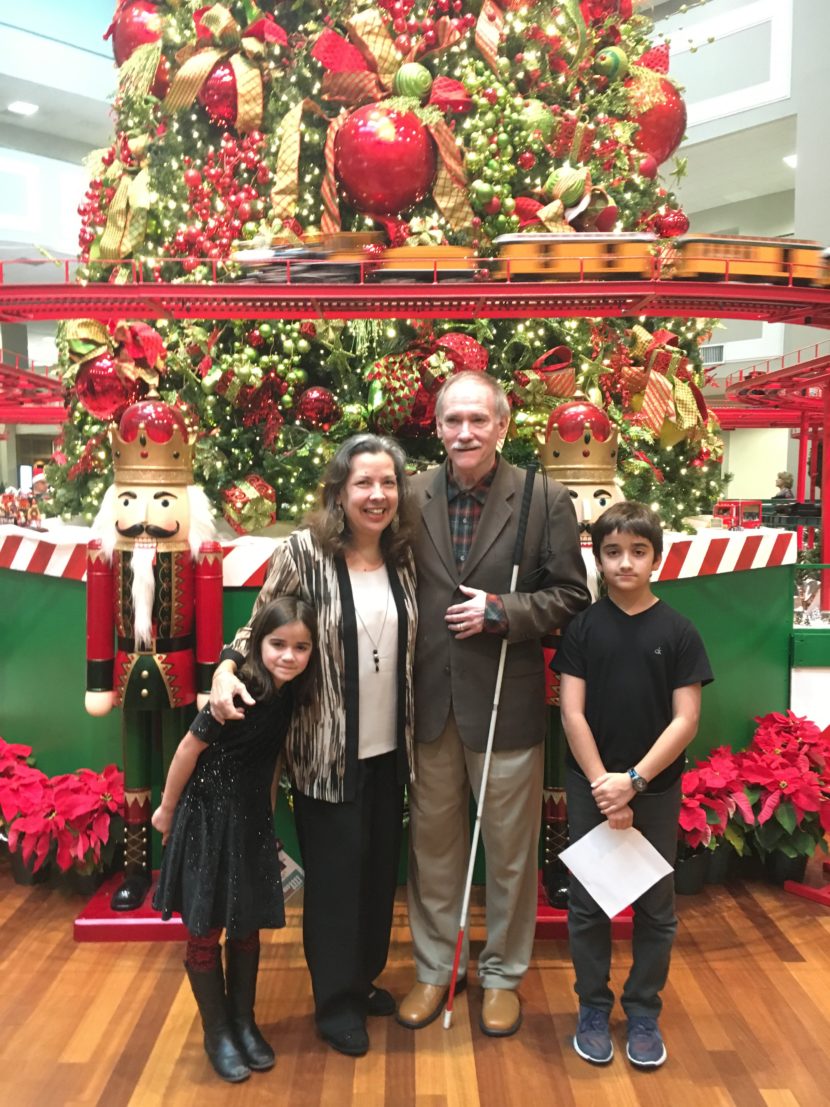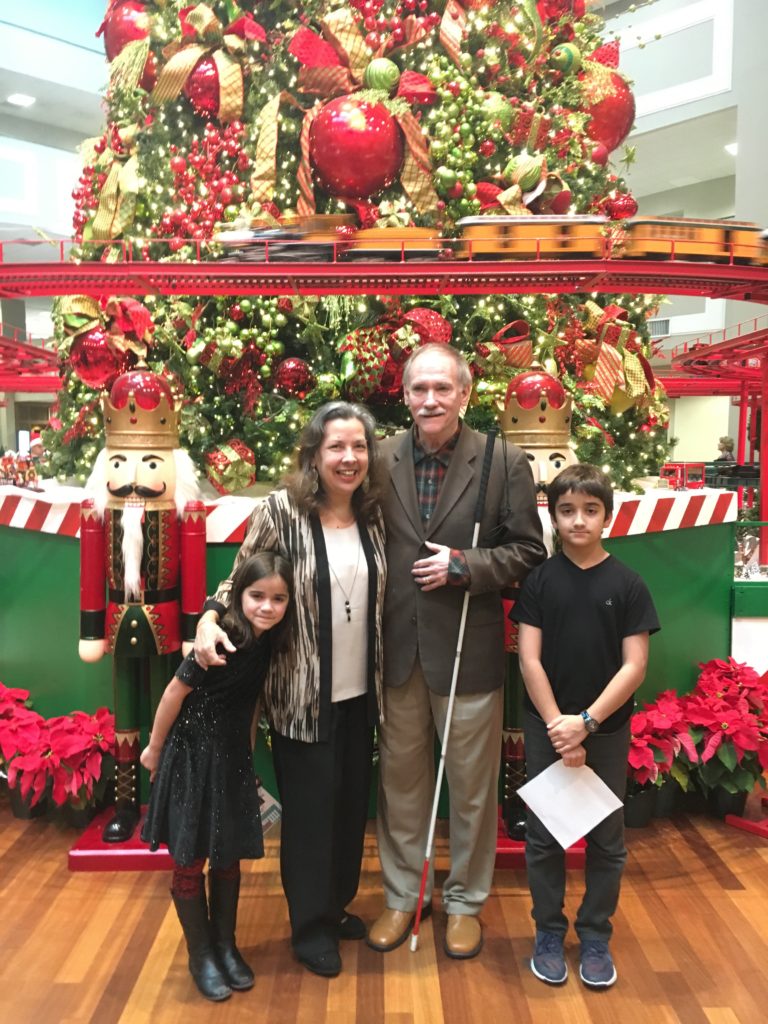 Thankfully, a friend suggested that we go hang out at Discovery Green. Their son wanted to try to catch some Pokémon and, apparently, Discovery Green has a ton of stops (just in case your kids are still into that!)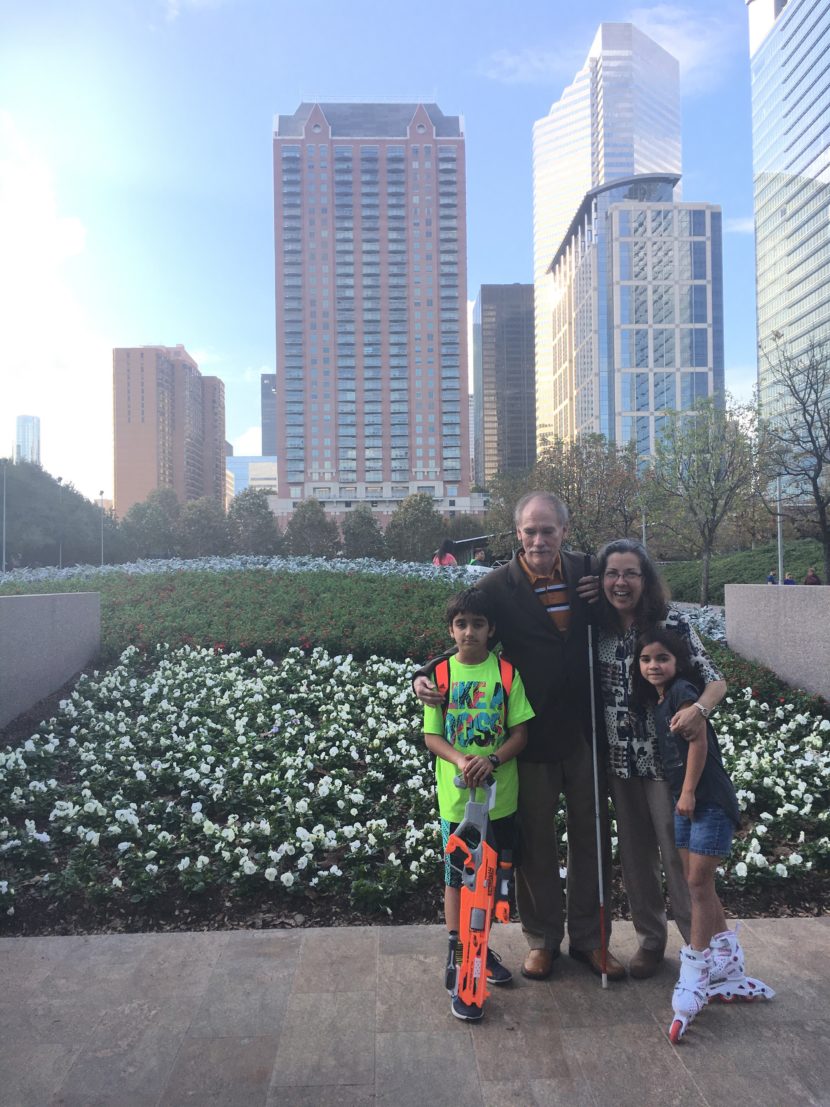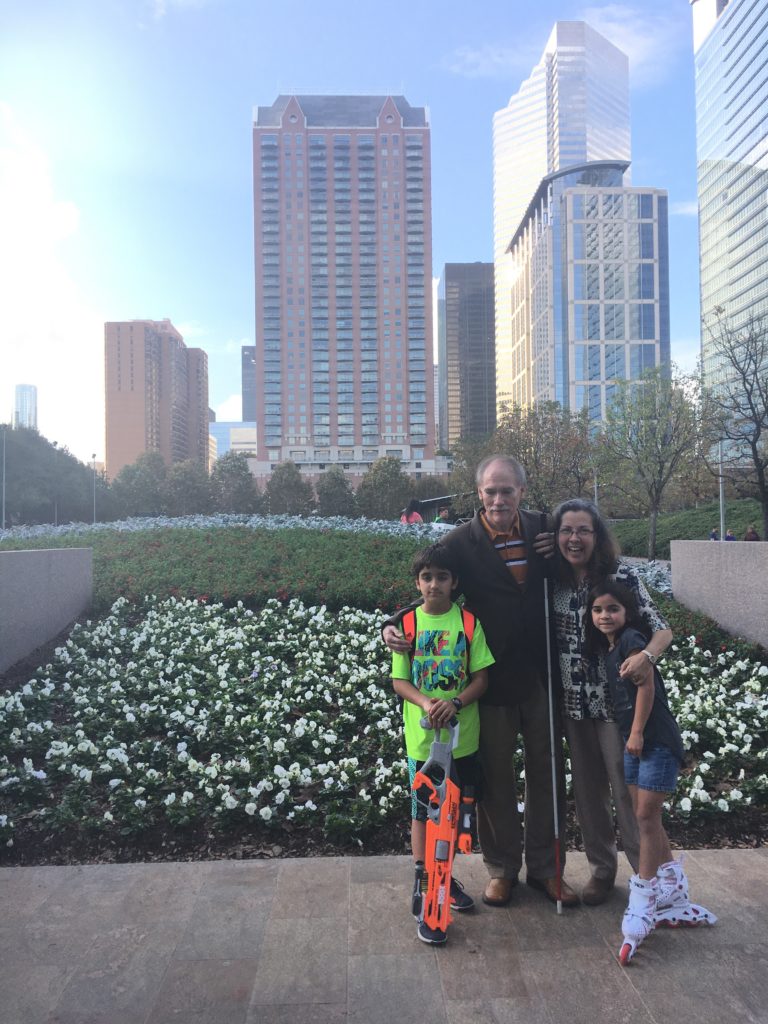 I already knew my kids loved that park because it has plenty of space for my daughter to enjoy her new rollerblades, for the boys to catch all the Pokémon they want and engage in epic Nerf gun battles and (bonus), plenty of space for the grownups to sit down and chat.
Since this is the week after Christmas, and many people still have relatives and friends visiting from out of town, we were not the only ones who had the same idea. At first, the park seemed crowded, but as we walked around, we discovered that there were plenty of open spaces left for us to claim as our own. We even crossed the street to the George R. Brown Convention Center, with newly renovated areas and cute umbrella tables and chairs, where we were able to hang out and still watch the kids playing in the green area right across the street.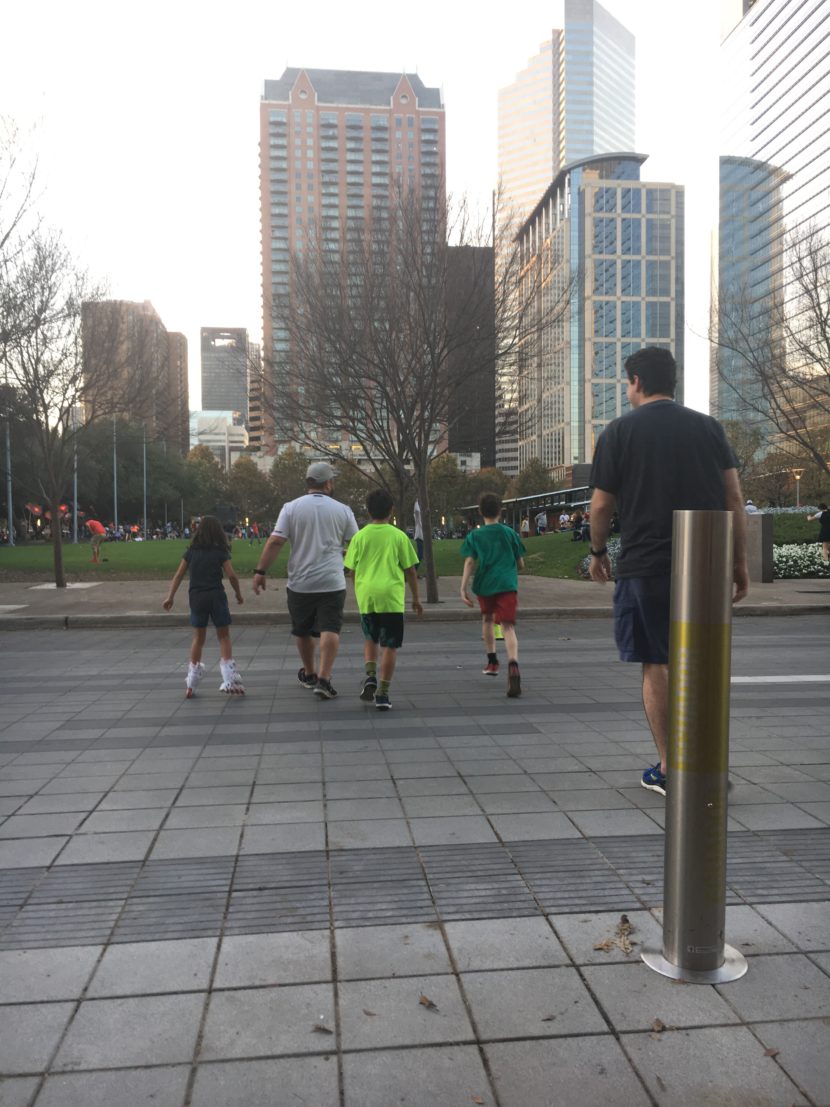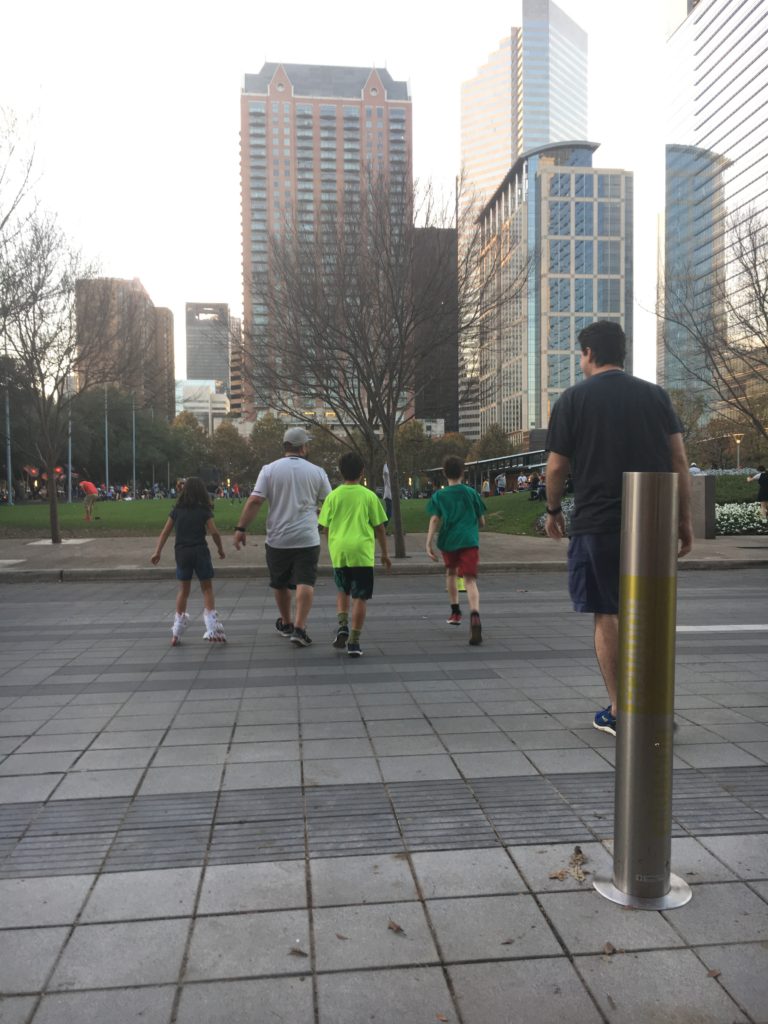 We got there mid afternoon which gave the kids plenty of play time in the sun. But since sundown is happening earlier during these warm Houston winter days, we were also able to enjoy the park at dusk and into the evening.
That was the really fun part!
The park suddenly transformed into a beautiful display of lights!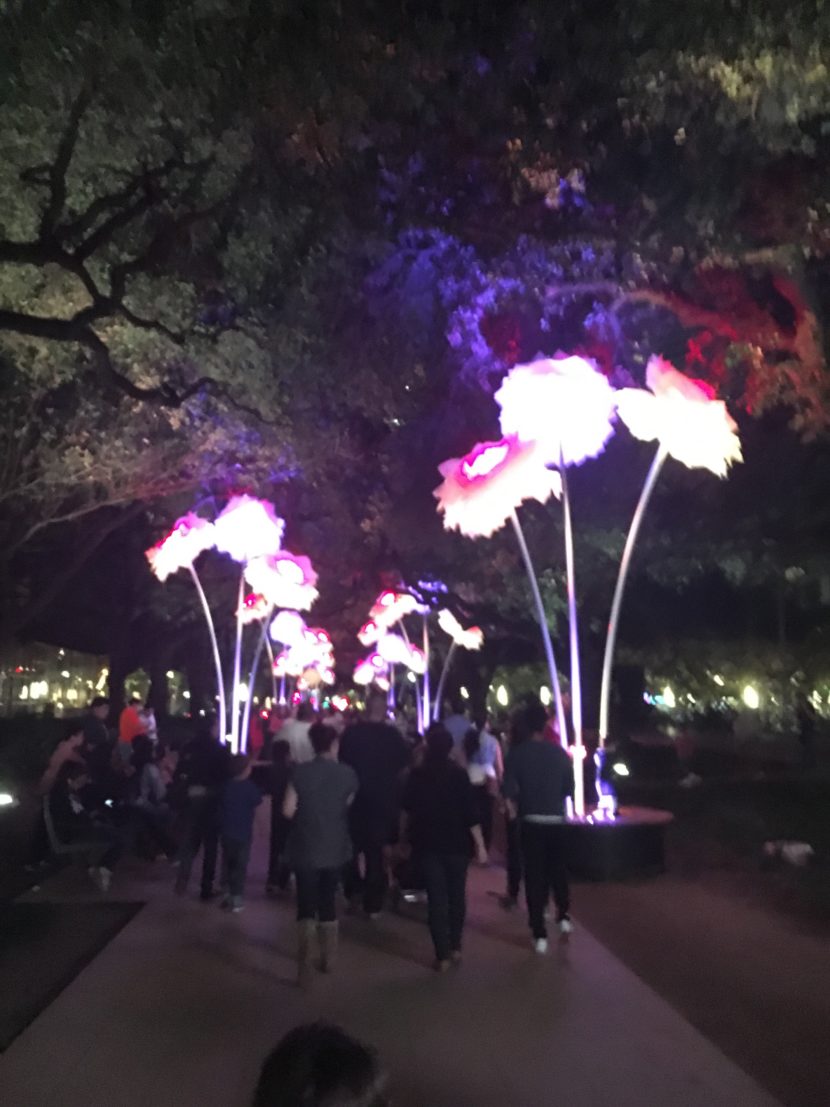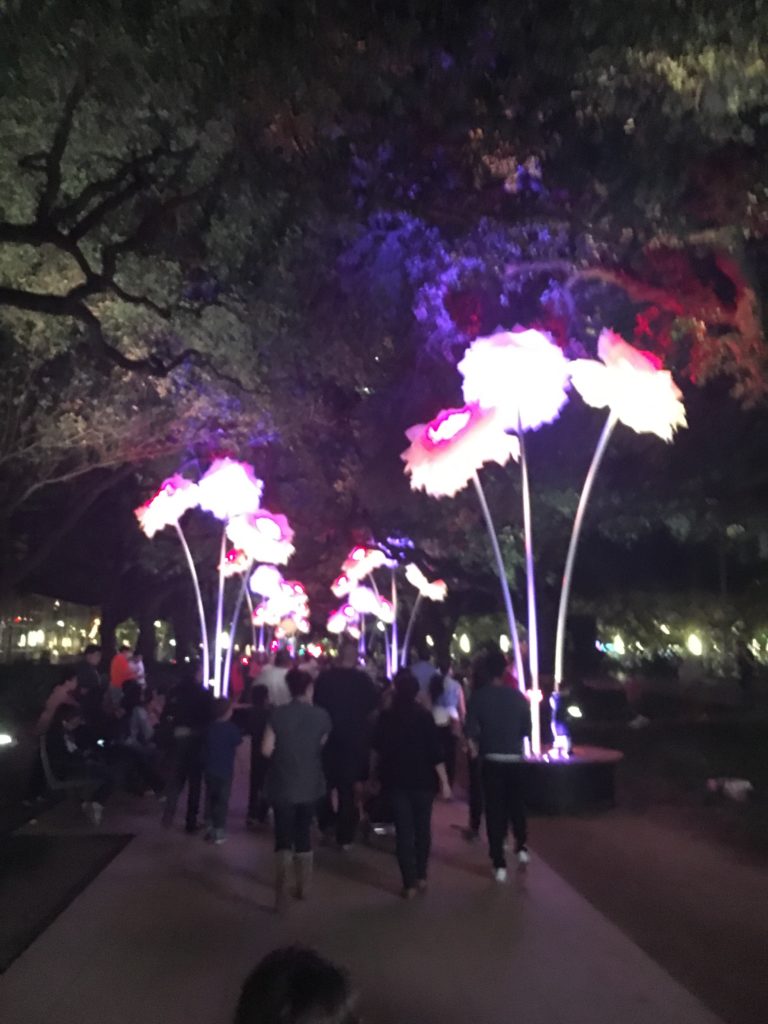 The Enchanted Promenade, an art Display that opened at Discovery Green back in November and will stay at the park through February, turned an ordinary walkway into an extraordinary, colorful, glowing wonderland!
I felt like Alice, when she shrinks and everything is huge in Wonderland!
We walked the Enchanted Promenade, looking up at the tall paper flowers, mesmerized by how they changed colors. It was magical!
And it was also FREE!
​
​

I highly recommend Discovery Green if you're looking for a fun stop to take the family (including out-of-towners or new Houstonians)! You can let the kids run around, enjoy a magical art display and not spend any money at all! Sweet!
Bonus: across the street, the George R. Brown Convention Center had magical lights of its own by this really cool (perfect for photo ops) fountain!
I think Dave Ramsey would be proud. 😉
Laughing (and having fun while saving money) thru life,
Coppelia