*You may find affiliate links for things I love! At no extra cost to you, I could receive a small commission if you click and buy thru my links. Thanks! ~Coppelia
Do you love celebrating weddings, baby showers and all the fun, joy and excitement that come along with them? Something fills us with anticipation when we go through the mail and find an adorable baby shower invite or an elegant wedding "Save the Date" card! The question is, then, how do we pick the perfect, unique gifts for our family and friends?! I'm here to help!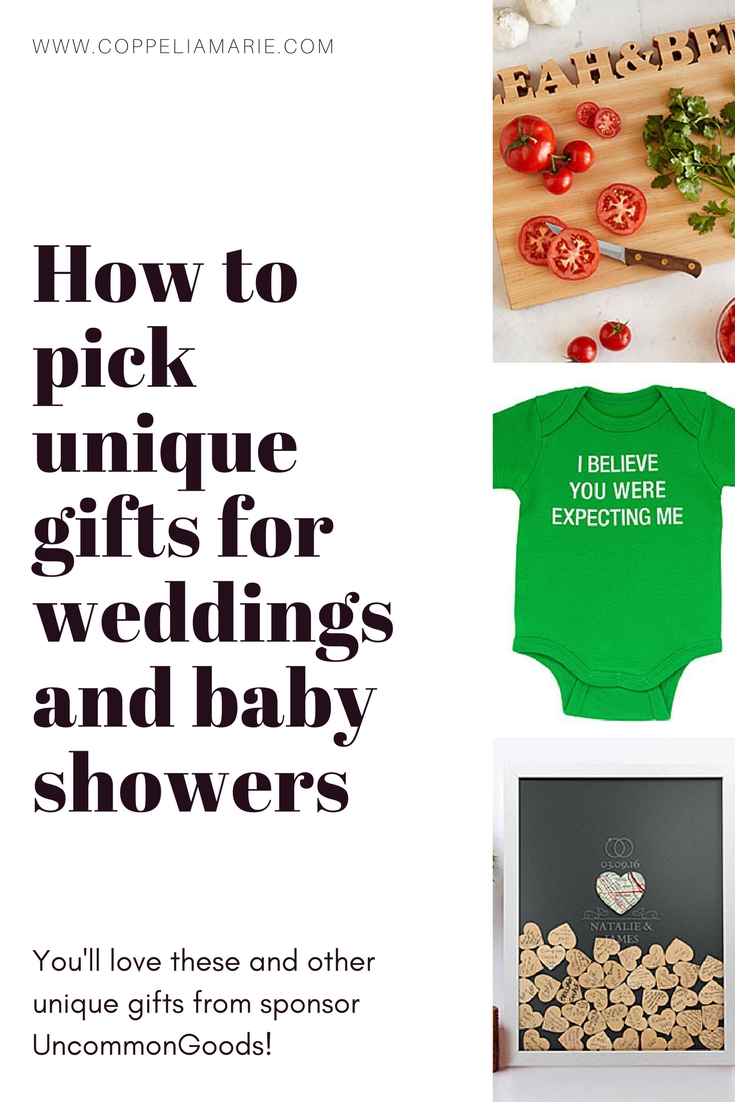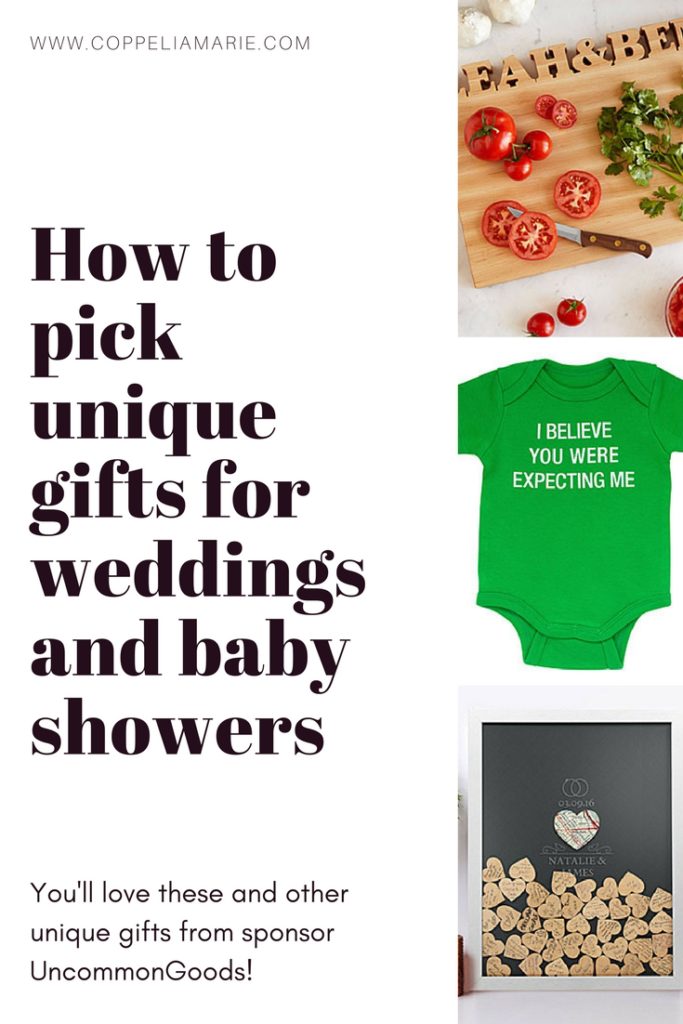 I'm excited to share this post, sponsored by UncommonGoods. I receive compensation for sharing this with you, but my opinions are always what I REALLY think! I only share things with you here on the blog that I am genuinely excited about!
Back to weddings and baby showers and getting ready for all the fun! After we get the invitations and put those important dates on the calendar (with all the emojis), reality sinks in. You know you want to get the bride and groom or the expectant parents something meaningful, practical and unique, but what?!
How do I pick the perfect gift for my friend's wedding or baby shower?
First, I'm a big fan of checking their registries to see what they've selected and get an idea of their style.
Second, think about your relationship and your history together. As a relative or friend, is there something that you've shared together? If it's lots of sunbathing time, maybe monogrammed beach towels! Do you have a history of baking together? Get kitchen tools! There are so many ideas!
Third, and to keep it simple, have a budget in mind, and maybe go in with a friend or relative to make it a BIGGER gift between the two of you!
I've had relatives and co-workers do that for me and it means a lot that they went to the trouble of planning to get me a "nicer, bigger gift" all together!
Now, to make a BIG impression!
Just in case you really want to impress and go the extra mile, I hear you! There are times when you are searching for that super special gift because it's important to go all out. The bride, groom or expectant parents may be people who have been there for you through thick and thin. If that's the case, perfect! I'm excited to share these unique and special gift ideas with you here!
I hadn't heard of UncommonGoods until now, and I'm so glad I get to feature them here on my blog! They have some amazing, unique gifts! My friends Ali and Mark recently got married and (ahem) I have to confess that we owe them a gift, so I've definitely been getting some ideas here. (wink!)
The cool thing is that UncommonGoods has gifts that are perfect for celebrating from beginning to end — starting with the fun before the wedding (bridal shower, bridesmaid and groomsmen gifts, etc…), to wedding and anniversary gifts, and even super cute baby shower gifts!
Not only that, but they also have handmade, organic and recycled products. They work with artists and small manufacturers, which make their gifts all the more special!
Here are a few of my favorites from the last time I was browsing UncommonGoods' website:
I love this keepsake that you can actually display at home, which I think is better than the guest books that many people use at weddings or baby showers. This is such a unique personalized wedding gift! It's a shadowbox or "dropbox" where guests can write little notes and drop them in at your wedding or special event! I love how it's a constant reminder of the love and best wishes from the people you love!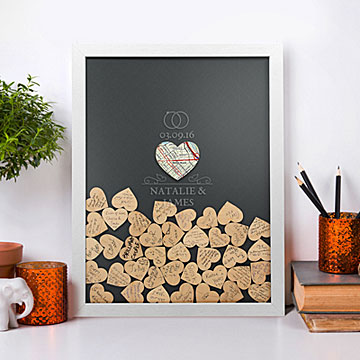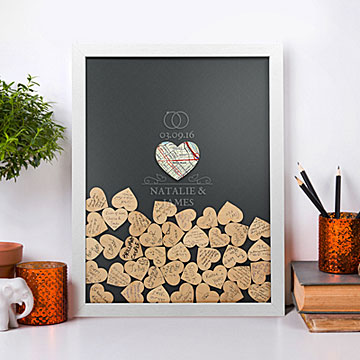 Isn't this personalized dropbox unique? I'd love to see one at a wedding!
I have to admit when I saw this next gift, I almost got one for my hubby and me! It's such a cool idea to get a personalized cutting board! With my name, Coppelia, I think we'd have to go with "Coppe & Adam" to make it fit (ha!), but still! I'd love to display this in my kitchen and think it would be super cute for your next newlywed couple or even as an Anniversary gift!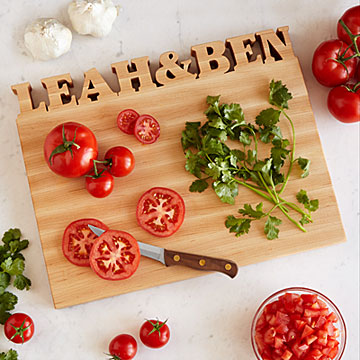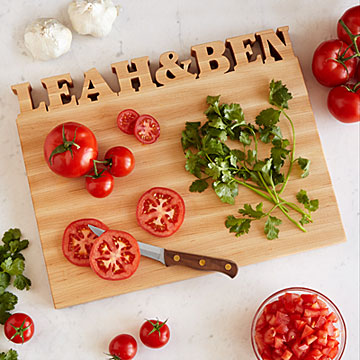 This cutting board with the bride and groom names could be the perfect addition to your newlyweds' kitchen!
And don't get me started on all the cute baby shower gifts!
I had to show this to my hubby, and even HE thought this was adorable (it made him chuckle!) There are so many cute onesies, that I think the only problem is figuring out which one to pick! The other problem might be catching baby fever with all the cuteness! Lol! You can check out this one and more UncommonGoods baby shower gifts here.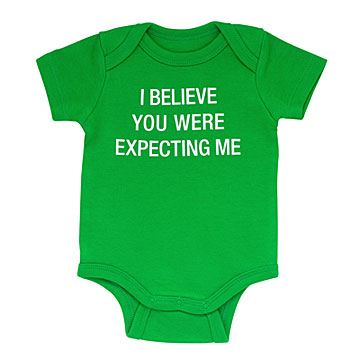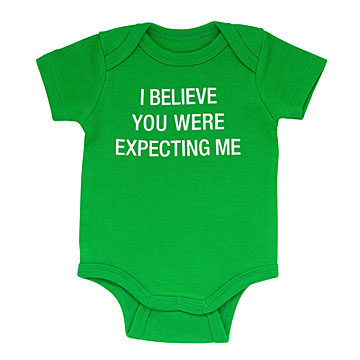 I loved sharing this sponsored post about UncommonGoods with you here on my blog, and I hope it helps you the next time you're searching for the perfect wedding or baby shower gift!
Laughing (and celebrating) thru life,
Coppelia