*You may find affiliate links for things I love! At no extra cost to you, I could receive a small commission if you click and buy thru my links. Thanks! ~Coppelia
2018 Update: It's been exactly one year since we left our home when Harvey flooded our apartment complex. This is Day 1 in our story. I literally was trying to journal our experience, in part to remember and in part as therapy. God brought us through this. And we are very thankful for where our family is as we consider life after Harvey, one year later.
Hurricane Harvey hit Houston and our family just got evacuated.
We left our apartment in a Coast Guard boat, with one backpack each, plus a first aid kit and our guinea pig.
We each had a granola bar and my daughter ate hers in the pick up truck that took us to a friend's house for shelter.
We had been there a few minutes when my baby said I'm hungry, and I felt helpless. Of course, my friend had food and graciously shared her pantry with us (fritos and bean dip), but I had no food for my family.
That feeling sucked.
I can't tell you the immense gratitude I feel towards my coworker and friend who sent her hubby to rescue us in his pick up truck. They opened their home to us. Holy crap. I can't describe the debt of gratitude I feel like we owe Kasey and her family.
But I don't want to finish today's entry without counting our blessings.
I'm thankful we woke up at home and had a wonderful breakfast! Eggs, bagels with a delicious homemade pear butter (Thanks, Kristen!) Plus, fresh organic strawberries. We had a feast!
I'm thankful we already had thought of the possibility of leaving before our area flooded. We had packed our bags, just in case.
I'm thankful for the time we spent outside our apartment, hanging out with our neighbors as we all realized we were officially flooded in. Ashley, Joanne and Ed! Hope y'all are OK!
I'm thankful for the brave neighbors, including my amazing hubby Adam. They went around the apartment complex, asking if they could help.
And I'm thankful both my kids wanted to go help, too! We let the 11 year old go out with dad (I'm proud of you, Papi!) But we had to say "not yet" to our 7 year old baby girl. Soon you'll be old enough to help, baby!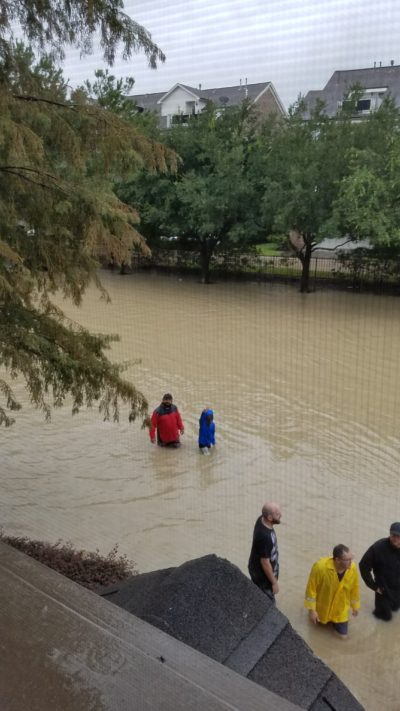 I'm thankful to the Memphis Coast Guard who arrived in San Antonio, Texas last Friday. They were in Kingwood today to rescue us. God bless them and their families, and keep them all safe.
I'm thankful to Kasey, her hubby Jason and their adorable little girl for opening up their home (and their fritos bag and bean dip) to us.
–An extra thank you, Jason, for coming to our rescue and letting us pile in, soaking wet, with a guinea pig in his purple travel container, into your really nice black pick up truck.
I'm thankful for an awesome post-hurricane flood style dinner with nuggets, broccoli, pizza and leftovers. That was a FEAST!
I'm thankful for Kasey (again, lol), but this time it's for our connections. We work together and her family goes to the first church we went to when we first moved here in 2011: Journey Church! It seemed like God had a plan for all of us in Kingwood, even though we both had said no to Texas! Ha!
It's crazy how God connects people in special ways for specific times and purposes.
I don't regret moving to Kingwood for a moment. Like many have said, we truly love Houston. And we'll keep praying.
Laughing thru life (with God's help and strength),
Coppelia
More photos from today :