*You may find affiliate links for things I love! At no extra cost to you, I could receive a small commission if you click and buy thru my links. Thanks! ~Coppelia
No matter how hard we try, sometimes we can't check everything off that Back to School list. Especially as the parent of a child with food allergies, it can be a little daunting. But I hope this list of my top ten back to school food allergy safety tips helps you navigate this time of the year with confidence and maybe even have a little fun while you're at it!
Fun backpacks that match their personalities? CHECK!
Cute first day of school outfit in the kids' favorite colors? CHECK!
(Secretly try not to freak out, wondering if the packaged "allergen-free" food is really ok?) CHECK.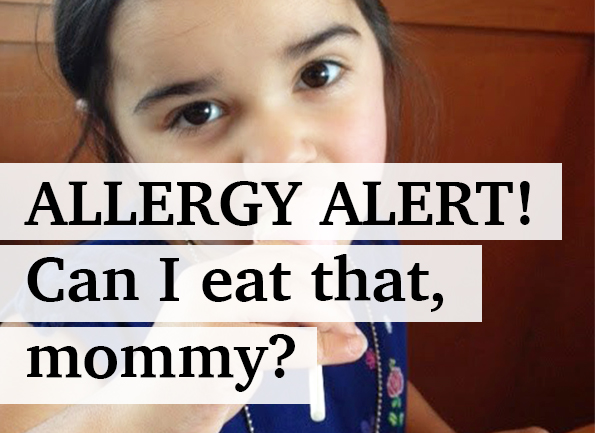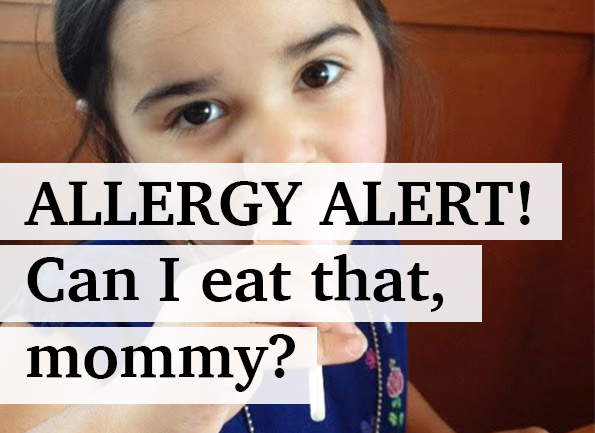 If you're mom or dad to a child with food allergies, you know that we have to add a few extra things to our Back to School checklists. On top of all the school supplies (which I personally LOVE picking out with the kids), you'll want to make sure that there are safe (and yummy and fun) food choices available for them on the first day of school and throughout the year.
My daughter is 8 years old and she got her frst allergic reaction (and accompanying blood work and testing) as an 11 month old baby. That has given us a few years to learn a few things that have helped us cope. We've even found that it's not as hard as I feared it was when we first got the diagnosis.
I hope these top ten Back to School Food Allergy Safety Tips help you set your kiddos up for a successful, healthy, safe and FUN school year!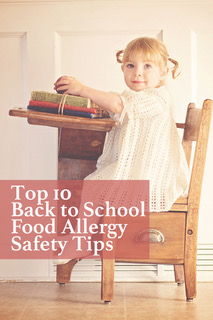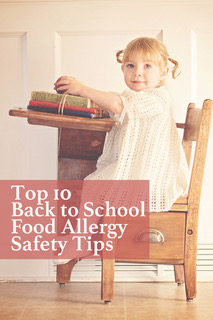 Top Ten Back to School Food Allergy Safety Tips
Schedule an appointment with your allergy doctor.

It's always a good idea to get a yearly check up, make sure your epinephrine is not expired, get extra prescriptions if you need them and ask the doctor any questions that you may have.

Fill out ALL the school forms

You might need to fill out forms for the school nurse. I feel like I've been trying to figure this out since my daughter was in Kindergarten and this year she's going to 3rd grade! Every year, I feel like I get closer to checking off ALL the boxes, getting all the forms in on time, etc. It's been a run around the last few years, back and forth between the doctor and the school nurse. I think we finally got it all figured out this year (thank God!)

 Stock up on ALL the meds

It's a good idea to have an "Epi Pen Bag". My daughter has a happy face emoji little purse that her grandparents got her. It's a fun way to keep her meds with her at all times, just in case. And now that our insurance approved the Auvi Q epinephrine (it's like an Epipen that TALKS!), she loves showing people how the tester works! I say that's a win-win!

Talk to the teacher(s)

I have to give a shout out to my daughter's school. By the time we met the teacher and mentioned food allergies, she said she had already met with the school nurse and discussed our daughter's plan. YAY! PEACE OF MIND! We talked about it again (of course.) And my food-allergy-parent heart rejoiced when I saw a form that the teacher had everyone fill out, which listed snack ideas and included a line to specify any food allergies. THANK YOU!

Include parents, grandparents & babysitters in on the fun!

If you have grandparents, babysitters, nannies, caregivers, neighbors and friends who regularly care for your child with a food allergy, include them in the back to school fun! Feel free to print out a list of approved snacks and share it with them. Ask them to test the epinephrine injector so it loses the "weird factor". Just ask my daughter! She loves showing people how to use it. If you can, make it FUN! Be impressed by how on top of things your child is, knowing how to do such COOL things like that! (Ain't nobody got time for "oh, you poor thing!")

Check with after school activities (tutoring, sports, classes, etc.)

It's important to have an after school plan. In our case, our daughter has to keep meds at the school at all times, so that means we need to figure out the meds situation on the way to school and on the way from school to sports. Back to that whole "I've been trying to figure this out since my daughter was in Kindergarten" conversation, I lost count of how many times we sent our daughter school with a clandestine Epipen in her backpack. She needed to have it with her and the doctor's papers hadn't come back to the school nurse. I won't get into a "the system is failing our kids" tirade here, but sometimes you need your kid to be safe more than you need to follow the rules.

Chat with friends' parents

Does your child have a bestie or BFF that they love to hang out with? Meet their parents! Invite them to coffee or spend time chatting at the next play date. It's good for those close to our kids to have ALL the details on the food allergies, what they can and can't eat, and what to do in case of emergency.

Plan ahead for special events 

Back to school, Halloween candy, Thanksgiving lunches, Christmas treats like reindeer munch (or whatever that's called) … we all know special events are going to happen. And they're often filled with ALLERGENS! (gasp!) What's a food allergy parent to do? Plan ahead, of course! I usually try to pack extra treats for my daughter (who is allergic to dariy and nuts). If we know there's a party, she can BHOT (Bring Her Own Treats!) Same for birthday parties and pizza parties — we just bring our own and party like a food allergy rock star!

Stock the fridge and pantry

Gimme ALL the allergen free foods! Dairy free! Nut free! Gluten free! Us food allergy parents try to give our kids what any kid wants. Fun, yummy foods! But they have to be safe and hopefully healthy, too. One of my go-to websites is KidswithFoodAllergies.org. They have the latest news for families like ours who deal with food allergies. Plus, they have helpful tips, the latest research and even the largest collection of "Free of" recipes called Safe Eats®! 

Empower your child!

Empower, encourage, build up and celebrate your child! These are AMAZING kids that are rising above limitations and challenges every day, probably more than we'll ever know. Let' s remind them every day that they are:

SMART!

They know how to take care of themselves (or they're learning and doing a great job!)

They INSPIRE us!

We want to rise up to be the parents they need us to be, advocating for them and celebrating their strength!

They MOTIVATE us and others!

By showing us what is possible — they do their best, overcome obstacles and thrive!
I hope you have an amazing school year!
Laughing (and thriving with food allergies) thru life,
Coppelia