*You may find affiliate links for things I love! At no extra cost to you, I could receive a small commission if you click and buy thru my links. Thanks! ~Coppelia
You may have heard certain rumors and I'm here to tell you they're absolutely … TRUE! (lol!) Our family is moving to Florida! But this was a very tough decision to make (even though it's for an amazing opportunity.)
There are times when you pray and it feels like it takes FOR-E-VER to hear from God. That was not the case with this move to Florida. In this post, you'll see messages, Bible verses, texts, songs, emails and MORE ways that God kept confirming this decision for us (even though I still REALLY struggled with it!)
Let's start back in December…
I unexpectedly received a message on Facebook, back in December, from a well-known and respected radio VP. At first I was like, wait, he knows who I am??? WOW! And I was floored even MORE when the message was about this amazing radio opportunity where they needed an on-air talent who was bilingual, who could work on two AMAZING Christian radio stations in both English and Español.
If that didn't sound pretty much "custom made" for me (I've been in Christian radio for over 20 years AND I'm bilingual), said station is in the same neighborhood as my sister and MICKEY MOUSE!
If you know what a Disney freak I am, you're probably thinking, HA! SUPER easy decision, right? No.
Oh, but it gets even BETTER!
To top it off, this radio opportunity is in a city that has seen enormous growth in their population, specifically with people coming from Puerto Rico after the devastation of Hurricane Maria in 2017. This is the island where I was born and raised, where a piece of my heart will always be. #Boricua4Ever
Again, super easy decision, right?!
Nope.
I sat down on my couch the night I got that Facebook message and literally just sat there with my sweet dog, Ella. She was curled up like a little "alcapurria" in her brown doggie blanket next to me. She probably knew I needed an emotional support animal. And as we sat there in our softly lit living room, I had a simple prayer: "Lord? What is this all about?"
Don't Mess with Texas
There's a very simple reason why this AMAZING opportunity didn't hit me like WOOOHOOO LET'S GOOOO!
If you've ever been in the most perfect season of your life, that's pretty much where we are now.
Would you mess with that? No. And you definitely don't want to mess with Texas where we currently live (lol!)
Our family is happy. We bought Our Dream House less than 2 years ago. The kids are doing GREAT in school, gymnastics, basketball and now track! Our church is AMAZING. Adam and I have the best bosses we've probably ever had in our lives. We have jobs we love and flexibility when we need it. We have incredible neighbors on our "Dream House" street.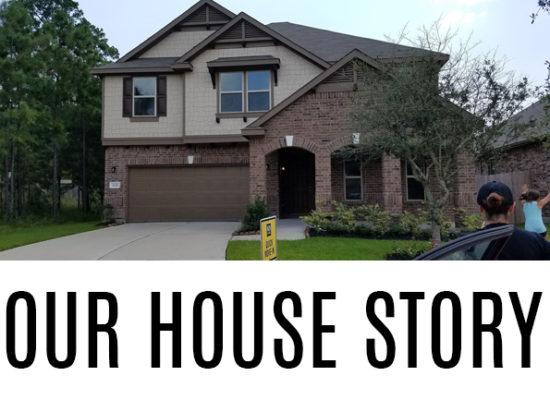 I have literally TRIED to find a reason that would make us say, yeah, let's leave this PERFECT LIFE … and I couldn't find one.
But back to the couch, my dog and that prayer.
After my very short & simple couch prayer time, I went upstairs to bless, pray for and tuck in my kids. My daughter wanted to do a "Cartoony Jesus" devotional (the Bible app for kids). I was thinking we should do the one about Abraham being called to follow God in faith. But she picked something else. Little did I know, God had already picked that devotional reading for us that night.
As we clicked on the Bible verse that went with the "cartoony video," the verse said:
"Fill your horn with oil and go."
I think by that point my daughter had fallen asleep, but I sat there and thought to myself:
"…if we end up moving to Florida, that has to be the QUICKEST answer to prayer I've ever seen in my life!"
Apparently it was!
And if that wasn't enough, God started with that "quick answer to prayer" and continued confirming that this was a door that He was opening for us.
In Case You're Wondering, the Answer is YES.
What I'll share here is straight from my "FL PRAYERS" note that I have on my phone. I just kept "copy+pasting" messages as I got them and writing things as they happened, that further confirmed the path that God seemed to be laying out for us.
It all started with that cartoony Jesus devotional:
"Fill your horn with oil and go."
A text from my friend, realtor, and amazing Godly woman, Anielka:

"The Lord turned to him and said, "Go in the strength you have and save Israel out of Midian's hand. Am I not sending you?" "Pardon me, my lord," Gideon replied, "but how can I save Israel? My clan is the weakest in Manasseh, and I am the least in my family." The Lord answered, "I will be with you, and you will strike down all the Midianites, leaving none alive."" ‭‭Judges‬ ‭6:14-16‬ ‭NIV‬‬ https://bible.com/111/jdg.6.14-16.niv
12/17/18

An email from a Greg Laurie devotional about Joseph (and Mary):
"When God uses a person, there is a sacrifice to make. It won't be an easy path, but it will be a fruitful one—and you will look back later in life and be glad that you took it."
12/26/18

From a "One Word" devotional this morning:

When Jesus heard his answer, he said, "There is still one thing you haven't done. Sell all your possessions and give the money to the poor, and you will have treasure in heaven. Then come, follow me." Luke 18:22 NLT https://bible.com/bible/116/luk.18.22.NLT   
12/30/18

My friend and worship leader Denis Gerson invited me to lead worship with him at Champion Forest Baptist Church. The Spanish ministry pastor, Ramon, came up and asked me about FL. I was like WHAT?!? How did he know???? Nobody knows! ***I had forgotten that Ramon's sister is married to the President of that radio station in FL. That felt like such a cool connection! Could this be God, confirming my steps?
More confirmation into the New Year!
Adam and I flew to FL, went to the interview, spent a day at DISNEY WORLD, and fell in love with Real Life church. Those were 4 AMAZING days!!! And I stuck to my #JanuaryWhole30 (up until that anniversary dessert at Coral Reef restaurant at Epcot!)
I wept during worship at Real Life, sensing the Spirit of God enveloping us as we stood, singing. We never get to do that (worship together), since we both work or serve at our church. It felt like a very special moment. I kept saying out loud "what just happened?" It felt surreal.
Adam wanted clarity at the end of the trip. His main prayer is for a job for him and for the house situation.
We came back from FL on Monday. It's Saturday.
Adam and I are fighting. I fell off Whole30.
It feels like turmoil and I know that's not from God.
So, I'm sitting in my closet (literally, the master closet), seeking God.
Lord, I feel like, instead of coming to You for wisdom and to get a "yes or no" answer, I need to just come to You for You.
From a YouVersion Bible app Devotional:
"Throughout the whole process, God showed them how His hands were in it. He guided them step by step along the way and gave them wisdom throughout the process." 

"So let's do it—full of belief, confident that we're presentable inside and out. Let's keep a firm grip on the promises that keep us going. He always keeps his word. Let's see how inventive we can be in encouraging love and helping out, not avoiding worshiping together as some do but spurring each other on, especially as we see the big Day approaching.
Hebrews 10:22‭-‬25 MSG
https://bible.com/bible/97/heb.10.22-25.MSG
Tonight we found out from our realtor that there have been no showings of our house (no interested renters).
Discouraging for sure.
But when I opened the Bible app, this verse greeted me:
"Jesus looked at them intently and said, "Humanly speaking, it is impossible. But with God everything is possible."
Matthew 19:26 NLT
https://bible.com/bible/116/mat.19.26.NLT
And the two previous verses on my Bible app feed were Isaiah 43:19 (I'm doing a new thing) and Phil. 1:6 (God will finish what He started.) Amen!
FLEECE?
I'm torn about this whole concept of setting out a fleece. But when we flew to Florida, Adam said he had 2 requests: his job and the house situation, both here and there.
Ideally, we would be able to move between the 2 Spring break weeks (March 11th in TX and the 18th in FL.)  If we did that, my last day of work would be Friday March 8th. In order to put in a 2 week notice for that date,  I would have to do it by next Friday, February 22nd.
Lord, please disregard this fleece if it is not something that is honoring you. But if it is something that you are pleased with, if we could have Adam's job offer, direction for our house here and a place to live in Orlando by next Friday, that would be amazing and a miracle!
Today was my deadline to put in a 2 weeks notice, so we could move during the 2 Spring break weeks. This morning, I got a random FB message from a guy I rarely hear from. He sent this. Just 2 Bible verses. Nothing else.
6 Be strong and of good courage, do not fear nor be afraid of them; for the Lord your God, He is the One who goes with you. He will not leave you nor forsake you."
Deuteronomy 31:6 (NKJV)
9 Have I not commanded you? Be strong and of good courage; do not be afraid, nor be dismayed, for the Lord your God is with you wherever you go."
Joshua 1:9 (NKJV)
I shared it with Anielka and we were both like WHAT?! Only God! 🙌🏼🙌🏼🙌🏼
I sang with my friend Denis at the local IF: Gathering at Foundry Church. We received a check for WAY MORE than I expected. PRAISE GOD! And I brought a box of my Bible devotional book to sell … they all went! Unbelievable!!!
As I was entering the money totals into my blogging income spreadsheet, a Pinterest notification popped up on my computer screen that said "Jehovah Jireh: Provider." No kidding!!!! Talk about His miraculous provisions!!! 🙌🏼🙌🏼🙌🏼
From Anita Carman's Inspire Women's weekly email devotional today:
"As with all transitions we have tears of goodbye because life did not turn out as we had envisioned. But we also have tears of joy because once we settle each member of the family where each will thrive, we set ourselves on a positive trajectory to live at our potential. What are you dealing with today? Do you need God's strength and courage to change?"
Pastor Derrick's Instagram message (prophecy update, confirmation and update from December!) This really blew my mind. A Pastor I've only ever met online, who would send encouragement and prophetic messages, had shared something back in December that God used to confirm even before all this was in motion… WOW GOD!
My hubby Adam shared 2 songs with me:
Tasha Cobbs "This is a Move"

Lincoln Brewster "God of the Impossible"
🙌🏼🙌🏼🙌🏼
Today two BIG things happened:
•My resignation email went out to All Staff at KSBJ/NGEN.
•Allied came to give us the moving quote.
Allyson was picking a verse from the Bible app on the way to school, and said "Mom, all these verses have to do with Florida!" My heart smiled. 🙂
I walked thru the mostly-empty Worship Center at Second, just thanking God for 1 more opportunity to sing before we leave…and just in awe that He brought us there to begin with. Second Baptist Church has been a dream come true in more ways than I could have ever imagined.
The song that played at just this meaningful moment was "At the Cross". I have a video on YouTube of me singing that song during the 11:11 service. It was just super special for me to hear that same song, as I was getting ready for my last opportunity to sing in the Saturday night service. What a blessing. God, You have done GREAT things! (I may have wiped a way a little tear.)
Got to sing "Beautiful Name" at 9:30am in church this morning and I felt like the outgoing Miss Universe, doing her final walk, as I walked out to lead one more time. LOL! It was amazing. Thank You, Lord, for INCREDIBLE opportunities and moments to do what we love and bring YOU all the glory!!!
When we sang that closing "Amen" at the end of the service, it really felt like the proper closing of this chapter.
I'm just in awe of the goodness of God in all of this …even thru tears.
We went to Pastor Mike and Shari's to get my daughter's epi pens that she left behind at her sleepover. Of course, we chatted about when we were leaving, etc…and he said "you know, when you look back, you'll be amazed at how everything just fell into place the way it needed to."
He's absolutely right! What a great encouragement! 🙌🏼
And that's not even ALL of the little and big things we have experienced over the last few weeks that have continued to spur us on.
But if I've learned one thing in all of this, it's this:
"Trust in the LORD with all your heart; do not depend on your own understanding. Seek his will in all you do, and he will show you which path to take." Proverbs 3:5-6 (NLT)

Laughing (and trusting God) thru life,
Coppelia
P.S. More *new* and *exciting* announcements are coming as this move to FL continues! Be sure to put your email at the top of the blog so we can stay in touch!