*You may find affiliate links for things I love! At no extra cost to you, I could receive a small commission if you click and buy thru my links. Thanks! ~Coppelia
Unless you already finished ALL your Christmas shopping (in which case … you're amazing!), I hope this fun (and not too expensive) Christmas Gift Ideas List helps you finish shopping for everyone on your list! I'm including extended family and throwing in a few bonus ideas for the teachers and co-workers we love! I hope these Christmas Gift Ideas for the whole family inspire you as you plan to hit all those Black Friday, Small Business Saturday and/or Cyber Monday DEALS!!!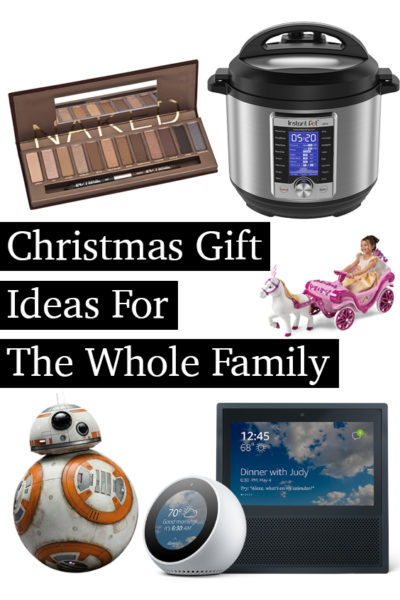 Christmas Gift Ideas for Husbands, Grandpas (Abuelos) and Uncles
My favorite gift-giving tip is to ask directly if there's something the person wants. If you don't want to be that direct, ask someone close (grandma, aunt, your hubby's best friend, etc…) Last year, one of my husband's co-workers came up to me and said "I know what your husband wants for Christmas!" At first I was like, hold it, girl, how do you KNOW?! Lol! Turns out, she was at a staff Christmas celebration and saw him bid on a tool box gift. She knew exactly which one because her hubby had one, too! Christmas morning, my hubby couldn't believe it when he opened the gift! He was like, Babe, how did you KNOW?! That was a fun surprise!
If you ask and still end up with "whatever is fine" or "I don't need anything, but thanks" answers, here are a few Christmas gift ideas for your favorite guys:
Tech & Gadgets
Are your guys into tech stuff? Can't go wrong with a fun tech gadget. My hubby's been looking at the Amazon Echo spot if you can splurge a little. If you don't already have an Amazon Echo or Echo Dot, those are pretty cool. Our kids love using them to let us know once they're done with their showers, they got PJs on and are ready for "bedtime blessings!"
These are my Amazon affiliate links (no extra charge for you, but I may receive a small commission if you buy.)
CLOTHING, ACCESSORIES & MORE!
If you know your guys' favorite stores or brands, PERFECT! Pretty much anything from their favorite store works because they can always return it and get something they really want. This works for your hubby, grandpa, brother, uncle and pretty much any other guy on your list! If you're ok giving gift cards, this might be the EASIEST way to go! But I think everyone loves getting an actual gift-wrapped present. Some no-fail ideas include:
Nice shirt/sweater
Pants/joggers
Tie / Belt / Wallet / Grooming Kit
And, of course, Ugly Christmas Sweaters (just for laughs!)
(I'd stay away from socks & undies … unless you're going for gag gifts!) 😉
HOBBIES & OTHER STUFF THEY LOVE!
This is where those hobbies can come in handy. Is your hubby all about gadgets and bags to carry them? An edgy, modern backpack might work (like with my hubby!) Maybe grandpa loves fishing or golf or playing piano (like my dad.) Maybe brother/ uncle is all about video games or he's into being a chef at home. Any of these can give you hints to help you decide on a GREAT gift that will mean you pay attention to what they enjoy. It's a sweet way to share Christmas love & joy!
Sporty guys gifts: Academy, Dicks Sporting Goods, etc.
Foodie gifts: Restaurant gift certificates or kitchen gadgets
Music lovers gifts: Groupon concert & event tickets, favorite artist merch, etc.
Grandparents/abuelos gifts: You can't go wrong with photo gifts or gifts that are made by their precious grandkids!  One year, we made ceramic mugs at one of those pottery places and the "Abuelos" loved them!
Christmas Gift Ideas for Mom, Grandma (Abuela), Sister and Aunts!
If you ask me, any gift that has anything to do with pampering is a Christmas Blessing! But you may know your mom loves Christian books & decor (like my mom!) Or grandma is all about those word puzzles and her Rubik's Cube (like my Abuela!) My sister is all about Disney (we both are!) And you may know some of those things for the people on your list. Start there! And these ideas may help you as you make that list and check it twice!
PAMPERING TIME!
Massage (include child care if appropriate!) 
Mani/ pedi
Spa day
Hair appointment at The Drybar!

I LOVED my first hair appointment at The Drybar, sponsored by Toyota and The Drybar, on behalf of the Houston Moms Blog. It was for a special Mother's Day promotion and I couldn't wait to go back! They specialize in hairstyles (not cut or color) so you get in and out in no time. It's a fun atmosphere and it would make for a great Christmas gift, too!
HEALTH & BEAUTY
Basket of goodies from Bath & Body Works, Victoria's Secret or her favorite store!
Beauty kits (think make up brushes, essential oils, fizzy bath bombs and so much more!)
Holiday makeup kits & bundles from Ulta or Sephora (or one of my favorites, Urban Decay Naked palettes!) Click on the image to check it out! It's my Amazon affiliate link – there's no extra cost to you, but I get a small commission if you buy!
"I KNOW YOU" GIFTS
These are the ones where mom & grandma's favorite hobbies come in to play. Do you know something they love to do, or have been saying they want to do "one of these days?" Help them start making those dreams a reality!
Tickets to a concert or event! Groupon has TONS of great ideas for these!
Those dance or pilates classes they've been talking about!
Kitchen gadgets for your passionate chefs!

If she doesn't have an Instant Pot … that might be an awesome gift! I love mine! (Here's my Amazon affiliate link – there's no extra cost to you, but I get a small commission if you buy!)
Christmas Gift Ideas for kids!
This one can be easy if you can get your hands on that Letter to Santa before it gets mailed to the North Pole! 😉 In the past, I've handed my kids those toy catalogs and asked them to circle what they want to add to their wishlist. You can even go "educational" and ask the kids to literally write down the list (and practice good spelling and handwriting while you're at it!)
But sometimes you're not sure what to give nephews & nieces, or extended relatives who are coming to town with their kids. I always start with asking the parents if you can for their favorite princesses and superheroes. Those are always Christmas wins!
But if you're really stumped for Christmas Gift Ideas for Kids, these can be wins, regardless!
The latest kid movies (plus, any toys, games & cute accessories from that movie! Some recent ones include:

Disney's The Nutcracker and the Four Realms
Dr. Seuss' The Grinch (2018)
Wreck It Ralph 2 (Ralph Breaks the Internet)
Anything with Disney Princesses! 

(Click the image to buy! It's my Amazon affiliate link – there's no extra cost to you, but I get a small commission if you get it!)

Traditional … never goes out of style!

A new bike and helmet? Yeah!
Board games they didn't know they needed (does anyone really hate Uno or Twister?!) lol
Classics like Star Wars LEGO sets, Barbies, light up toys & slime/squishy stuff! (Click the image to buy! It's my Amazon affiliate link – there's no extra cost to you, but I get a small commission if you get it!)

MORE!
Christmas Gift Ideas for teachers, co-workers, neighbors and friends!
So, Starbucks gift cards for everyone, right? If you're getting something for ME, I won't turn down a gift card, especially to Starbucks! HA! But if you want to go a little more personalized, this can help!
Themed baskets! These can be a lot of fun, especially if you have a little info on the person. If your kid's teacher's classroom has a ton of Peanuts & Charlie Brown posters and little details, fill a basket with a plush Snoopy, a Peanuts book or two for the class to share and maybe a cute Peanuts t-shirt! Or this Christmas Snoopy tumbler!
Hope this gives you at least a little inspiration to get ALL your Christmas shopping done … and finish with a smile on your face!
Laughing (and celebrating) thru life,
Coppelia