*You may find affiliate links for things I love! At no extra cost to you, I could receive a small commission if you click and buy thru my links. Thanks! ~Coppelia
Update: Congrats to my two winners, Diana and Raquel! And thanks to everyone for entering the giveaway! Come back to the blog soon for more family, faith and fun! -Coppelia
When was the last time you had a FUN MONDAY?! I've posted Fun Friday giveaways here on my blog in the past, but today I have a FUN Monday Movie Giveaway! If you haven't seen the new Disney movie Descendants 2, then this is your chance to win one of two DVDs, provided by sponsor Allied Integrated Marketing on behalf of Disney.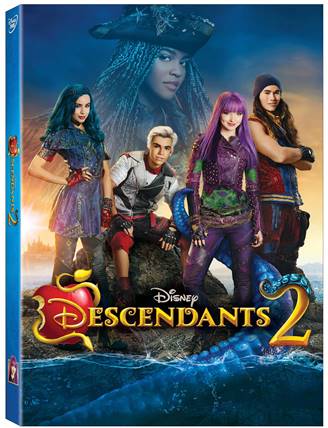 Just in case you're not familiar with the story line, while Disney princesses and their princes live happily ever after, the villains apparently have lives, too. In Descendants and its sequel, Descendants 2, we follow the story of the kids who call some of the villains mom and dad. Jay is Jafar's son, from Aladdin. Evie is the daughter of Snow White's Evil Queen. Carlos calls Cruella de Vil "Mom" (101 Dalmatians). And Mal is the daughter of Sleeping Beauty's villain, Maleficent (who is played in the movie by Broadway star Kristen Chenoweth!)
In Descendants 2, we also meet The Little Mermaid's villain, Ursula's daughter, Uma, played by DIsney star China Anne McClain. It was fun to see her back on the Disney channel (since this is a Disney movie). My kids used to love watching her in the Disney channel sitcom, Ant Farm!
My kids are THRILLED that I'm giving away Descendants 2 on the blog! (Mom win! YAY!) Lol!
I hope your kids are excited, too!
It's just a simple way to make this Monday more fun!!! 🙂
Here's how you enter to win:
Post in the comments below your answer to this question: Which Disney Descendants 2 villain are you like when you're grumpy or having a bad day? (lol!)
A) Evie and Evil Queen: "Pay attention to me because I'm the fairest of them all. Also, I'M TALKING and I'M THE MOM!"
B) Carlos and Cruella: Cruella is just mean. yikes! (Don't pick this one…lol!)
C) Jay and Jafar: "If you don't give that to me now, I will TAKE IT AWAY!"
D) Mal and Maleficent: "You either do as I say or I'll cast a spell on you (aka, you're grounded!)"
E) Uma and Ursula: "You're a poor unfortunate soul if you cross me the wrong way today!"
Ok, some of those are just silly! LOL! But that's the whole point! Have fun with it!
Pick one of the options above or come up with your own. I'll pick 2 winners by the end of the week!
Have a FUN Monday!
Laughing (and making Mondays fun) thru life,
Coppelia
P.S. If you haven't entered the contest yet, post your answer below in the comments!

Giveaway Rules
No purchase necessary.
Prize is one of 2 Disney's Descendants 2 movie DVDs.
The sponsor, Allied Integrated Marketing on behalf of Disney, provided me the opportunity to give away the DVDs to my readers. If the sponsor does not fulfill your prize, the blogger is not responsible for prize fulfillment.
Open to individual U.S. residents aged 18 and older only; void where prohibited.
One entry per person.
Giveaway ends Friday, August 11, 2017, at 5:00 p.m. CST. Winner will be selected randomly and notified via e-mail no later than Monday, August 14, 2017.
Winner agrees to allow the blogger to share his/her e-mail address and first and last name to the sponsor for fulfillment of the prize.
Prize unclaimed after 48 hours from notification is forfeited and the blogger reserves the right to select another winner.
We reserve the right to cancel the giveaway at any time.