*You may find affiliate links for things I love! At no extra cost to you, I could receive a small commission if you click and buy thru my links. Thanks! ~Coppelia
Do you celebrate Christmas in July? We kicked off this month with a Christmas in July 5k, benefitting the Salvation Army of Greater Houston! It was SO fun (and sweaty!) Christmas music filled the air while we ate post-race bananas. It was surreal to hear "It's the MOST Wonderful Time of the Year" while grabbing water bottles and wiping sweat off our foreheads. But it was SO FUN!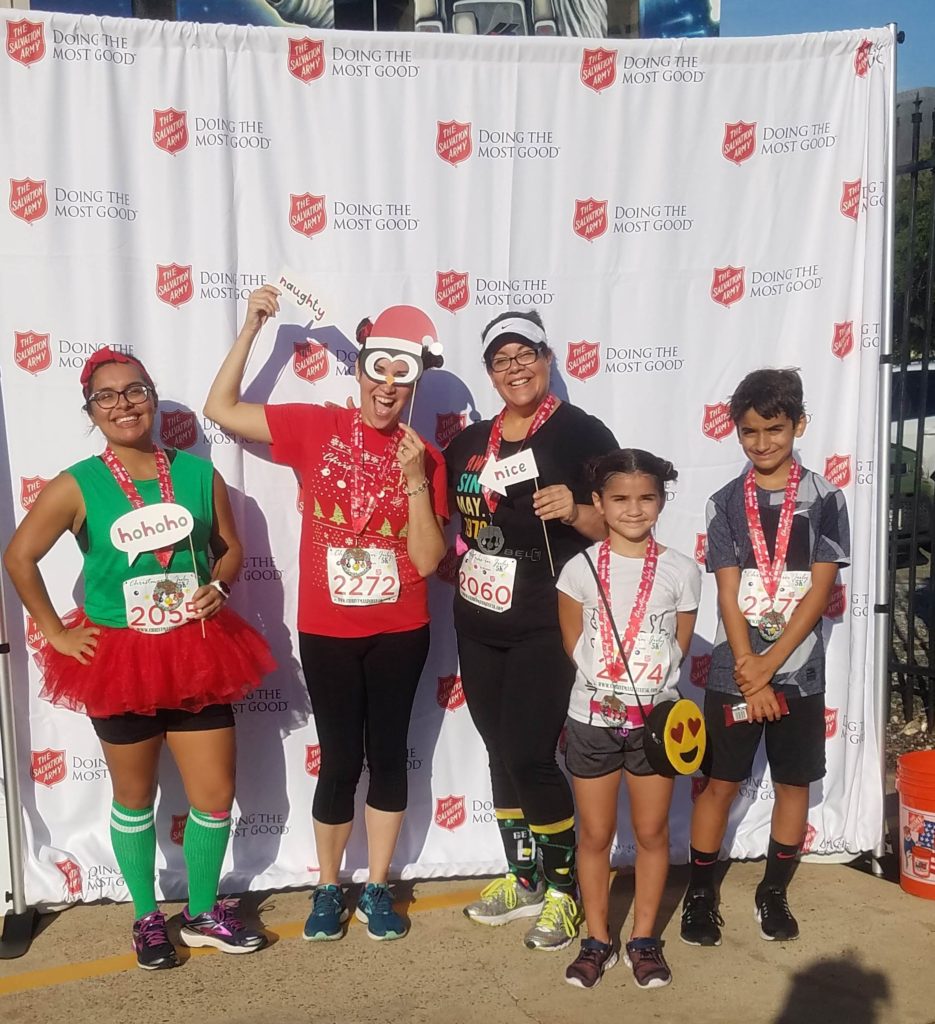 I loved seeing people dressed in Christmas running outfits (like my running buddy Virjinia, who wrote about the experience on her blog, too!)
Last year, I shared my top 3 fun ways to celebrate Christmas in July.  I included the first Christmas in July 5k that my son ran with me on that blog post. So fun!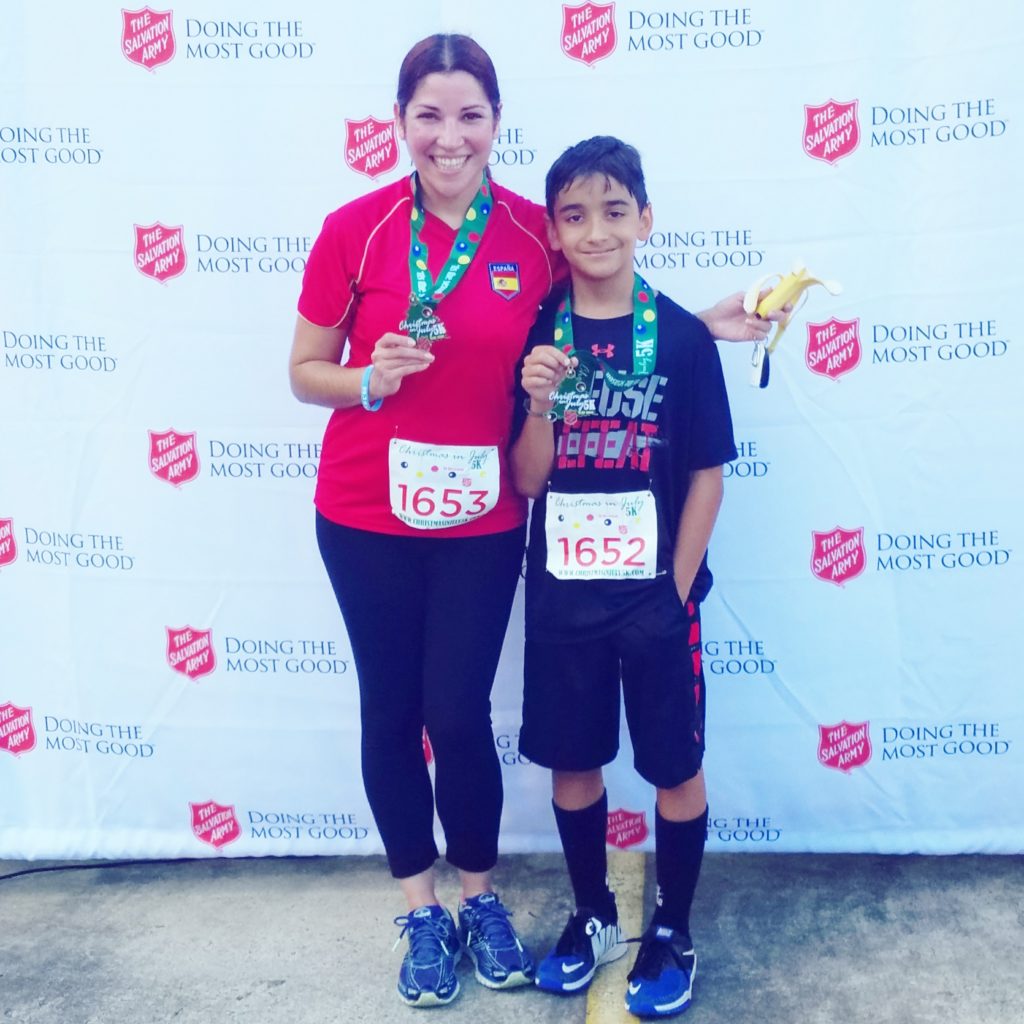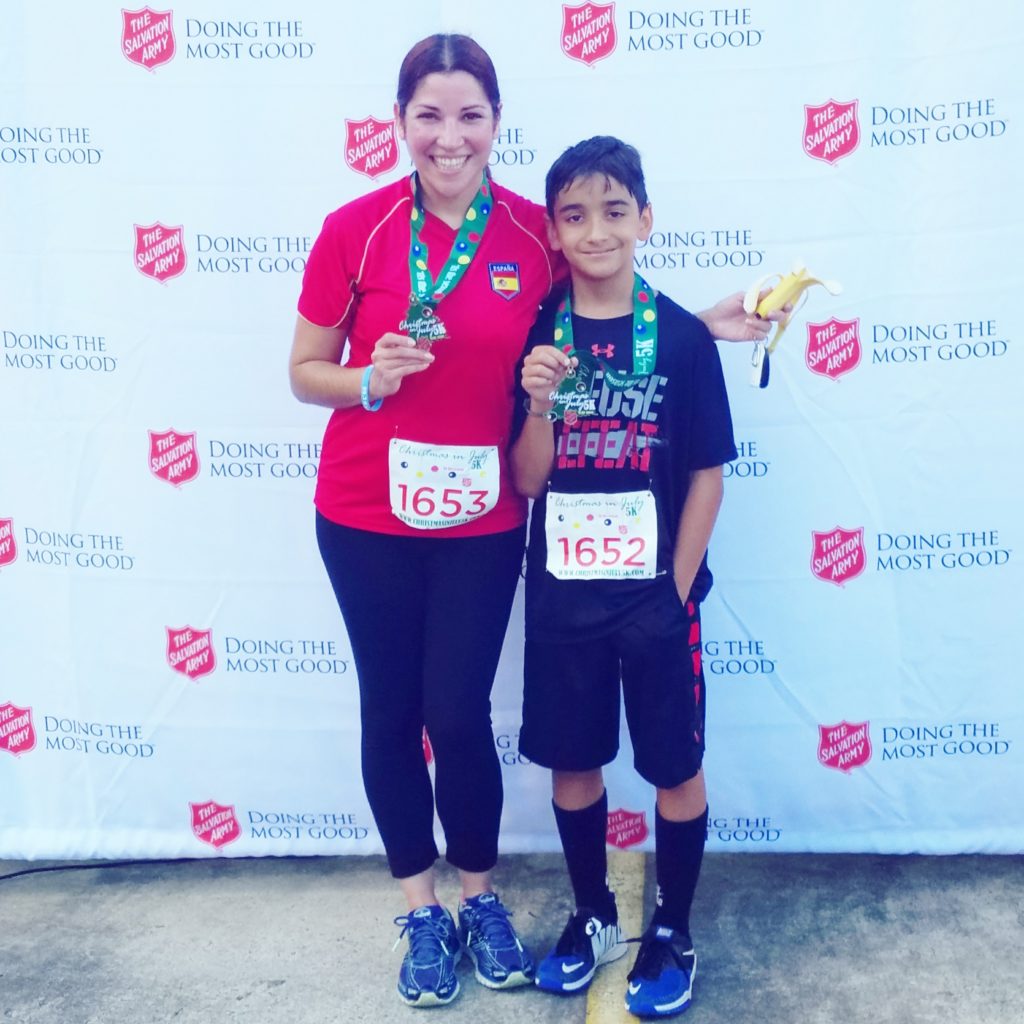 This time around, I'm sharing My 25 Favorite Christmas in July ideas! 
Check out the Pinterest board below for more on these fun Christmas in July recipes & ideas!
1. I'll start with what's quickly becoming a tradition for our family — the Christmas in July 5k with the Salvation Army of Greater Houston. This was our 2nd year, and I have a feeling we'll be going for year 3!
2.  Watch your Favorite Christmas Movie! Who says you need to wait until it's officially the Christmas season to watch Elf or The Grinch or whatever your favorite is? To be honest, though, it feels weird to watch The Charlie Brown Christmas special before at least November.
3. Iced Peppermint Mochas (I'm looking forward to the hot version once the weather cools down in Houston!) I found a recipe that's perfect for summer and #Whole30 approved (I'm trying to stay on track … we'll see!)
4. Watermelon Christmas Trees! So cute (and healthy!)
5. Frozen Hot Chocolate! Need I say more?
6. Candy Cane pool noodles! Seriously, who came up with this super creative and fun idea? Brilliant!
7. Reindeer Sloppy Joe Sliders. Can you EVEN??? These are so cute I'm not sure I could eat them! But they're on the Pinterest board, just in case you're curious! 😉
8. Santa Strawberry Brownie Bites! My daughter LOVES little snacks like these, and they're not huge! Perfect for a little Christmas in July get together!
9.Santa Strawberry Marshmallow Hats! Another favorite of my daughter. She always requests these for her birthday menu, which works because of her Thanksgiving birthday. But they'd work just as well for a Christmas in July party, too!
10. Green Grape Grinch Kabobs! These are HILARIOUS! And they're little fruit skewers that you make with green grapes, a banana slice and Strawberry Santa hat! Yum!
11. Christmas Tree veggie tray. Again, YUM! Who said Christmas food has to be super fattening and unhealthy. This tree makes  will possibly make you WANT to eat a whole bunch of broccoli, carrots and cherry tomatoes!
12. Christmas in July flip flops. Who comes UP with this stuff? Those flip flops are perfect, especially in Houston because we could not only wear them for Christmas in July; there's always a chance that it'll feel like July when it's ACTUALLY Christmas!
13. Tropical Santa Christmas Cookies. These kind of sort of remind me of Christmas "en Puerto Rico!" We celebrated Santa growing up on the island (and the Three Kings, too, of course!) But in Puerto Rico, the temperature is in the 80s year round, so these tropical cookies, with Santa wearing a Hawaiian shirt and Christmas palm trees, are a pretty decent representation of what I had growing up!
14. Christmas suns (with sunglasses!) Somebody came up with these cute sugar cookies, but I think you can pull off a similar idea with pineapples!
15. Christmas in July "toilet paper roll" crafts! For some reason, my daughter LOVES saving toilet and paper towel rolls for random crafts. And this roundup has adorable ideas for reindeers, elves, angels and more! Super cute (and time consuming, perfect for boring summer days that can be turned into AWESOME Christmas in July party days!)
16. Christmas in July mason jars. Much of what's on this list can go for Christmas in July or in December! I love the cute ways you can dress up mason jars with everything from a Santa theme to a pretty sparkly angel theme.
17. Ribbon wrapped candles. *Swoon!* These are so pretty, you'll want to use them for a Christmas in July party and for teacher's gifts before Christmas or winter break!
18. Santa-tizer. Ok, it's a sanitizer bottle dressed up as SANTA! I might actually need these for every room in the house.
19.Reindeer Rootbeer! This idea will make you LOL! Someone literally came up with the idea to dress up rootbeer bottles like reindeer. If you needed any excuse to do a Christmas in July party, I think we found it.
20. Recycled Snowman. Way to save the Earth! Somebody came up with the idea to reuse K-cups and turn them into a snowman! If you're not super crafty (like me), this might be one of those crafts that you can start now in July and it just may be ready by actual Christmas!
21. Elf on the Shelf running costume. If you want to find a Christmas in July 5k, they have adorable Christmas costumes that are runner friendly. The Elf of the Shelf is one of the funnier ones!
22. Christmas in July bottle cap craft! I'm telling you, some people are SO creative! These turn into cute keychains or necklaces. And I think little girls would have so much fun with this craft!
23. Christmas jewelry. This is another idea that could either be fun to make or start buying ahead for Christmas gifts. See, there's benefits to thinking about Christmas in July!
24. Christmas in July Date Night! Do you have a special Christmas tradition that you love to enjoy with your spouse once a year? Maybe it's a special meal or a restaurant you both love to visit. Why not plan a Christmas in July themed date? If you haven't been on a date in a while, this could be extra special if you want to surprise each other with "Christmas in July" gifts! Fun and romantic!
25. Start your Christmas budget! Believe it or not, as of today (July 25), we have just 5 MONTHS between now and Christmas morning. If you're like me and you eat out (a lot), grab expensive coffee several times a week if not daily and would love to have a little more Christmas cheer and less grumpiness come holiday shopping time, a Christmas budget now would help a TON! Reality check: if you could save or set aside $62.50 a week for the next 16 weeks (August thru November) you could have $1,000!
I've rounded up a LOT of these ideas (and a few more) on my Christmas in July Pinterest board. I'd love it if you'd check it out, follow it and save some of your favorite pins! Click below to check it out!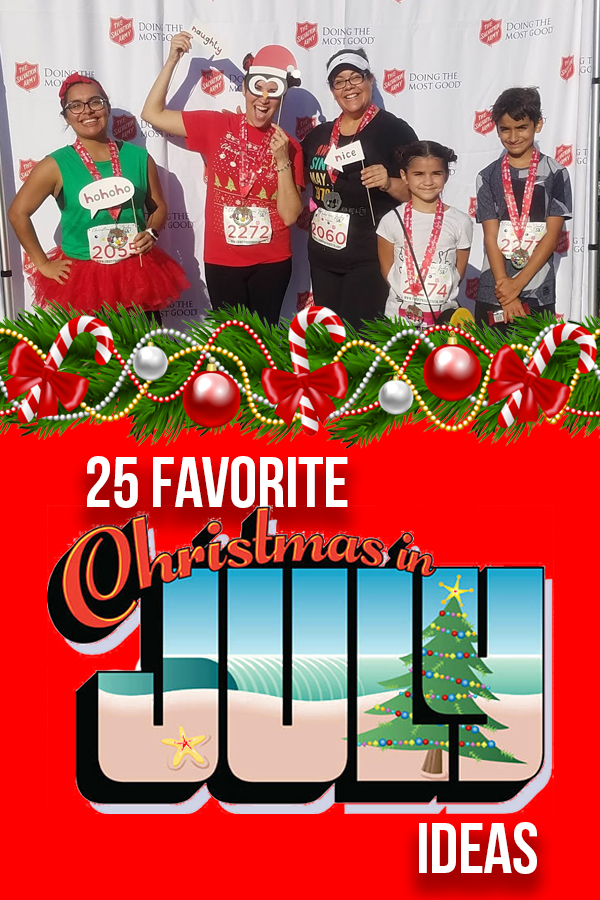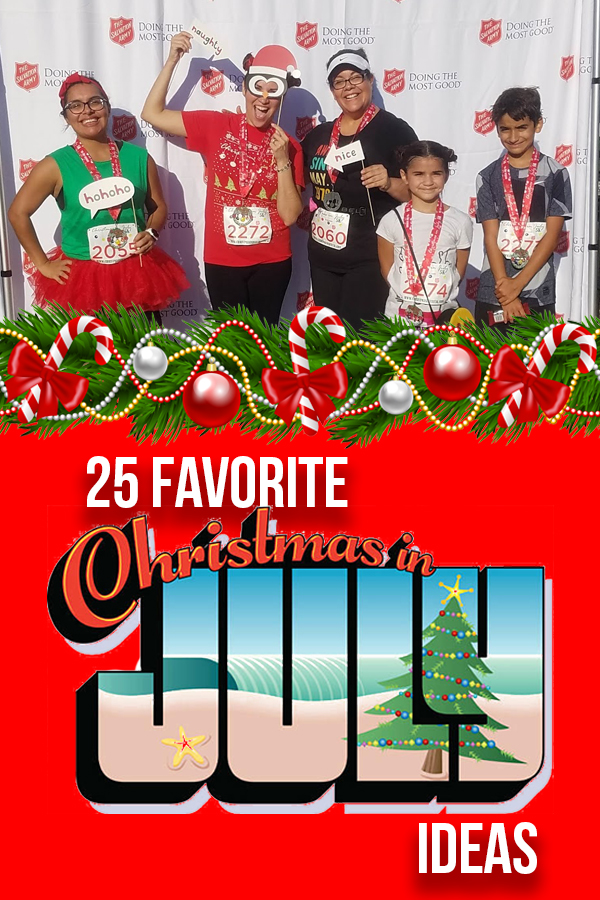 Hope you enjoyed these Christmas in July ideas as much as I enjoyed putting them together in this blog post for YOU!
Laughing (and celebrating Christmas) thru life,
Coppelia