*You may find affiliate links for things I love! At no extra cost to you, I could receive a small commission if you click and buy thru my links. Thanks! ~Coppelia
This post is sponsored by Warner Bros. and on behalf of TEEN TITANS GO! TO THE MOVIES. All opinions are my own. And my daughter's friend Emily, who is a HUGE fan of Teen Titans Go! and helped us brainstorm the ideas in this post to help you throw the ultimate Teen Titans Go! Party, too! 
If you know any fans of Teen Titans Go, you'll want to plan this "Teen Titans Go to the Movies" party! We had SO much fun, even my in-laws who have been staying with us asked whose birthday we were celebrating! To quote another famous cartoon movie, it was a very merry un-birthday celebration, Teen Titans Go style!
We even have a Teen Titans Go! to the Movies party VIDEO, if you want to check it out at the end of this blog post. But FIRST! Check out the party!!!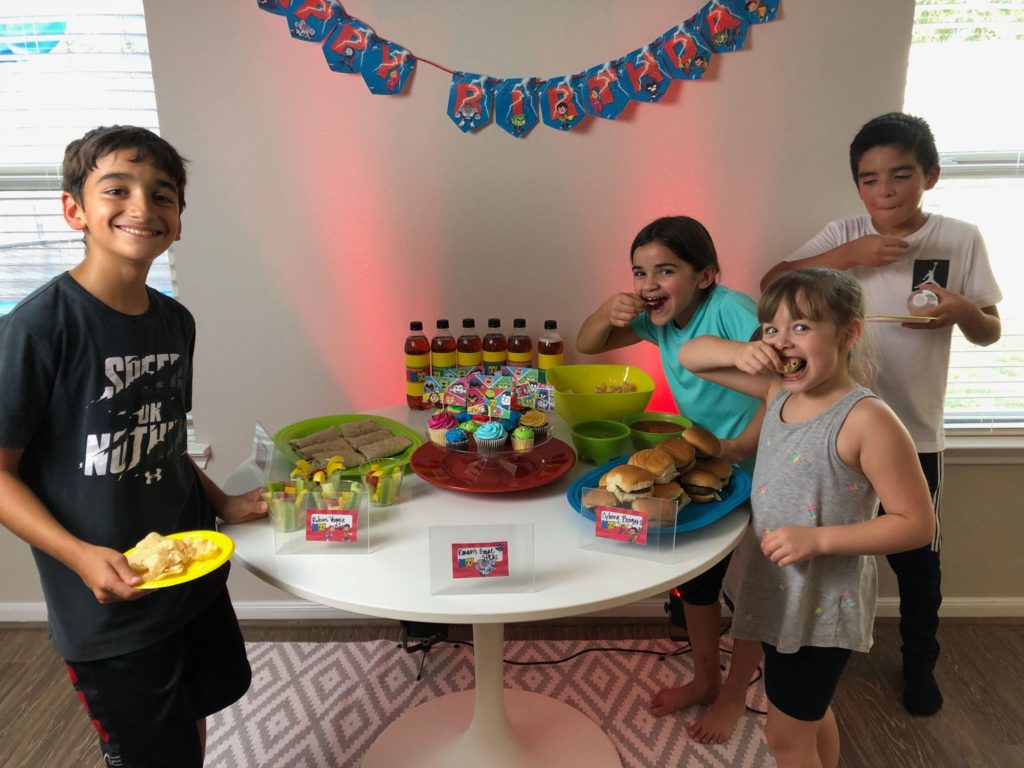 I'm breaking down our Teen Titans Go! to the Movies Party here for you, so if you know any fans, you can get all excited about the movie and enjoy a party, perfect for inviting friends over, hanging out, catching up on some of the Teen Titans' hilarious episodes and then go check out the new movie!
The Ultimate TEEN TITANS GO! to the Movies party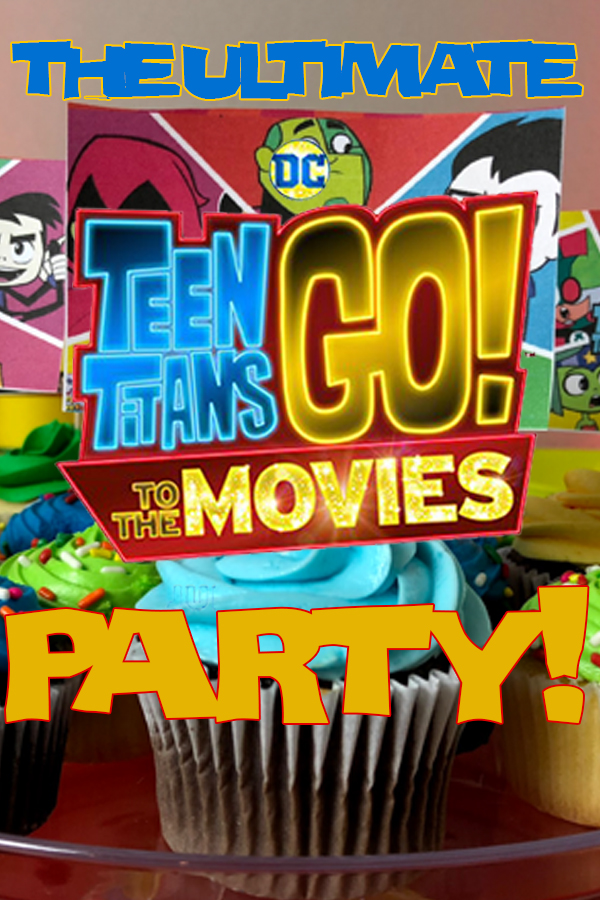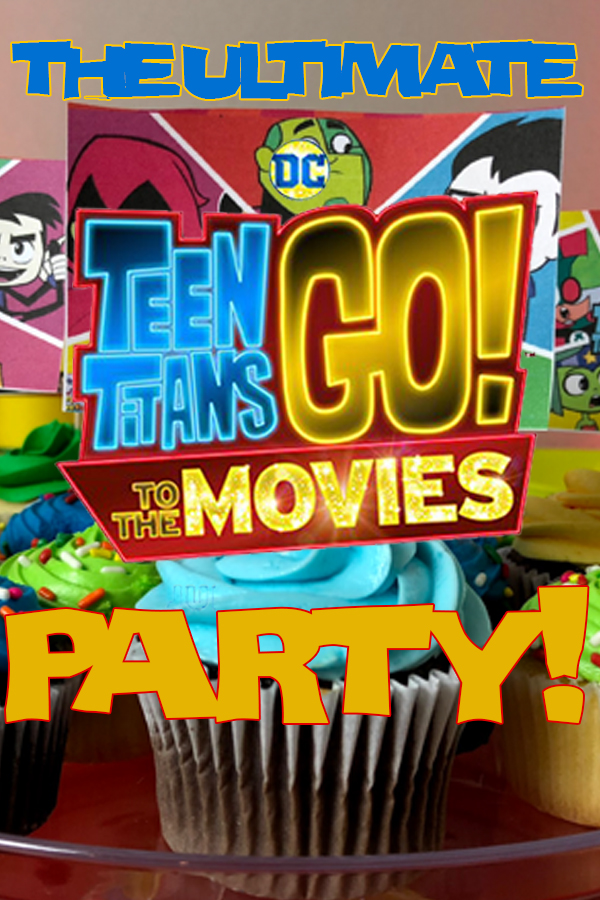 Of course, if you're going to plan a Teen Titans Go! to the Movies party, you gotta have Cyborg Burgers and Beast Boy Burritos (thanks to my daughter's friend Emily who said we HAD to have that on the menu!)
The Menu: Teen Titans Go! to the Movies
Here's our Teen Titans Go to the Movies menu, inspired by some of the Titans themselves!
"Hot Salad Water" (based on this funny episode!)
Cyborg Slider Burgers
Beast Boy Burritos
Robin's smashed avocados & veggie cups
Raven's red grape skewers
Teen Titans Go assorted yummy cupcakes!
We kept the menu fairly simple and also tried to keep it on the healthy side. The first thing to go at our party were the Raven red grape skewers! As a busy mom, I work full time outside the house and don't always (read: seldom to never) have time to throw elaborate parties.  I wanted to make sure this Teen Titans Go party was doable, whether you want to make everything from scratch, or if you want to throw it together on a limited amount of time. Both ways can end up in the ULTIMATE Teen Titans Go party!
To help you out, I'm sharing the grocery list and instructions to put everything together:
The Grocery List: Teen Titans Go! to the Movies!
One pack of mini water bottles (you may need more, depending on the number of guests).
One 6 or 12 pack of bottled Lipton Iced Tea with Lemon (also known as "iced salad water") lol!
Two 12-packs of mini burger slider buns (white, wheat, or one of each).
Fresh burger slider patties (a local grocery shop carries them … love it!)
Tortillas (amount depends on your party size). These can be corn, flour, whole wheat, etc.
Refried beans
Rice, cheese and other burrito ingredients as desired. Ours was a simple bean burrito on whole wheat tortillas.
Guacamole (aka, Robin's smashed avocado)
2 Yellow bell peppers, sliced into about 3 inch sections.
3 to 4 Celery sticks or hearts, sliced into about 3 inch sections.
1 package of grape or cherry tomatoes
1 package of red grapes
1 or 2 bags of your favorite chips & salsa (you might need more depending on the size of your party)
1 or 2 dozen regular and mini cupcakes (homemade or store-bought — whatever you have time for!)
You'll also need:
Clear plastic cups (to assemble the celery and yellow pepper sticks, with the grape or cherry tomatoes on toothpicks)

Toothpicks (for the cherry tomatoes, red grape skewers and decorative food signs)

Assorted serving dishes, plates and bowls

Plates and napkins (we picked red and yellow as our colors!)
The Instructions: Teen Titans Go! to the Movies!
For the Cyborg Burgers: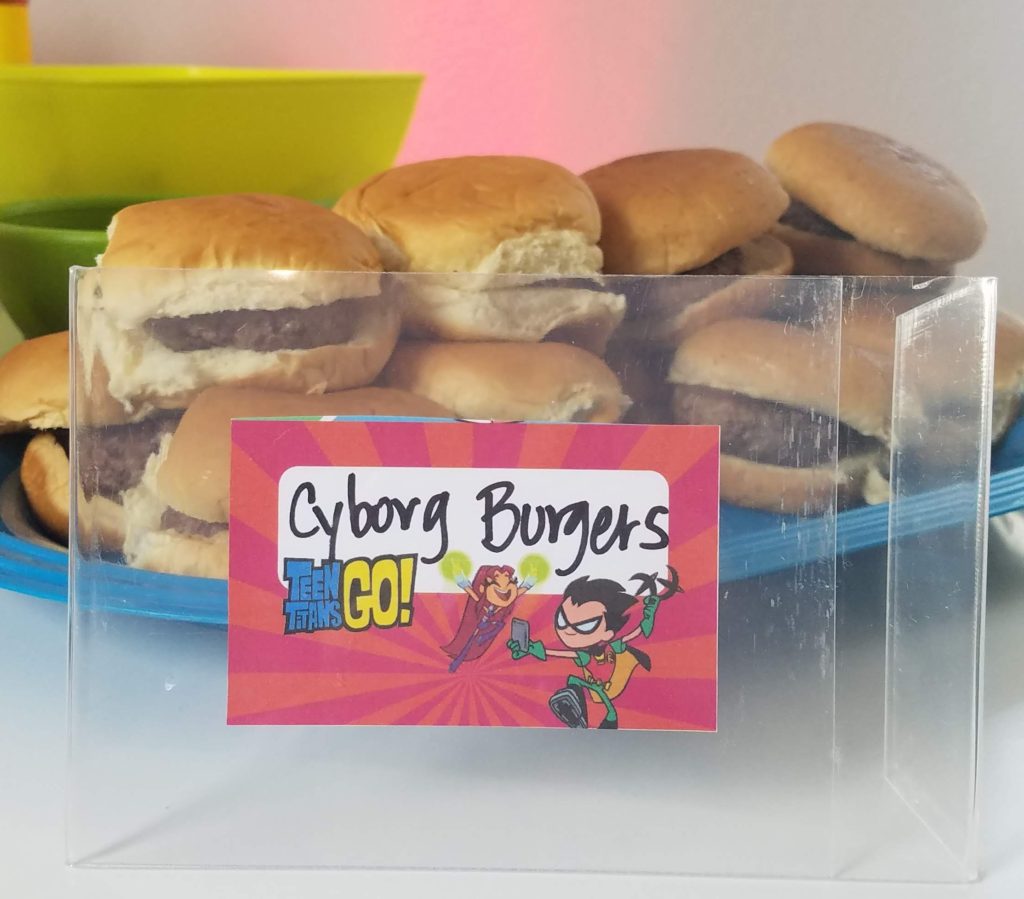 This is literally so simple! Grill the burgers, toast the buns if you'd like, add toppings! We just had ketchup, and some BRILLIANT people just used the salsa and guac as their toppings. Brilliant!
For the Beast Boy Burritos: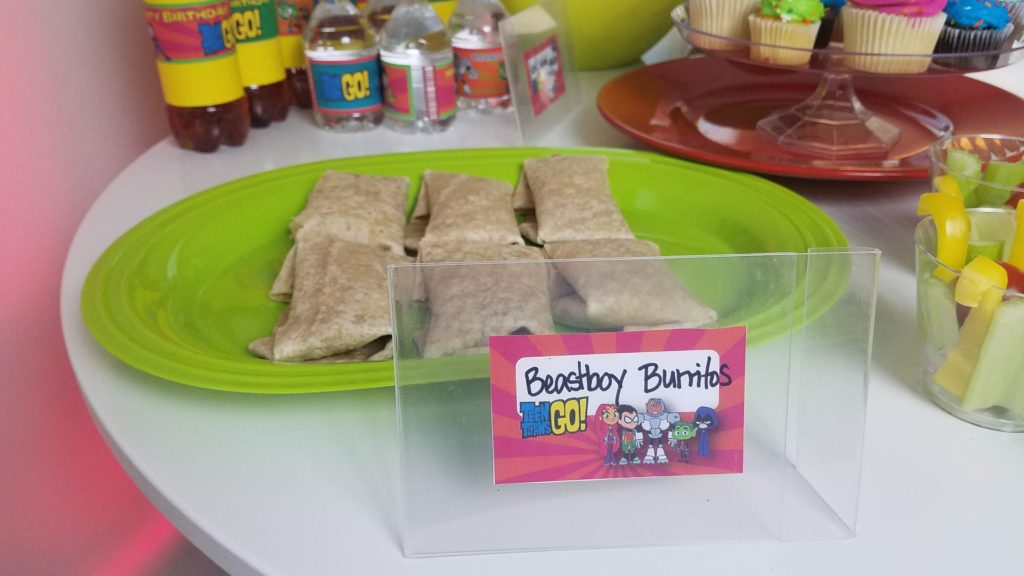 We heated the tortillas and the refried beans. Spoon a serving of beans on the tortilla, roll it and arrange on serving plate. SO easy!
For Robin's Smashed Avocado:
You can smash avocados with a little garlic, salt and pepper, or just get store-bought guac. Either way, YUM!
For Robin's Veggie Cups: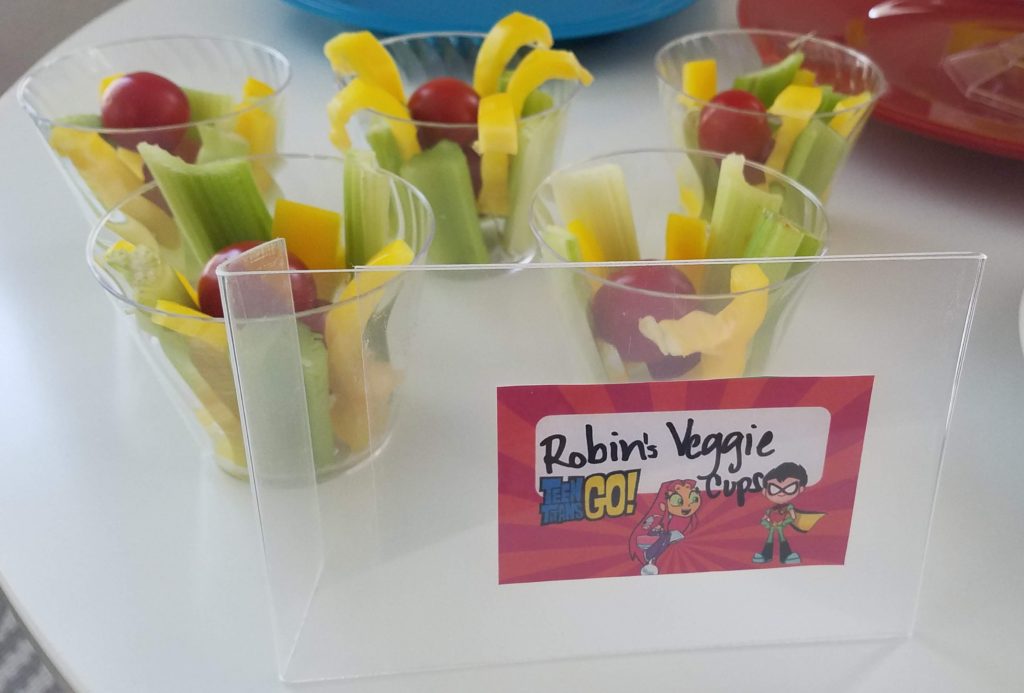 Wash and cut the produce (yellow bell peppers, celery and grape or cherry tomatoes). Arrange them on the cup, with two or three tomatoes on toothpicks or small skewers in the middle, and the celery and peppers around them. They look so cute! (I used this Veggie Dip Cups recipe from The Country Cook.)
For Raven's Red Grape Skewers*: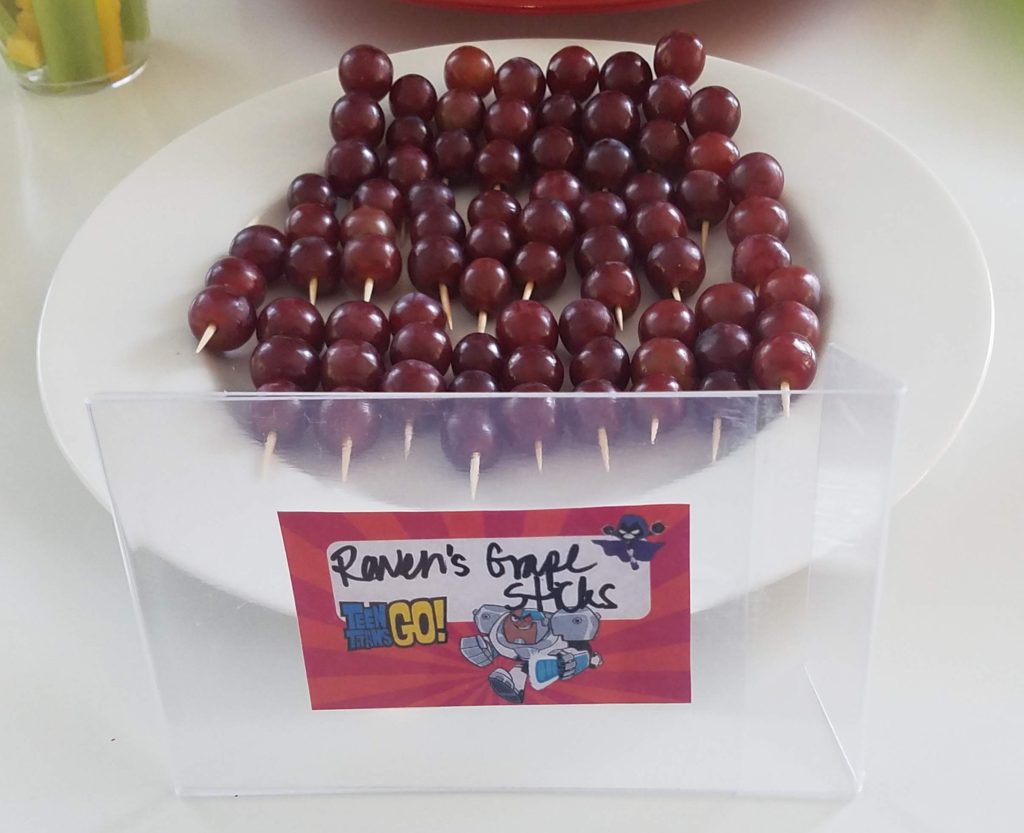 These are SO easy! Wash the red grapes, then thread three grapes per toothpick. Arrange on a plate and VOILA! My 12 year old son pretty much took care of this task and killed it! *These were the MOST popular food on the menu … even more popular than the cupcakes!
For the Teen Titans Go! assorted yummy cupcakes: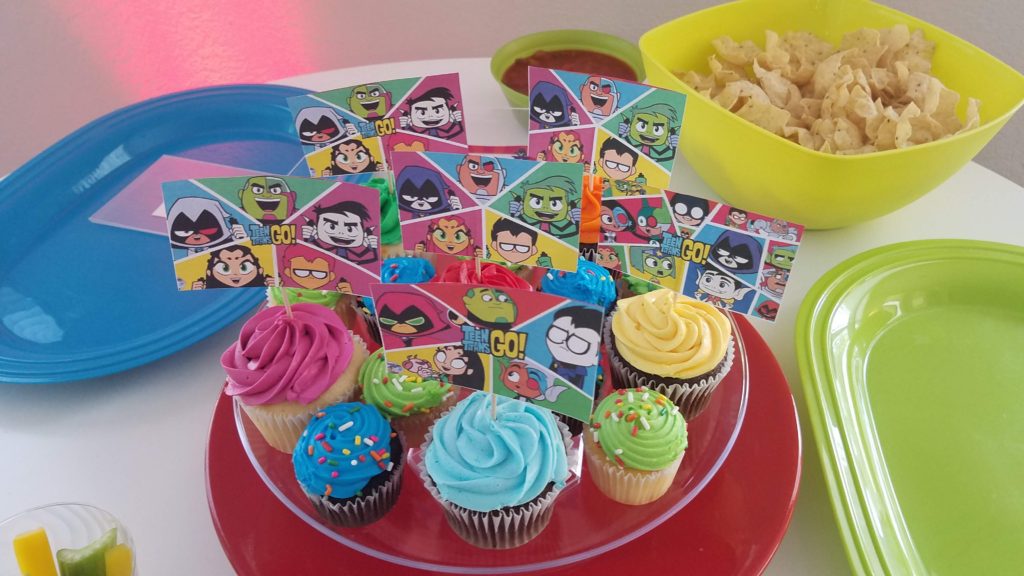 Seriously, unless you love baking, get yourself some super colorful cupcakes (in Teen Titans Go! colors). The ones we found looked awesome on the party table, topped with fun cupcake topper flags (more details below and a link to where I found mine!)
The Crafts: Teen Titans Go! to the Movies
The kids at our party were ages 8 to 12, so we kept our crafts and games on the tween side. But they had a BLAST! The girls loved making Starfire Slime and the boys spent much of the party playing "C-Y-B-O-R-G" (if you've ever played the basketball game "H-O-R-S-E" it's pretty much the same with different letters!) In case you're looking for inspiration for your own Teen Titans Go! to the Movies party, I'll break down our party crafts & games here:
For the Starfire Slime Craft: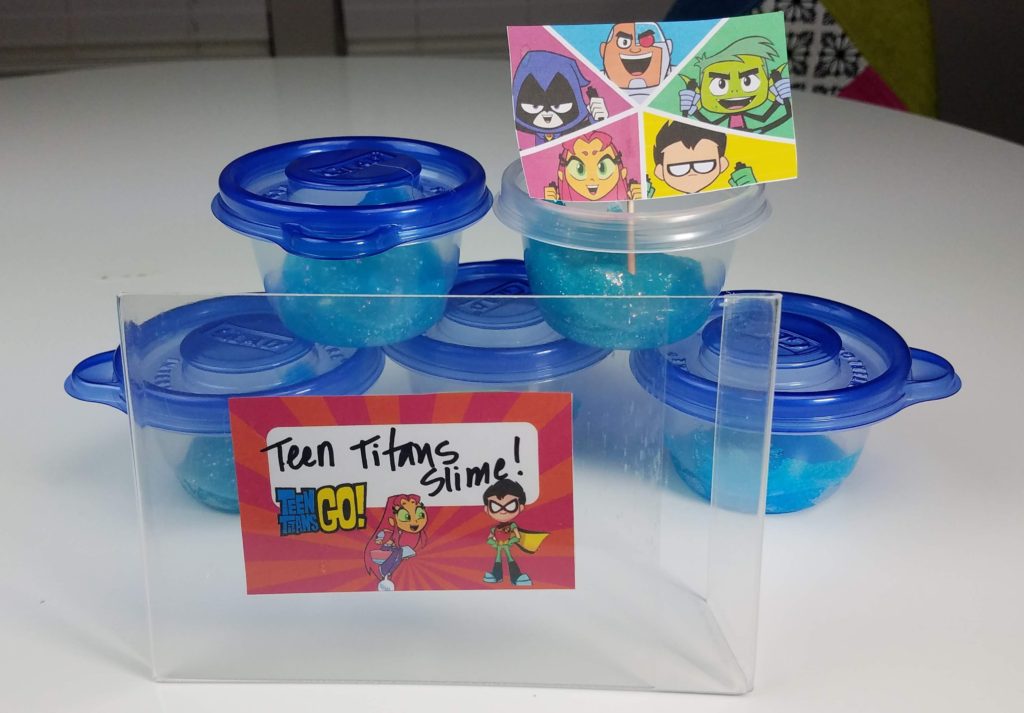 You'll need this fluffy slime recipe. I have to share a disclaimer here. I've tried this SAME SLIME RECIPE a few times. It's been hit or miss and I can't figure it out! I have had success with it and it turned out AMAZING, so I know it's doable. But, just in case you want to make sure your kids leave the party with their own DIY slime party favor, I recommend you do what my in-laws did. We were #blessed with the fact that my in-laws wanted to try slime with the grandkids and they had one of those "Slime Starter Pack" boxes. It was a life-saver because when my original slime didn't work, the box one did! And everyone was happy!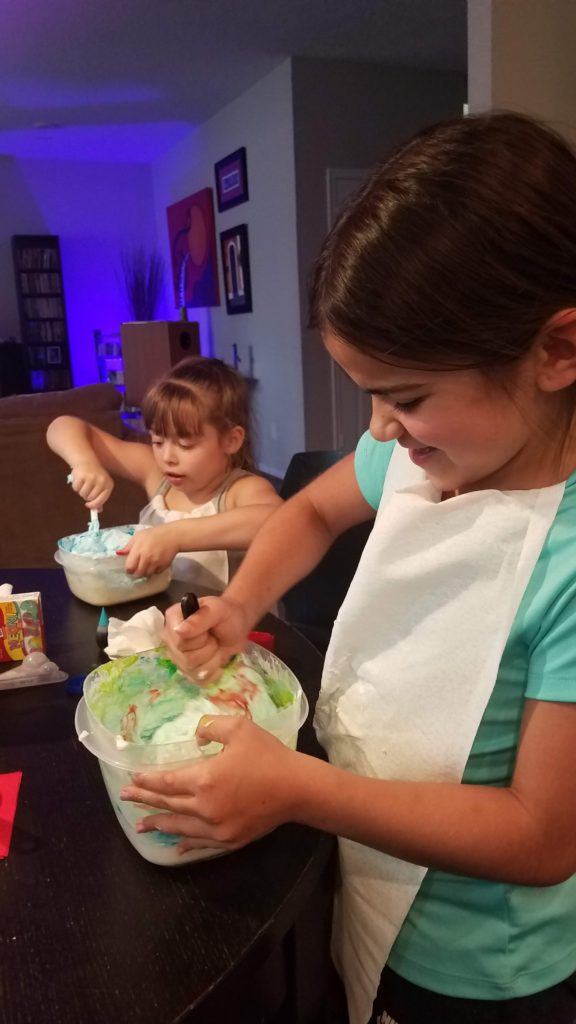 For the "C-Y-B-O-R-G" basketball game:
If you have a basketball hoop at home, this is perfect! It's just like the game of "HORSE", but with different letters. You can even have a prize for the winner, if you'd like. For us, the prize was coming inside to air conditioning and water with ice because it is H.O.T in Houston!
The Decorations: Teen Titans Go! to the Movies
You remember the part about being a busy mom? If you are short on time or could use a little help in the decor department, this was a HUGE time saver. And it turned out looking better than I expected!
We looked around for Teen Titans Go or Teen Titans Go! to the Movies party supplies and decor, and we found this awesome shop on Etsy. You can buy a whole "Teen Titans Go! party package, but we ended up getting only the items that we wanted for our party: the water bottle (and "iced salad water" labels), the food tent cards and the party banner. But I love that they had more items to choose from!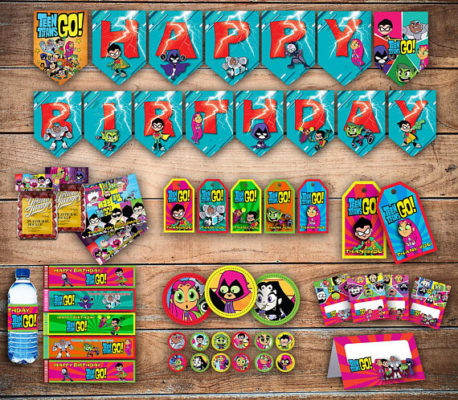 The food tent cards ended up doing "double duty" for our party. We cut them in half — one for the "food signs" and the other one worked as a cupcake topper, attached to toothpicks! Creativity For The Win!
My husband gave the party an extra final touch, because he happened to have uplights! They added a fun element to the decor!
I hope this inspires you to plan your own Teen Titans Go! to the Movies party! We had a blast and can't wait to see the movie soon! Thanks for checking out my blog!
Laughing (and partying) thru life,
Coppelia
And here's that Teen Titans Go! to the Movies party video: