*You may find affiliate links for things I love! At no extra cost to you, I could receive a small commission if you click and buy thru my links. Thanks! ~Coppelia
UPDATE: Congrats to our winner, Jessica V! Hope you and your daughter enjoy the tickets!
Sometimes you get to go to Disney World (or Disneyland!)
Other times, Disney comes to YOU!
And if you have younger kids who LOVE Disney Junior, this is going to be AWESOME!!!
(Note: This is a sponsored post. More info below!)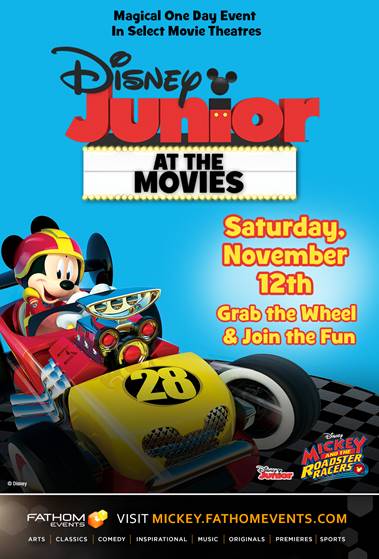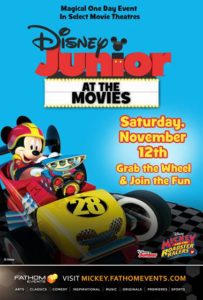 Mickey is bringing his Mickey Mouse Clubhouse pals to local movie theatres for FULLY interactive events. Kids (and parents, if you're crazy like me), get to stand up, dance & sing IN the theatre!!! So cool!!!
And YOU can enter to WIN my
Disney Junior at the Movies – Mickey's BIG Celebration!!!
SUPER FUN GIVEAWAY!!!
You can enter the giveaway below!
One winner selected randomly will receive:
A family four pack of tickets to Disney Junior at the Movies: Mickey's BIG Celebration, this Saturday, November 12th!
$5 off coupon to the Disney Store!
FREE eBook download!
And other fun giveaways!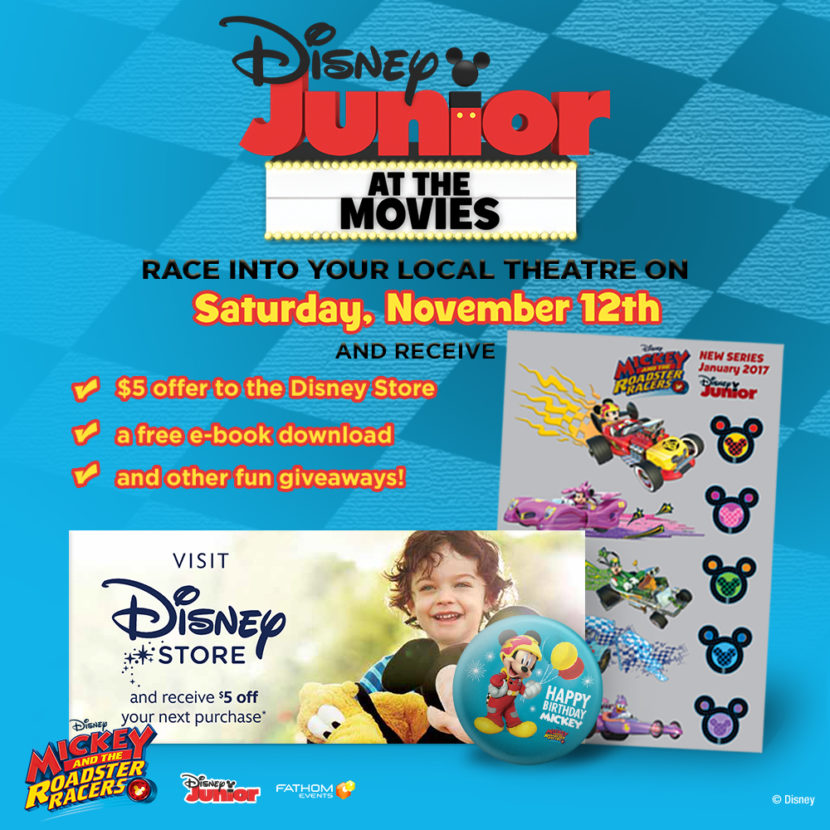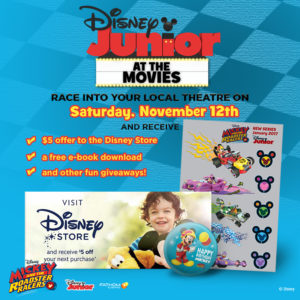 Here's the link where you can find out more about this Hot Diggity Dog, Toodle-rific event:
https://www.fathomevents.com/event/mickeys-big-celebration.
And here are a few more details, just for YOU!
Date: Saturday, November 12
Time: 10:00 a.m. (local time)
Run Time: 70 minutes (approximate)
Special Fathom Feature: "Disney Junior at the Movies – Mickey's BIG Celebration"
Come celebrate Mickey's Birthday and be the first to see Mickey's all new series Mickey and the Roadster Racers on the big screen. You can sing and dance along with all your Disney Junior favorites, so grab the wheel and join the fun!
Be sure to check out Mickey, Minnie, Donald, Goofy, Daisy and your favorite Disney Junior pals as Fathom Events and Disney Junior present a special sneak peek of Mickey and the Roadster Racers in select movie theatres nationwide at this hot diggity racer-rific one-day event on Saturday, November 12th!
In this all-new series, Mickey and the gang now run a super-cool garage where they take care of their brand-new, transforming roadsters, as they get ready for races around Hot Dog Hills and around the world!
When they're not on the road with Mickey competing for trophies, Minnie and Daisy run their own business, "The Happy Helpers", solving problems for anyone needing a helping hand. Minnie's skills know no limits and her style will still be as fashionable as ever.
Seriously??? This sounds AMAZING!
And Mickey's Birthday month is also my daughter's! How fun!!!
Thanks for reading my blog!
And to enter the Giveaway, just post in the comments below and let me know which Disney Junior character is your kid's (or kids') favorite!
We'll announce and contact the winner no later than Friday, November 11, 2016, so you can use your tickets Saturday, November 12, 2016.
My daughter is a Mickey fan (although she loves Minnie, too!) And when he was of Disney Junior age, my son LOVED Special Agent OSO! 🙂 #SweetMemories!
Laughing (and getting ready to sing & dance in a movie theatre) through life,
Coppelia
(Note: This post and giveaway are sponsored by Allied Integrated Marketing. This means our family will receive movie tickets in exchane for sharing the fun. As always, all opinions are my own. And if you know me, I'm already a HUGE Disney fan, so this is awesome! Hope you enter & win!) 🙂