*You may find affiliate links for things I love! At no extra cost to you, I could receive a small commission if you click and buy thru my links. Thanks! ~Coppelia
One of my favorite food blogs, EatingRules.com does the #OctoberUnprocessed challenge every year. And since it started back in 2010, the year I was trying to lose the baby weight after my daughter was born late November of '09, I've attempted to take the challenge (and mostly failed!) But I always learn something new, and I'm always reminded of how much better my body feels when I eat healthy (unprocessed) food!
This week, my kids (10 year old son & 6 year old daughter) had been asking if we could use those bananas that were getting brown-er by the day to make my famous banana + (dairy-free) chocolate chip muffins (or MOO-fins as we like to call them!)
Finally tonight, as my hubby and I caved and ordered pizza at the end of a long Sunday that started for us in church at 6:30am (yes, we were exhausted, but we had a blast!), I decided to bake healthy muffins. You know, to counteract the unhealthy pizza. And to feel like I'm at least trying. And to make sure we don't completely fail the #OctoberUnprocessed Challenge!
I've made these MOOfins before, but just to make sure they turned out perfectly, I pulled out one of my favorite cookbooks, Lisa Leake's 100 Days of Real Food.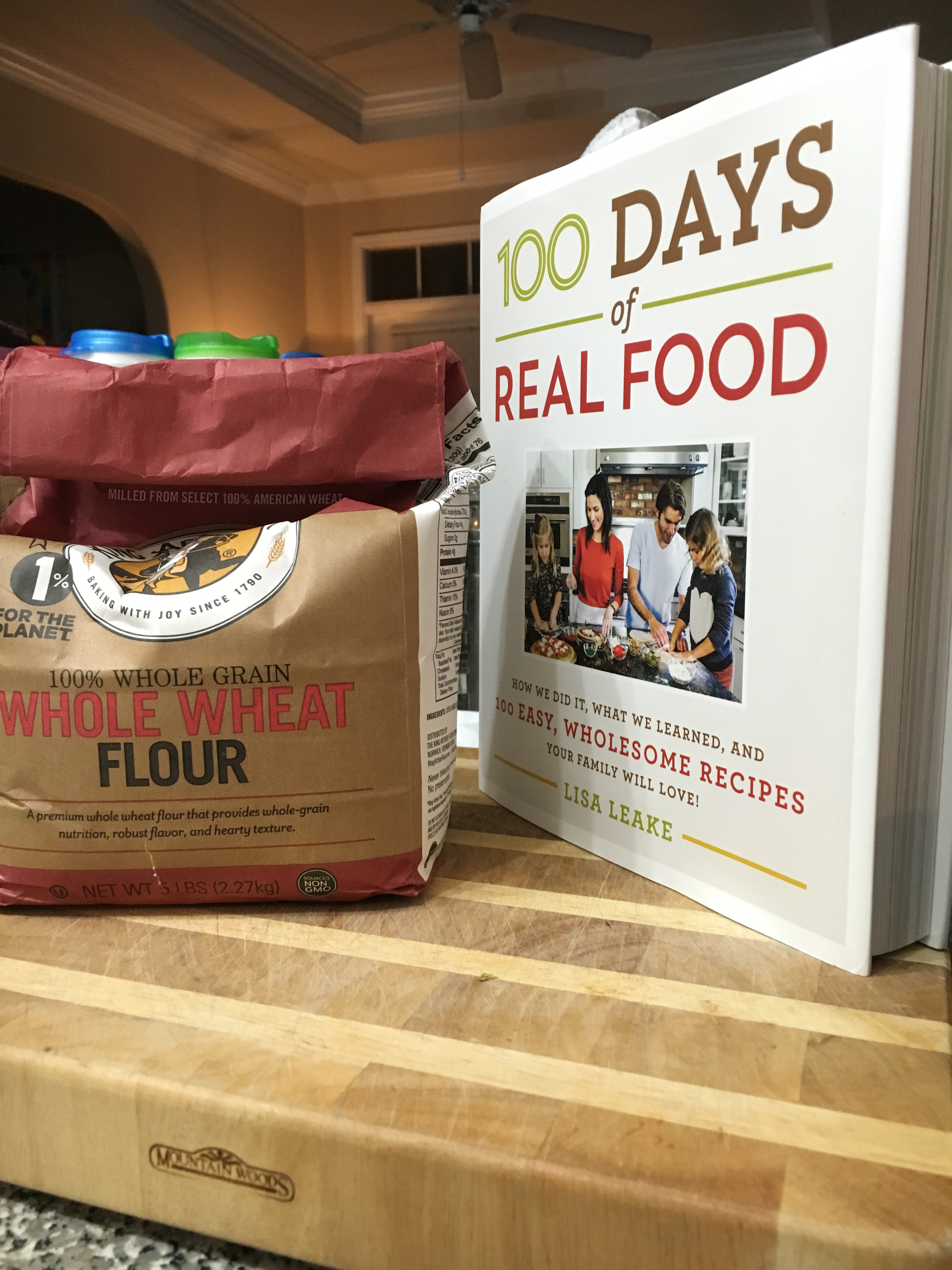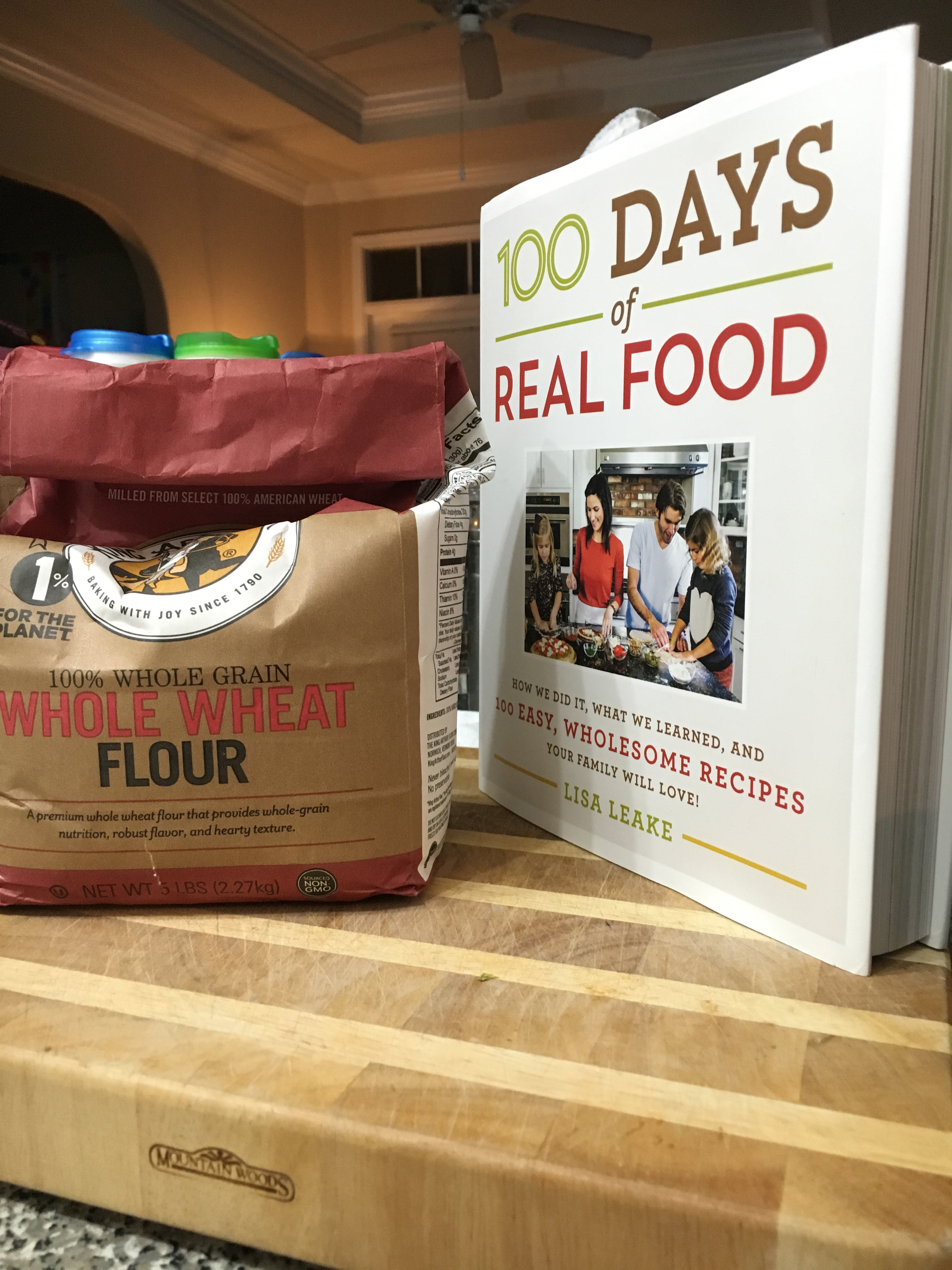 (I'm a fan! Stay tuned to this blog for my personal preview of her new upcoming cookbook #100DaysFastandFabulous later this week! I'm beyond excited to be one of Lisa's Cookbook Ambassadors! And if you check out the book using my affiliate link below, I get a small commission at no extra charge to you! Win-win!) 
I knew Lisa had a whole wheat muffin recipe and I figured I could put my own dairy-free twist on whatever we needed. I decided to modify her whole wheat banana nut muffin recipe by swapping the walnuts, since we have a nut allergy in our family, for dairy-free chocolate chips (we have a dairy allergy as well).
Maybe it's not 100% Unprocessed, but it's definitely less sugar than store-bought brands. We just used the bananas and a bit of honey as a sweetener. Oh! And the chocolate chips! Not too bad!
I think next time, I'll increase the amount of coconut oil I used in place of the butter — I think a moister batter would make them better. But there's always next time!
Here's a link to Lisa's recipe (note my swaps below):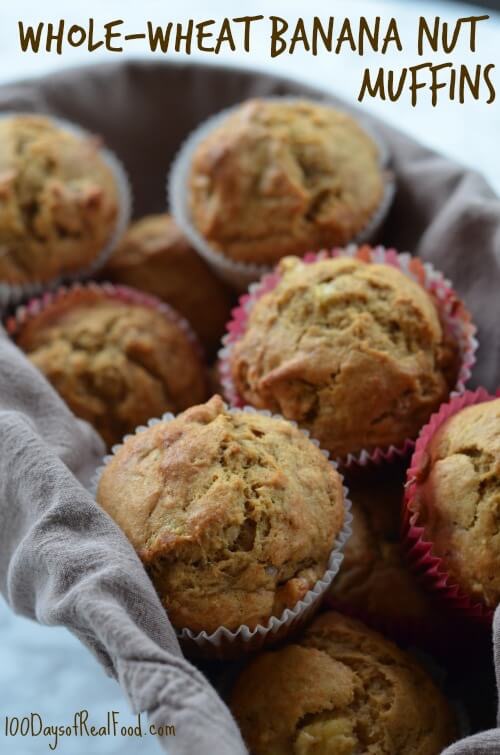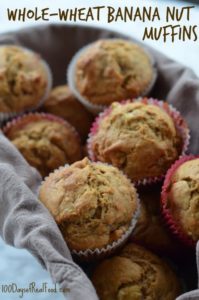 I followed the recipe as is (except for my swaps, noted below):
1½ cups whole-wheat flour
¾ teaspoon baking soda
½ teaspoon salt
¼ teaspoon baking powder
2 eggs
½ cup (1 stick) butter, melted
⅓ cup pure maple syrup
2 very ripe bananas, peeled (the riper they are the sweeter they'll be)
½ cup chopped walnuts (optional)
STEPS
Preheat the oven to 350 degrees F. Line a muffin pan with paper or silicone liners and set aside.
In a large bowl whisk together the flour, baking soda, salt and baking powder. Make a well (hole) in the center of the flour mixture and drop in the eggs, butter, and syrup. Mix with a fork until it just comes together and set aside.
In a small bowl mash the two bananas together with the back of a fork. Carefully fold the bananas and walnuts (if using) into the muffin batter and distribute evenly into the 12 muffin cups (or 36 mini muffin cups). Bake until they begin to brown on top and a toothpick comes clean when inserted in the center, about 20 to 22 minutes for regular sized muffins or 12 to 14 minutes for mini muffins.
I swapped coconut oil for the butter and used local honey, which I had on hand, instead of the pure maple syrup it called for. As mentioned above, I also substituted dairy-free chocolate chips (easy to find at Target) for the walnuts. It was very easy to make this recipe dairy and nut-free, perfect for our family!
And I let the kids pick fun rainbow muffin cups, which made it more fun!
Thanks for checking out my blog! And let me know if you try the recipe (either version!)
Plus, feel free to click on the #OctoberUnprocessed logo to take that challenge. It's never too late to join!
Laughing thru Life,
Coppelia
P.S. Subscribe to my blog to get the latest posts, including the upcoming preview of the new 100 Days of Real Food Fast & Fabulous Cookbook by Lisa Leakes!
Note: This blog post includes an affiliate link where noted, which means if you purchase thru my link, I get a small commission, at no extra cost to you! Just for referring you to Amazon from my blog! Cool!